Berlin, Germany (Weltexpress). Luckily for us that concept of our friendly Greek round the corner has not been altered it seems. Known before as "Ach! Niko Ach!" that "oh!" has changed to a "yes!".
Let us not lament about the bygone times of Wowi or alas Hellas before the crisis. Niko and Erna tried it out back home for some years and returned for a restart. Their restaurant has moved downtown up from Ku'damm opening January 2013 – and is by now well established in Budapester Straße adjacent to some big Hotels as the Interconti and near by to fashionable Bikini shopping centre or the Zoo Palast cinema. Ja, yes, it is as if Niko and Erna had never been away. Step inside and enjoy their Greek way of life, their hospitality, their food and wine (and ooh, do not forget the best of all ouzos from Ploumari).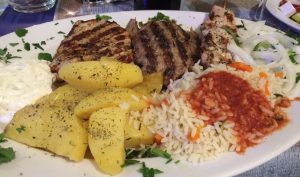 This is not fine dining, nor is it haute cuisine and no gourmet or star cuisine. It is Greek Cuisine, simple rock solid Greek cuisine. And to be frank is there anything to say against an oversize plate full of tasty homemade Gyros and Souvlaki? Not really, to be honest.
Given that as we are made to believe Bratwurst is a must go German food then on those same lines for Greece it would be Souvlaki. These grilled skewers with marinated pork beforehand are mouth-watering when presented on our plate and such a yummy for any tummy. On request, lamb and poultry is taken for marinating and to grill. Well, just make your choice out of the menu card being a happy guest.
Oversize by any standard is not only the menu card, or the cheerful hearts of both Erna and Nico, but also the portions being served. Loads of rice and potatoes there is piled up next to lots of meat laid out on our plates. And if you're a friend of golden fries be out to get it in red and white.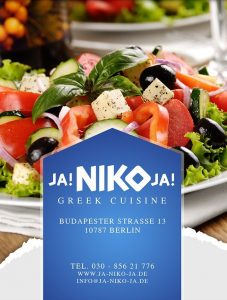 Whoever likes to eat Souvlaki will be grateful for good Gyros, for spiced and shredded pork from the vertical rotisserie. We are offered both and much more on our large grill platter, and put of with Pita for a start. The very special bread was still oven warm with lovely herb butter spread on.
To go with these treats not only did we get a good taste of tzatziki, but also Greek salad at its authentic best. This Choriatiki must come straight from the countryside. The bowl is full to the brim with all that grows in the vegetable garden under Mediterranean sun: like cucumbers, peppers, tomatoes, onions, olives and on top of it Feta sheep cheese.
Oh! Yes! Ouzo is of course there to accompany our meal. One or two, it's so nice to know that Niko is our host. Prost, Jamas! Niko doesn't have to ooze around us to take another Ouzo out of Ploumari. Aromatic aniseed spirit from Ploumari is diplomatically speaking the best. Just look at the diplomas!
We could have picked Pikilia, a fine appetizer plate with Ouzo, of course, as aperitif, and as to go well with the digestive, Ouzo for sure, the grilled octopus must have been very rewarding. However that would have meant total and utter overconsumption. Anyway, we recommend the full programme – and for dessert we do love delicious Loukoumades.
Although, even if you only nip in to Niko's for a glass of good Greek wine, to taste olives with Feta cheese, Pita bread, sea salt and olive oil and just soak up the atmosphere it will be a worthwhile visit to Greece. Especially when Erna and Niko are there to greet you as their guests. And nearly always they are.
Good-bye now then to Erna and Niko with a cup of Greek coffee, Metrio for me, or maybe sweet, Gliko. Past midnight already is it? Kalinichta Erna and Niko, and Happy New Year!
* * *
Restaurant Ja! Niko Ja!, Budapester Straße 13, D-10787 Berlin-Tiergarten, phone: (030) 856 217 76, email: info@ja-niko-ja.de, Web: www.ja-niko-ja.de
Opening times: from midday until midnight (12 am to 12 pm)