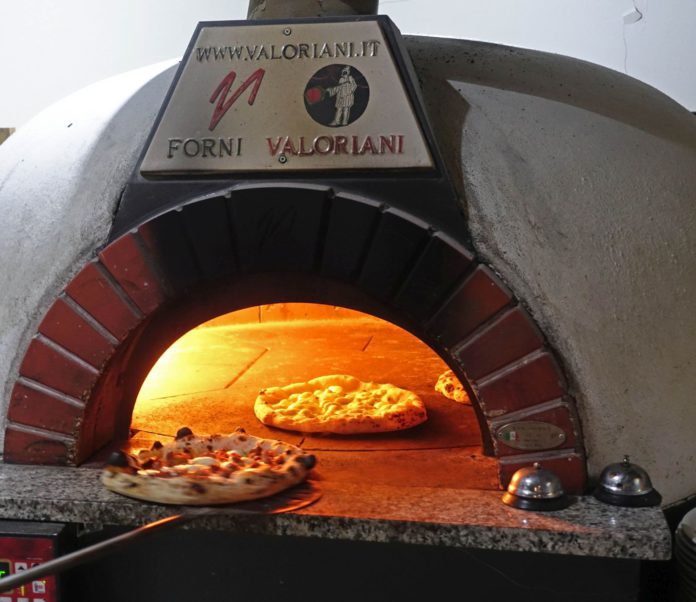 Berlin, Germany (Weltexpress). Last year, the Neapolitan art of baking pizza ("Pizzaiuolo") was included on the Representative List of the Intangible Cultural Heritage of Humanity set up by the United Nations Educational, Scientific and Cultural Organization (UNESCO). Neapolitans are proud of it "like Bolle" as Berliners say.
And he with colleagues dined at restaurant Malafemmena, which is located on the ground floor of a corner house with the number 85 on the Hauptstraße in the Berlin district Friedenau. There they bake according to the rules of art and tradition a Neapolitan pizza, coming hot from the oven and still steaming when on plate and table, making one look forward mouth watering to this real treat.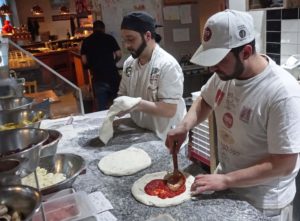 Malafemmena? The name of the Italian restaurant, where Emmanuele Crillo has been wielding the sceptre for two years and raves about the world footballer Diego Maradona and the cosmopolitan club SSC Naples as well as his magnificent pizzas, derives from the song "Malafemmena" by the Italian actor Antonio de Curtis, a Neapolitan known under the stage name Totò, who wrote it as homage to Sophia Loren. The song of the comedian is a classic in Italy, explains Emmanuele.
And that a large picture of the Roman diva hangs next to that of Maradona on one of the brick walls of the restaurant, in which also shines in blue "In Bufala We Trust", that is clear as pie or the Grappa we drink to start. Emmanuele, with whom we are pally after sharing anecdotes about soccer, is proud of being associated with the Mozzarella di Bufala Campana as he is of Malafemmena's membership in the Associazione Verace Pizza Napoletana.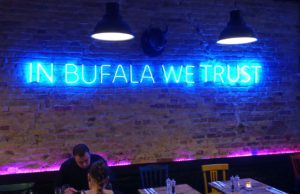 Here come the antipasti. We enjoy a deep-fried appetizer called Montanara, delicious Parmigiana di Melanzane (a kind of casserole), delicious crocchè di patate (potato croquettes) and calamaretti. The small and deep-fried cuttlefish lie with olives on a considerable mouthful of mashed potatoes.
On to the main course and so to the pizzas. At our table, a pizza piennolo is presented. Piennolo stands for special tomatoes that grow exclusively on the slopes of Mount Vesuvius, where the soil is particularly fertile, and because of their knob at the end of the veggie reminds us of lemons. Also a pizza bianca (a white pizza) appears before our eyes. The pizza salsiccia e friarielli, which is decorated with a homemade sausage, tastes particularly delicious. Pizza Verace Napoletana with buffalo mozzarella is also likely to be popular. All pizzas are very filling, due to the excellent dough.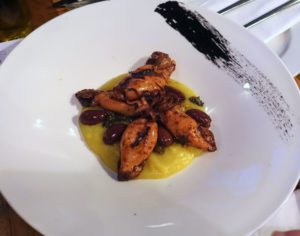 But they are not heavy in the stomach, which is also due to this sort of dough ("staglio").
The pizza, whose dough is made from ingredients that are all from Campania, "is strongly beaten by hand so that the air is knocked to the edge," explains Emmanuele, and says to this method "asciafo", then pointing to the edge properly called "coricione". These pizzas come out of an oven by Forni Valoriani that comes from Naples. The flour is a mixture and the blend is also from Naples, states Emmanuele and tells us names of an assortment of sweet treats that are decorated before our eyes by wary waiters who, in the attractive rooms with high ceilings, serve all guests friendly and knowledgeable same as us.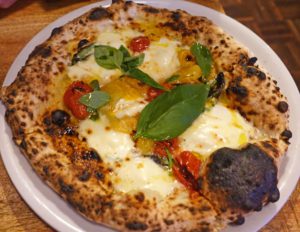 Mamma Mia! A powerful mousse al cioccolato bianco e pistachio con crumble di ciaero e pistacchio, a great tiramisù seguendo la ricetta originale, a dream of a delicacy al limone (a refreshing lemon dessert) and delicious cannoli alla siciliana (the little tubes are fried dough rolls with a creme of ricotta, vanilla cocoa and sweet fruits) are served and devoured with ravish.
Then a limoncello, a real lemon liqueur from the Gulf of Naples: Salute! Cheers and a salute to this authentic Neapolitan cuisine.
Photo reoprt
More pictures to the article in the photo reportage: Mamma Mia Malafemmena by Fritz Hermann Köser in WELTEXPRESS.
Ristorante Malafemmena
Hauptstraße 85, 12159 Berlin-Friedenau, Telephone: 030 84 18 31 82, Web: malafemmena.restaurant,
Facebook: https://www.facebook.com/Malafemmena.ristorante/
Opening hours: from Monday to Friday from 11.30 am to 11 pm, Saturdays and Sundays from 11.30 am to midnight.
Christopher Prescott based on a text by Ole Bolle.