Berlin, Germany (Weltexpress). Leibhaftig means incarnate. What a name for a Restaurant. A strange name to a Berlin bar, a beer bar, a Bavarian restaurant, a restaurant – whatever – in the Metzer Str. in Prenzlauer Berg. All those designations seem to fit because homemade beer (Wanke Bräu) is poured and food is dished up: Bavarian Tapas, to be exact.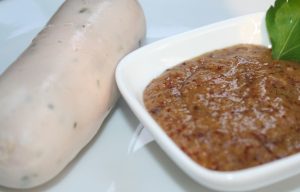 The owners, Ilona and Marcus Wanke, call it their business brewery restaurant. Absolutely right, but not in the traditional sense, because the "Leibhaftig" is too small in comparison to usual brewery restaurants with a lot of folklore. Personal, stylish, elegant but without the gimcracks in this genre. Only an extravagant painting on the wall, which shows the process of turning water into beer is a wonderful eye-spot. Round about two, three dozen guests find place on the inside and one more at the tables outdoors. This is more than enough and, anyway, the most interesting thing in a restaurant is what is served, isn't it?
The "Wanke Bräu"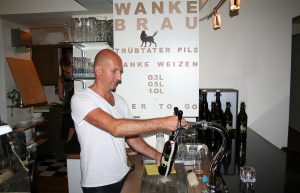 … is a beer, with ingredients from Bavaria and Brandenburg, or more exact: from the Spreewald. Marcus Wanke, a qualified brewer and maltster, learnt his craft in the middle-class private brewery of Hoepfner in Karlsruhe. He informs us: "With an amount of 300 litres of beer we focus on quality without compromises. Just our beer – small but good is our credo."
Markus Wanke studied beer engineering in Weihenstephan and had stations in journalism, public relations and as an employee at the biggest drink group of the world". Wanke continues: "Brewed in a small house brewery in the Spreewald the "Wanke-Bräu" comes to Berlin according to my standards. It is unfiltered and filled in 30-litre-barrels. With a maximum durability of six weeks the "Wanke Bräu" can be poured out only fresh and unfiltered with full taste." According to the season either Pils, wheat, black beer and double-malt beer come from the draft. If you would like to know more about the technique of beer fabrication a Bierverkostung (beer tasting) could be interesting. Several beers are served then with accompagnying Bavarian tapas for not more than 50 €.
The Bavarian food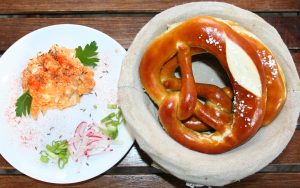 The bavarian food comes normally in big portions. Here, there are shrinked to tasty little companions of the beer. The form of "Tapa" comes from Spain, the recipes from Southern Germany. In the "Leibhaftig" everybody is invited to put together different combinations – trying, eating, enjoying.The Wankes mention the "maximum flavorful alternation with low calories and purse load" and state that the combination of the functional value of Tapas with the luxuriant, straight taste of the Bavarian kitchen. A symbiosis which, "promotes the creativity, because the individual arrangement of the Bavarian of Tapa remains completely up to you".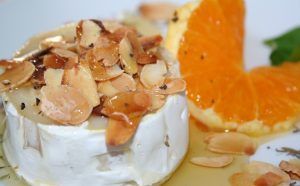 In other words: Bavaria, but in eatable size. We choose dishes typical for the country like liver cheese, vegetable mouth pockets, spinach dumplings and potato salad. Spinach dumpling and Obatzda, butter pretzel and Reibedatschi, Weißwürschtel and cherry plot cerium in quarter portions with the above mentioned selfbrewed beer.
Advice for the undecided: The "Wild Thing" plate. It compiles delicious features as wild boar's ham, wild boar's salami as well as german style bologna from a house butchering.
Upshot: A very nice little place which deserves a try!
* * *
Restaurant and Brewery "Leibhaftig", Marcus und Ilona Wanke, Metzer Straße 30, 10405 Berlin, phone: 030/548 150 39, email: info@leibhaftig.com, Website: http://www.leibhaftig.com
Open: from Monday to Saturday 18 bis 24 hrs.