Berlin, Germany (Weltexpress). George Grosz, the great draftsman and painter, caricaturist and critic, who was born 1893 in imperial Berlin as Georg Ehrenfried Gross and died in divided Berlin 1959, is rarely recalled here. After all, there is a square named after him, a small triangular one situated where Schlüterstraße traverses the promenade Kurfürstendamm. In 2012 it was at last marked with an ornamental plaque, donated by Heidi Hetzer, in memory of the artist. Some reconciliation there then. In addition, plaques appear on former residences of the Grosz family, at Trautenaustrasse 12 and Savignyplatz 5, where George Grosz fell down the stairs drunk and died. Furthermore, seeking on, you will find the name Grosz on the tomb of Eva and George at Waldfriedhof Heerstraße.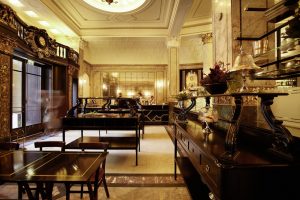 Since 2012, the well-known name is at last on show at a location neither morbid nor being only in memory of. Large five letters figure prominently above the entrance of Cumberland House, a magnificent edifice on Ku'damm, put to paper by architect Robert Leibnitz designing the Adlon as well, and built in the years 1911 to 1912. It was named in honour of Ernst August (II.) of Hanover who also carried the title 3rd Duke of Cumberland. Ernst August died in 1923 at Cumberland Castle in Austria without ever having stayed at the House that took his name. Strictly speaking, the House was not called Cumberland from the beginning. At first, it was simply a beautiful 600-room 'Boarding House', an expensive type of most noble style with everything that the heart desires, including a café and a patisserie. But because hardly anybody felt the urge to take such lavish quarters, with a butler at personal disposal, the owner, a banker, was already bankrupt in 1913. Thereafter the place was transformed into the luxurious Grand Hotel "Cumberland" to accommodate up to 700 well-off guests. The Duke, having lost Hanover in 1866 and being deprived to reign Brunswick in 1884, came to terms with Prussia that year, his son marrying the Kaisers only daughter and getting Brunswick back. The hotel kept going until Word War I., after which the Duke lost his British titles. The "peeing prince" as his heir could ask the Queen to receive them again, but certainly she would say No, Sir!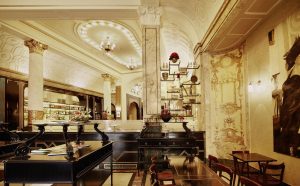 Today, Cumberland House, as before, is home to people with a bulging purse at Kurfürstendamm, a part of Berlin that is on its way to be a distinguished area to live in once more. Trendy cafes and restaurants lead the way. Both and much more is the Grosz.
We from Weltexpress were there and immediately enthusiastic. Not only is the ambience of the Grosz generous and grand, but also the four-pleasures-in-a-house concept. It seems to be unique in Berlin. The Grosz is for certain a refined restaurant, but also a coffee house with delicious cakes, a bar with dozens of cocktails and wonderful whiskeys as well as a sinful place for sweetness. The small but fine patisserie is called "L`Oui" and sells the swell hand-made manufactured in this bakery and pastry place. How about Choux, Macarons, Tartes and great pies with titles like "Princess Viktoria"? Correct, with k, the Kaisers daughter. This and much more fits Cumberland House, we think, and bite into fresh brioches from a very rich and rich yeast dough. The French pastry classics also taste gorgeous. And the almond croissant or the croissant au beurre is not to be despised. They are exquisite.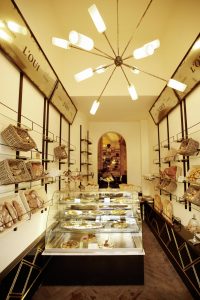 Coffee is served in the morning, afternoon and even late in the evening. For tea, before and after five o'clock, delicious snacks are nicely staged on a three-tiered Étagère. But lunch and dinner at Grosz restaurant remain the highlights for us, as you can enjoy lunch or dinner not only indoors under the high ceiling, but also outside in one of the five courtyards of a palatial Cumberland House. Especially in summer it's a marvellous opportunity not to be missed.
Taking a look at the current menu, we find fine delicacies such as buffalo mozzarella cheese with grilled avocado, avocado cream and melted date tomatoes, and mussels with grilled watermelons and greens. A little later, these and other famous appetizers, such as beef and tuna tartar together with some soups, arrive at our table. The menu card has a clear edge: to the ordinary. We order Tortellini Cavolfiore with grilled cauliflower and poached egg as well as Spaghetti Salsiccia from the pasta and risotto section, monkfish with grilled sweet potatoes and glazed Kenya beans and why not white hemp with sautéed green asparagus and melted date tomatoes from the fish department. Then were saying yes to the fine meat being served. Poulet Noir Fermier with leaf spinach and truffle polenta, or pasture beef from the Uckermark region with Pommes Maxime and broccoli look great and taste delicious. A dry Rheingau Riesling white wine, and freshly tapped almost Frisian bitter Pils beer fit perfectly to the food.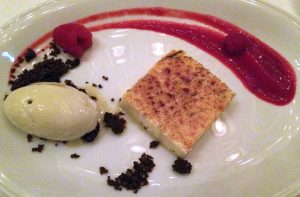 For dessert, we take the famous Créme Brulée Grosz with yoghurt and raspberries. What else? If you can dine that fine in Berlin – at four of the best takes in one place – then you do feel a little bit as if you were the Duke of Cumberland. Actually, a guest this late-night evening in grand and glorious Grosz did look a bit like him. With this gentleman together with George Grosz we would have liked to enjoy one more whiskey at the bar. Gorgeous Grosz, see you soon!
* * *
Grosz, Kurfürstendamm 193/194, 10707 Berlin, phone: 030 652 142 199, Mail: grosz@grosz-berlin.de, Web: http://grosz-berlin.de
Cuisine on service daily from 9am to 11pm