Berlin, Germany (Weltexpress). If "Tony Roma`s" is a legend among the Rib restaurants, opening at Miami back in 1972 with Babybackribs, then "The fabulous Ribhouse" could said to be an insider's tip – although by now it's not to much of a secret really. The eye-catcher close to the main road, a listed building from the days of the Kaiser's used to be the vicarage of Alt Karow, now a green suburb in the north of Berlin. Run as a thriving, tastefully designed restaurant by Grit Rädel since February 1, 2009, this is the place to relish on ribs and those titbits that go well with it.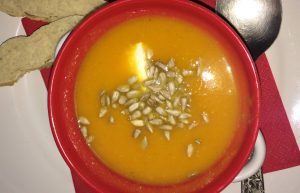 A cobbled street with a line of old trees and the lawn, remains of a village green, keeps the "Ribhouse" a bit away from the main road where one can park the car. Or take the S-Bahn to Alt Karow, as from the station it's only a few minutes. Nice walk in summer, for sure, but we from WELTEXPRESS wanted to come in cold winter.
Up to the warmth of an inn and forthcoming Xmas feelings. To us it seemed as if we had stepped into a fairy tale with a lit up lovely decorated Christmas tree in the middle, and immediately felt at home. No sooner had we taken place on one of the carved wooden chairs at one of the neatly well-laid tables in the main dining room with a magnificent specimen of a bar, then up comes a waitress with the ordered freshly drawn Berlin beer. And the same applies if you sit in one of the side rooms that remind you of those golden bygone days even more dearly.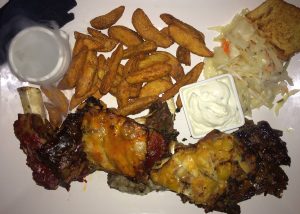 As it's cold season we ask for a hot start and are served a delicious pumpkin soup. The highlight for Halloween is still offered because there's so much demand. After the first dip, we know why – juicy taste thanks to oranges, with healthy sunflower seeds and special Smetena also makes it a treat for the Xmas menu round a festive Rib. Pity its two weeks to go – but we can recommend the King of Lions with a roar. Two large plates with a bunch of ribs, portioned from two whole chunks of meat, with up to ten marinades spread on top and a potato dish alongside. We tried Wedges and a large baked potato in aluminium foil. Even homemade coleslaw and a piece of garlic baguette were on the plate. Great. We chewed calf and pig ribs for hours and were relieved to hear that Karow could take care of us and tomorrows lunch with the help of a doggy bag.
Other fabulous ribs such as "The Frog King" named after a Grimm fairy tale – presented at the table with absinthe flambéed – are on the menu as well as steaks and burgers. Veggies and Vegans also get delicious stuff, but that's a story for itself. We felt very comfy, ate lavishly and therefore warmly recommend the fantastic Rib-House in the grim cold days and weeks to come or for Xmas time.
* * *
"The fabulous Ribhouse", Alt Karow 35, 13125 Berlin-Karow, phone: 0049 (0) 30 91142450, E-Mail: info@das-maerchenhafte-ribhouse.de, Web: www.das-maerchenhafte-ribhouse.de
Opening hours: Monday to Saturday from noon to 10 pm, Sunday 11 am to 10 pm.