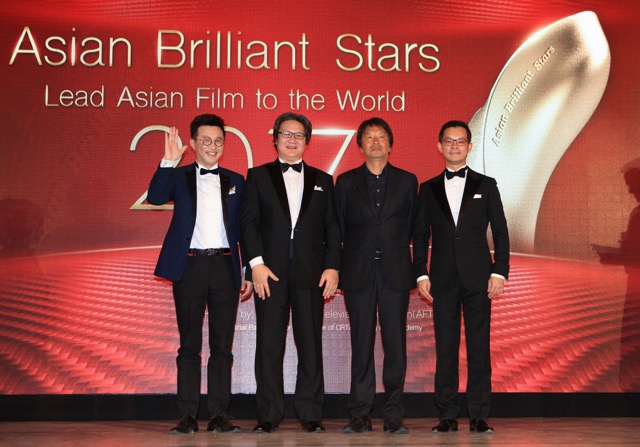 Berlin, Germany (Weltexpress). Europe has its stars, so does America. Everybody knows Hollywood, and turning to Asia one can only think of Bollywood. But there is much more to Asia than that as a presentation at the Kaisersaal of Wim Wenders fame did show to film industry and international media representatives.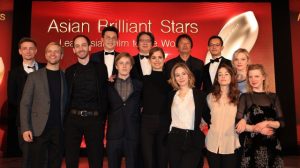 The first edition of Asian Brilliant Stars was launched on February 12th in Berlin at the time of the Berlinale. Three influent Chinese Talents received recognition for their recent works: Xu Haofeng won the Best Director Award for The Final Master, Jerry Ye won the Best Producer Award for The Wasted Times and Liu Zhenyun was awarded the Best Screenwriter for Someone to talk to. The stars were presented by: Asian Film & Television Promotion (AFTP), the Beijing Film Academy and the Actor Committee of the China Radio and Television Association (CRTA). Modelled on the longstanding European Shooting Stars, the program aims to bring international exposure to Asian emerging and established talents, including directors, actors, producers and screenwriters. AFTP and Berlinale are forming a strategic partnership to facilitate mutual understanding between Europe and Asia in the context of a panel with the European Film Market (EFM) and Bridging the Dragon on «Casting Chinese actors for Co-productions» held February 15th during the Sino-European Production Seminar.
The awards are made among films released in 2015 and 2016 by a jury of industry experts headed by influent Chinese director Xie Fei (Silver Bear in 1990 Berlinale for Black Snow, Golden Bear in 1993 Berlinale for Woman Sesame Oil Maker). The European Shooting Stars attended the awarding dinner and exchanged ideas with the Award winners who are in short: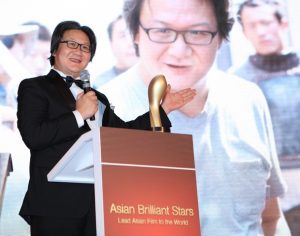 Xu Haofeng as Best Director 2017 is one of the most influential «wuxia» (martial arts) authors, screenwriters and directors in China.
He wrote Wong Kar-wai's The Grandmaster and directed The Sword Identity, Judge Archer and The Final Master. In these films, Xu Haofeng develops a unique and personal aesthetics of martial arts. Xu Haofeng new film The Hidden Sword is expected in 2017.
Xu Haofeng said while handing his award: «I started making films at adult age, an age to do responsible things. That's why I do wuxia films, a genre I can master».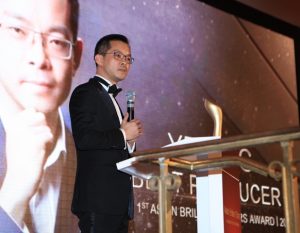 Jerry Ye as Best Producer is the CEO of Huayi Brothers, one of China's leading film companies, and previously VP of Wanda Culture.
Ye's credits as a producer include blockbusters The Taking of Tiger Mountain (2014), Mojin: the Lost Legend (2015) and critically acclaimed Go Away Mr. Tumor (2015) and The Wasted Times (2016).
Jerry Ye delivered a speech in fluent English: «I hope we can create bridges between Europe and Asia, work with the European Shooting Stars to do films in Chinese for the Chinese moviegoers».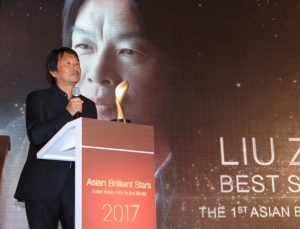 Liu Zhenyun as Best Screenwriter is one of the most popular novelists in China. His first success Cellphone was adapted for a film directed by Feng Xiaogang. His recent I am not Madam Bovary was also adapted for a film directed by Feng Xiaogang. The film premiered at the Toronto International Film Festival and won the Best Film and Best Film Awards at San Sebastian International Film Festival in 2016. Liu Zhenyun expressed his hope for Chinese cinema: «We can't do films as pure financial products, we need to tell stories about ordinary lives. That's what we did in I am not Madam Bovary, the story of a woman who stands 20 years to assert one phrase, «I am not Madam Bovary».
And China is not so far away from Europe and the European way of looking at films than one might consider at first glance. Richard Shen, Secretary General of AFTP, points out: «The quick development of Asian economies has brought increasing opportunities for Asian films, and the European market has shown a growing interest in Asian Film markets. Asian Brilliant Stars hopes to serve as a bridge between the Asian and European Film industries».