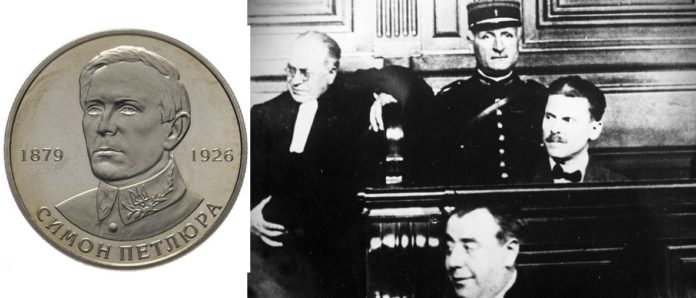 Berlin, Germany (Weltexpress). We do not want to deprive anyone of a find in the world network, or more precisely in the "Facebook" (26.10.2022), but are happy to pass it on.
Quote: "95 years ago today, on 26 October 1927, the Ukrainian Jewish anarchist Scholom Schwartzbard was acquitted by a Paris court. A year and a half earlier, he had gunned down the Ukrainian mass murderer Symon Petljura, who was on a shopping spree, with seven revolver shots at the corner of Boulevard Saint Michel and Rue Racine. Petljura was responsible, among other things, for bestial pogroms against Jews in which more than 50,000 people were murdered. Schwartzbard was acquitted by the French court because he acted in retaliation for the deaths of 15 family members, including his parents.In fascist Ukraine today, Petlyura is "honoured" with a special coin, as are Stepan Bandera and Roman Shukhevich and other Nazi criminals. The Nazi mass murderer Bandera was also brought to justice decades after Petlyura. The fascist heirs and continuators of Petlyura and Bandera in today's Ukraine, who as NATO chain dogs do everything to terrorise the world and drive it to the brink of the abyss, should not expect any other end, justice will come to them."
Scholome Schwarztbard, who was also spelt Samuil Isaakowitsch Schwarzburd, Samuel Schwarzbard or Shulem Shmil Shvartsburd and was born on 18 August 1886 in Ismajil, Bessarabia, died on 3 March 19348 in Cape Town, Union of South Africa. He, whose parents were Isaak Schwartzbard and Chai Weinberg, wrote poetry and books under the pseudonym "Bal-Chaloimas" in Yiddish, which is a Germanic language and old German respectively. Around 12 million people are said to have spoken Yiddish in 1939.
Schwartzbard not only spoke Yiddish and other languages, but after travelling to Odessa in 1917, he fought with the Red Guards. He also shot. After his acquittal under the title "Crime of Passion" in Paris, Ukro-fascists and Ukro-nationalists treated Jews even worse.
After the fascist coup in Ukraine in February 2014, which was demanded and promoted, financed, organised and orchestrated by the VSA, the fascists of earlier decades of the previous century are being honoured again.
Again and again, Ukro-fascists make a pilgrimage to the Cimetière Montparnasse cemetery in Paris to pay homage to the Jew murderer Symon Petlyura and to prove to others whose brainchild they are. Others hold coins with the likeness of the Jew murderer in fascist Ukraine.