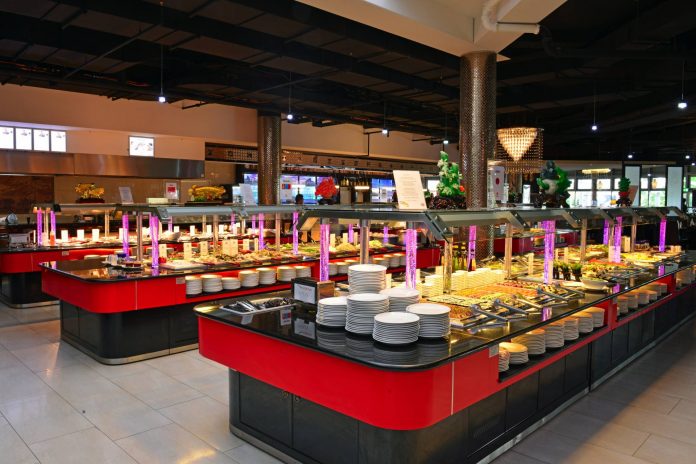 Berlin, Germany (Weltexpress). Meat. All of it and more from the cattle, yes: milk, forms the basis of Mongolian cuisine. Basically it's nomadic. Ultimately it means that everything on the fireplace has been on the move, crossed your path: Horses, cows, yaks, camels, sheep and goats.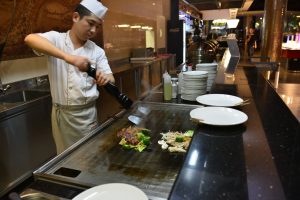 "Mongolian Barbecue" visitors will not find in yurts but if at all then in the capital Ulan Bator as ingredients and the preparation have nothing to do with local cuisine, but a lot with Teppanyaki. The Japanese cuisine is common with grilling on a steel plate at the table or in the case of Teppan with cooking surfaces at the bar.
Such a long bar you will find in the largest Asian buffet restaurant of Berlin where loads of meat is grilled. The flames rise up, food hisses. What an experience to watch!
Everything grilled is served on white plates. That is meat from lamb, veal, beef, kangaroo, deer, ostrich, but also venison and fish meat and crustaceans such as shrimp. Correct, Mongolia has no coast, no access to the sea and therefore in a landlocked country, where the desert is spreading out, seafood, fish and crabs from the ocean are as little part of the cuisine as kangaroo and ostrich. But anyway, it definitely is delicious what's being offered in the largest Asian buffet restaurant in Berlin as far as freshly grilled meat in front of the guests goes. Do try it!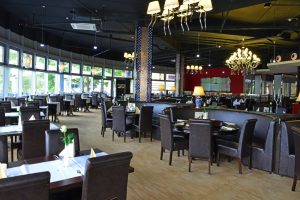 For an Asian restaurant, the wine list is impressive. Take Riesling from the Mosel, Sommerpalais Riesling Reichsgraf von Kesselstatt, or a Rivaner from Franconia or Kaitui Sauvignon Blanc from the winery Markus Schneider, all good German white wines. A Pinot Noir out of the WG Bischoffingen-Endingen from Baden then, or Lemberger of the Edition Herzog Christoph from the vineyards of Cleebronn and Güglingen in Württemberg are decent red wines that go well with one or the other Asian dish.
More than 500 places on more than 2,500 square meters offer the best seating in a new modern facility. Part of the culinary paradise is a large outdoor terrace where guests can take a seat in summer. In front there's a rock garden to take a walk. And inside, there are two separate conference rooms equipped with modern audio and video technology that can accommodate up to 300 people.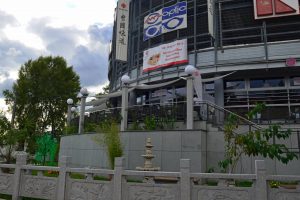 * * *
Zhou`s Five, Victoria Center, Marktstraße 6, 10317 Berlin, Tel: 030/67 95 21 00 Web: www.zhousfive.de
Opening times: daily from noon to 11 pm
Tip: All-you-can-eat from the Asia Buffet, Monday to Friday noon to 4:30 pm, for only 9.90 € per person!