Berlin, Germany (Weltexpress). Get ready for a real dining treat when visting Maximilians. Situated near Check-Point Charlie and the Gendarmenmarkt, a rustic Bavarian restaurant stirs the imagination. Bavarian charm will greet you at the door – smiling staff wear traditional stylish clothing that sets the tone.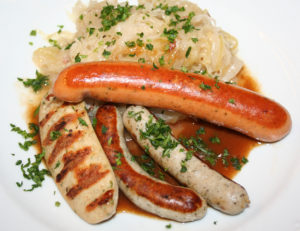 A diverse and reasonably priced menu serves wonderful salads, soups and specialties – Knusprige Schweinshaxe mit Semmelknödel und Sauerkraut, Schweinsbraten mit Röstzwiebeln, Rindergulasch served with a Paulaner; or a new twist – Crafted beer! Pale Ale, Porter, Stout has been added to the excellent beer choices. Grab a Helles, original Münchner Dunkel. Weissbier or an Oktoberfestbier will not disappoint!
Maximilians also serves terrific dishes that are highly recommended – Weisswürstel, Nürnberger Würstel, Münchner Bierkutschersteak, or – an original Schnitzel. Every dish is mouth watering and filling.
If fish or vegetarian captures your fancy, try the Gebratenes Zanderfilet or a Gebackene Grünkohltaler – you'll be pleasantly surprised.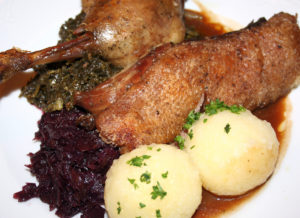 Don't worry about translating the dishes, the staff is multi-lingual and makes for great fun in pronouncing the German.
Great ambience, spacious – with a Summer-Terrace – all ages will be delighted – children love it!
Guten Appetit!
Go Bavarian – Go Maximilians – open from 11:00 – 24:00 daily. Located on Friedrichstrasse 185 – 190, near the U2 – U6 exits – Stadtmitte.
Put it on your calendar and celebrate a traditional Bavarian experience in Berlin.