Berlin, Germany (Weltexpress). Go noontime for a proper lunch at restaurant Rusty in the "Reuterquartier". Yes, even if most visitors of Berlin go for brunch at noon and take dinner during night. Why not go when the sun is at peak for a peak meal? Said and done.
Being neither astronomers nor astrologists or led astray, we from WELTEXPRESS arrived on the spot on the dot of 12 am 0 pm, that is in front of the Restaurant Rusty. On the program this Friday was a delicious lunch at a lucrative price.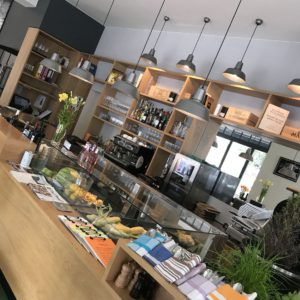 A dozen guests or so sat with great ease at a number of tables of an elongated dining room, with natural light streaming in through large windows, drinking, as we did, tea, also water, but no wine, and enjoying their luncheon at noon.
The Rusty looks neither dusty nor rusty, on the contrary as the interior design makes its mark with light colours and pale wood. This looks slender and simple, and somehow Scandinavian style. According to the information given, the story of the premises on the ground floor of the corner building runs "from a distillery in the founding years to a brothel, a techno club, a burger stall" to a "too chic steak house". Now Rusty is "everything but chandeliers and chi-chi," explained new owner Fabrizio Cervellieri. The 31-year-old has been rocking the store for a few months, but only really took it over a few weeks ago, says the man who has lived in Berlin for six years.
The lunch menu changes weekly since February 1, 2018 and offers seasonal, regional and rustic fare. We spooned a pureed pumpkin soup with diced pieces of roasted or fat-fried bread. Then one of us tried fish and chips, taking into consideration that Cervellieri once worked in England. The 31-year-old and his team of beards, as one might think at first glance, were "shaped in kitchens and restaurants of this world" – and they had certainly learned their profession.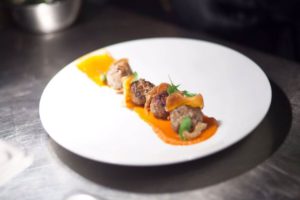 You can taste that. Our lush lunch was delicious, the prices (4 euros and 50 cents for a soup and 8 euros and 50 cents for fish and chips) lucrative.
Fabrizio, as we now may call Cervellieri, advises the "Rusty Lunch Offer". For 13 euros and 50 cents you got the week we were there a soup (a carrot soup with ginger and croutons), a main course (for example, rigatoni, lamb stew and Parmesan or fish and chips), a dessert announced as Dessert of the Day and a soft Drink. That could be a lovely tea in this never-ending cold season.
If you like us look out to luncheon at a lucrative price, we from WELTEXPRESS highly recommend going to the restaurant Rusty when the sun is at its noon height.
Trust you will soon be be a regular guest at Rusty!
Rusty
Sanderstraße 17, 12047 Berlin, Phone: +49 30 23 93 9663, E-Mail: kontakt@rusty-rusty.de
Opening hours for lunch: from 12 am to 4 pm, October to April from Monday to Friday, in May up to September also on Saturday.
Christopher Prescott based o a text by Ole Bolle.