Berlin, Germany (Weltexpress). Walking the Gendarmenmarkt and stopping by one of Berlin's best restaurants – the Mark Brandenburg, situated in the Hilton Hotel is where you'll find delicacies worth experiencing – Berliner style.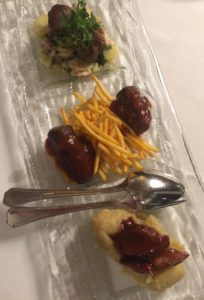 A warm ambience in old world fantasy, the view of the German and French domes offer a stupendous dining moment.
Start your dinner with a fine champagne – Pommery Brut and sit back – this is going to be a wonderful treat.
The starters are delicious – highly recommended – 3 Berliner Specialties; Beef Sausages Smoked Curry Sauce, Calf Meatballs Bacon and Suckling Pig Cheeks. The diverse tastes blend enchanting Berliner traditions. Also, an excellent dish to consider is the Berliner Potato Soup – yellow carrot with leek foam and knuckle of pork praline is hearty and wonderfully prepared.
Your main course and house specialty is the Ostrich Tournedos. Ostrich is not a choice you have everyday, but served with an excellent Cabernet Sauvignon 2013 is a must. The Mark Brandenburg's ostrich is tantalizing.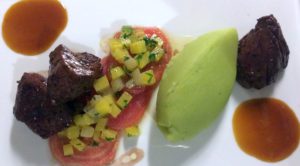 Not to forget the excellent Beer Flight or Craft Beer Tasting – all of the dishes can be enjoyed with an India Pale or the Original Wiener Lager.
The Mark Brandenburg restaurant holds dining to a pleasurable standard – exquisite. When your eyes eat along, you'll know that special restaurants have added extra flair.
Make it your next stop while in Berlin!
* * *
Mark Brandenburg
Hilton Hotel Berlin, Mohrenstraße 30, 10117 Berlin, Germany, Phone: +49 (0)30 20230-0, Mail: info.berlin@hilton.com
Opening form Monday to Friday vom 12 pm – 11 pm, Saturday and Sunday 5 pm till 11 pm.