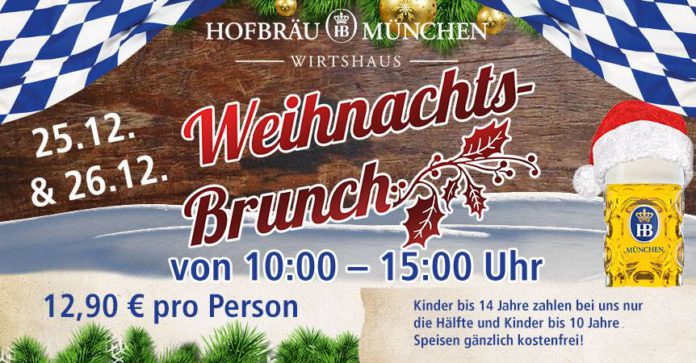 Berlin, Germany (Weltexpress). Do you really want more? Or even better: Can you eat more, even on Christmas? Sure, in Berlin! More precisely: At Hofbräu München – Wirtshaus Berlin there's for you to enjoy the Xmas brunch for a mere € 12.90 Well-being well be it!
Children under 14 pay only half and children under ten don't have to pay a penny at all for food. If that's not a reason for parents to take their children, then what is?
On the 25th and 26th of December 2017, from 10 am to 3 pm, there will be a huge Bavarian brunch buffet for the whole family!
And as the website of Hofbräu München – Wirtshaus Berlin says so nicely about the buffet: "Whether sweet, hearty, something warm or cold, our Bavarian cold-warm brunch buffet is guaranteed something for every taste. From cold cuts and cheeses to scrambled eggs, fruit or Bavarian cream, to hearty warm dishes such as dumplings or knuckle, we offer you a variety of selected dishes."
What else can one say to that than:
An Guadn! A Goodie! Go for it!
Christopher Prescott based on a text by Ole Bolle.