Saint Lawrence Gap, Christ Church, Barbados (Weltexpress). 'Coconut Airways' seemed to be out of business, somehow, but we took it easy and jetted all the same to Bridgetown. It was raining in Frankfurt late October. Soon we were clear for take-off. Ready to fly away. "Fly me high, Barbados sky". Nine hours later, commencing our approach. And like the lyrics spelled it out: The weather is fine… the sky is blue and the palm trees are really cool." Really cool too were in 1975 "Typically Tropical", a band of Welsh audio engineers Jeff Calvert and Max West who went to the very top with their hit "Barbados": a reggae sort of a song that stayed in the charts for eleven weeks.
Now and then from a jukebox that is past its prime, but exudes the sentimental note of the retrospective, it blares out at a local bar on the island. To tune in, see below.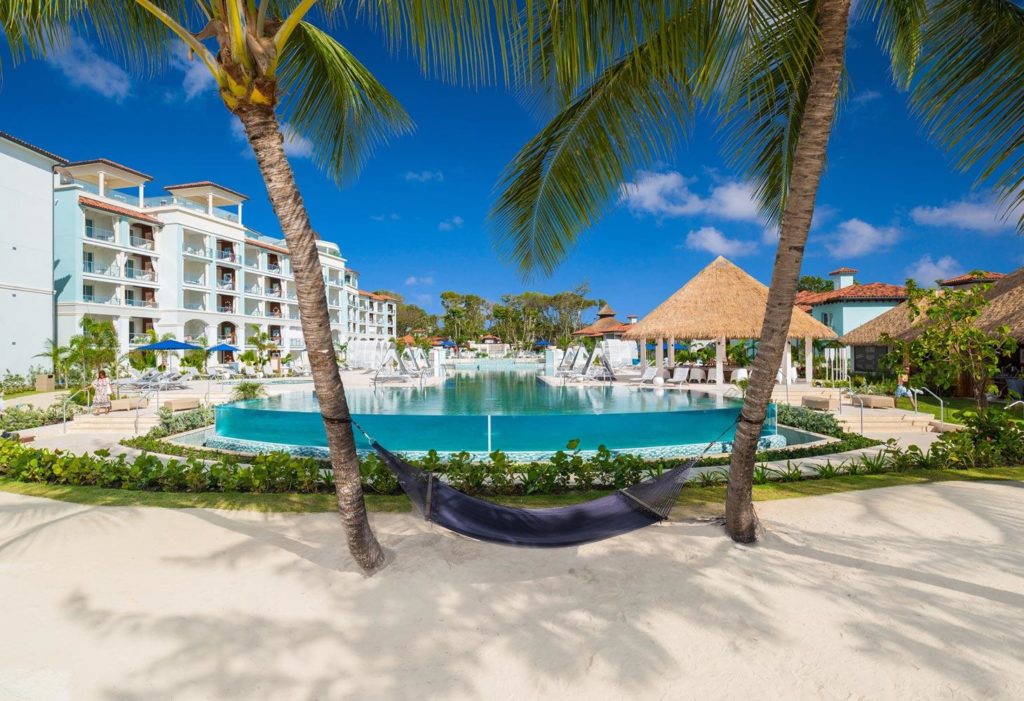 The Sandals Royal Barbados
From Frankfurt am Main, the Airbus travels southwest, over the equator, until it touches down at Grantley Adams International Airport in Bridgetown after circling the island. From there, the journey continues in a luxury limousine to the five-star hotel and resort The Sandals Royal Barbados. How does it feel to spend a holiday in this "postcard idyll"?
Arriving to a brightly shining sun of the south. Sensing the scent – an array of exotic flowering plants always in bloom. Palm trees softly swaying in the summer breeze, and small waves rushing onto a sandy beach. Out there a sailing yacht holding its course on the horizon. This is Paradise, what else. Embedded in a tropical park next to the Caribbean, there are hotels and other low-rise buildings, including round thatched huts (wonderful as villas). And everywhere water splashes in countless basins and pools. Splendid. Heavenly – but on earth.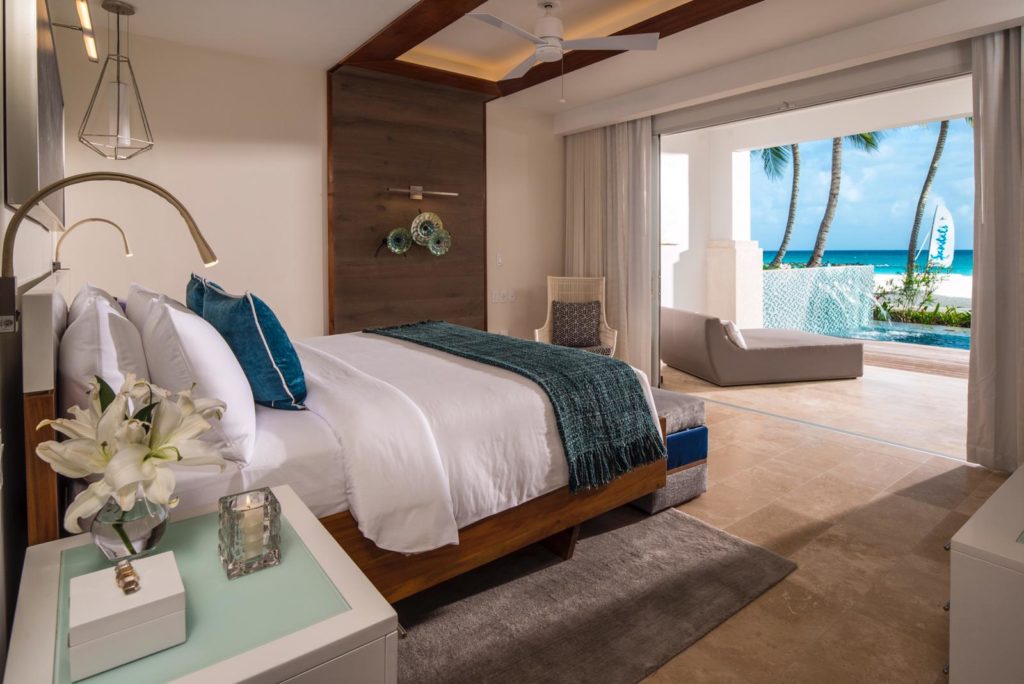 The hotel and the rooms
In the relatively new park-like facility, guests of 272 high-quality concierge and butler suites have been given a musical welcome on top since December 2017, after a welcome drink plus refreshing towel. What a great treat! Most guests from northern climates should find the pleasant Caribbean easy going and an expression of satisfaction common to service personal in this all-inclusive resort for couples to be extremely appealing.
Back to the accommodations, which are divided into 17 room categories, all of which however offer first-class comfort, because every room has a king-size bed, air conditioning, a ceiling fan, bath / shower / toilet, hairdryer, TV, telephone, iPod ® station, WiFi, ironing board with iron and a safe. Fridge and ice bucket are of course not missing, as is the large minibar.
The accommodation offers an additional living room with a dining table, desk and sofa. Modern bathrooms with substantial bathtub and shower leave nothing to be desired. Those responsible know that and of course advertise the great comfort. "Your personal butler takes care of your well-being around the clock." Yes, he does.
"In the unique Rondoval Suites you can retreat undisturbed and enjoy time for two. These Love Nest® Suites with their elegant design and cone-shaped ceiling have a private pool with direct access from the bedroom "and are, it must be said and written: lovely. "In addition to comfortable seating, there is a Tranquility Soaking TubTM on your terrace, which ensures pure relaxation."
So and not otherwise!
Play and pleasure and pool life: in here, out there
If you want to be among a jolly crowd in the resort – apart from cosy togetherness, there is a generous and green entertainment complex. An infinity pool on a hotel roof is also popular, and not just in the evening and at night. You can play table tennis as well as 'real' tennis almost around the clock, or cards and large-figure chess. In addition, let off steam to heart's content on the latest equipment in the gym.
In addition to bathing and swimming in numerous pools, the sea in front of the door is also ideal. Snorkelling and diving, surfing and sailing are all available. "Water-skiing, scuba diving, riding the waves with the Hobie® Cat, all of this with the latest equipment provided by the Sandals Resorts", it says in a brochure, and – it's true. Snorkelling trips, kayaking trips to hidden bays and paddle boarding should not be missed by vacationers. By the way: "Two dives per day are included for certified guests. PADI® courses and night dives are available at an additional cost."
The bowling alleys are popular in the evenings. Balls roll on the table at billiards and snooker. By the way, the guests of the new resort can use all facilities of the neighbouring Sandals Barbados free of charge. Adjacent? Both facilities look like a huge resort in a tropical, evergreen setting.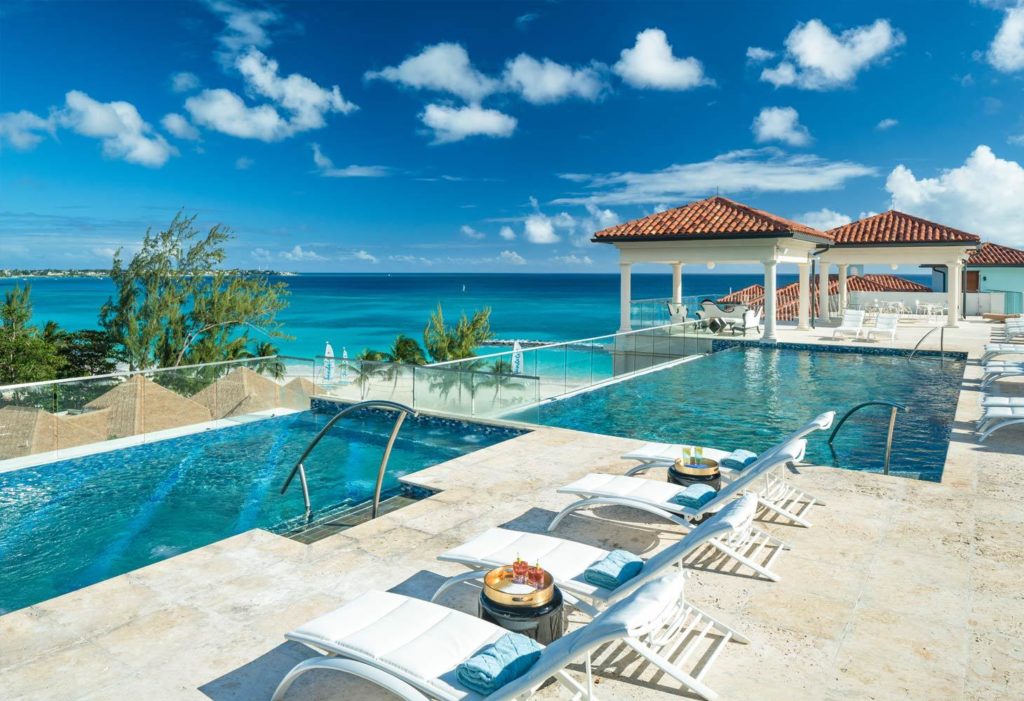 Food and drink in 18 restaurants plus bars and cafes
"Soft music and red wine" desired, then from or up to "La Parisienne", where the view of the tables and plates harmonizes with the view of land and sea. Those who like it Mediterranean and fish will be well served in the restaurant "Neptunes".
As the saying goes on the home page of Sandals Barbados in the global network: "At Sandals Barbados, guests can discover an impressive selection of international dishes, including Caribbean, regional Italian, Indian" and Jamaican and others. Even "a French-style pastry shop" offers coffee delicacies and sugar-sweet cakes. Those who prefer "Donuts & Coffee" should visit the café of the same name. A flavourful Jamaica Blue Mountain Blend Coffee (at least one sip without milk and sugar) is a must!
A sushi restaurant, the "Chi", offers Asian fusion, and in a New York-style steakhouse, "Butch's", men and women are spoiled with steaks and seafood: "Surf & Turf" should be tried at least once. What more do you want?! Really "every restaurant" has "its own chefs who devote themselves to every authentic detail". "All meals go perfectly with six types of Robert Mondavi Twin Oaks® wines of your choice."
A private candlelight dinner on the white sandy beach is highly recommended. Before or after, at a bar that offers international, world-famous and world-class cocktails (you should definitely try the Appleton Estate Jamaica Rum), look across the sea at sunset or feel romantic as the stars shine bright. Isn't it "Typically Tropical" at "The Sandals Royal Barbados"? You are coming back for sure… Now then – go along, sing a song:
"Woh
I'm going to Barbados
Woh
Back to the palm trees
Woh
I'm going to see my girl friend
Woh
In the sunny Caribbean sea".
For more information, see: Sandals Royal Barbados
Annotation:
The research was supported by: Sandals Resorts International. In parts based on an article of Ole Bolle. First published in MaDeRe on November, 3, 2020.