Cannes, France (Weltexpress). While this is being written, the 76th Cannes International Filmfestival is in full swing preparing for its inauguration in mid-May 2023. The spring before, in 2022, Weltexpress was privileged to walk the famous Red Carpet with the movie stars at the 75-year jubilee of the filmfestival! Contributing travel editor Peter Hanneberg then stayed at the celebrities' prime luxury lodging, the five-star Hôtel Martinez. In this article he shares his glamorous experience of this grand old dame.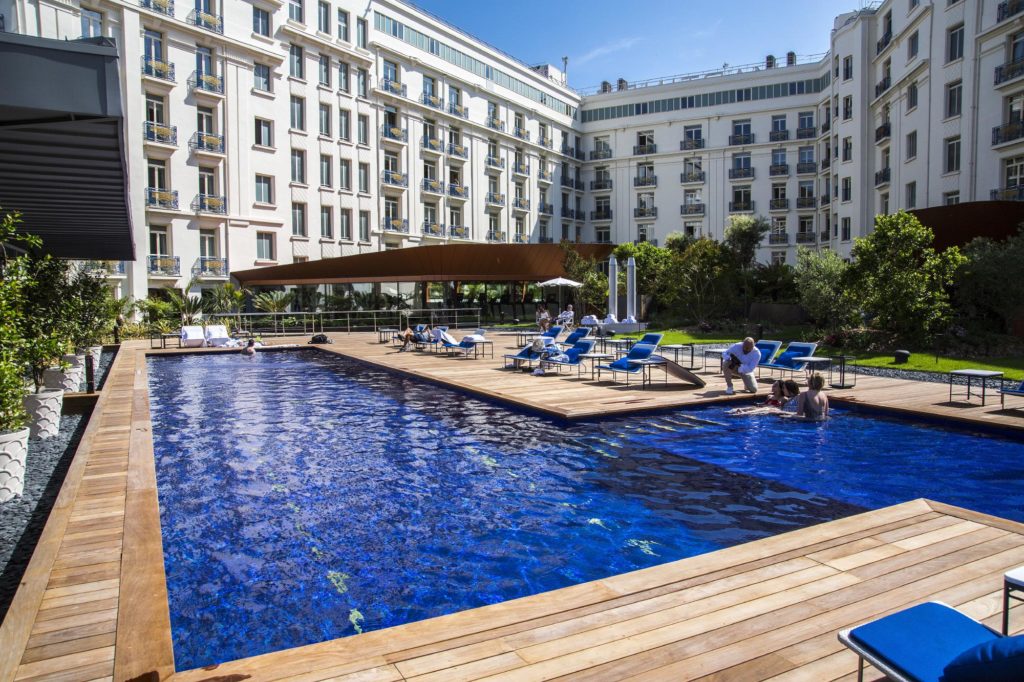 When by mid-May the Mistral ceases to chill Provence, the French Riviera resumes its status as one of Europe's most attractive and popular destinations.
The Boulevard de la Croisette is full of people night-strolling the wide walkway that runs parallel to the 1.5 kilometer long Croisette beach.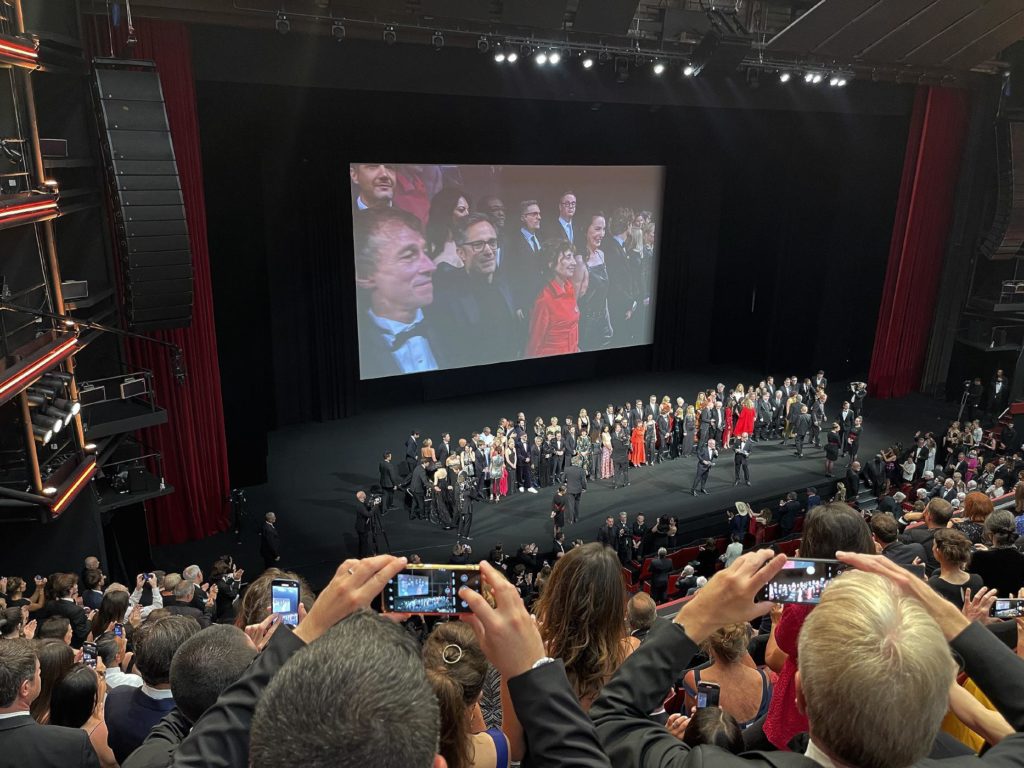 Well synchronised with spring on transition into summer, the International Film Festival begins its 12-days sejour by mid-May. It draws visitors from near and far as the movie stars come flocking to Cannes.
Many of them actually flock to Hôtel Martinez. This was particularly the case in 2022, due to a multi-million renovation of its main competitor Carlton, just two blocks away. Martinez had already completed its restauration a few years back.
The wonderful building from 1929 looks new and fresh, with the restored façade still revealing its century-old architecture with small French ferronnerie balconies. My room is very spacious for a standard room. The beautiful, new-renovated suites on higher levels of the building complex are gorgeous and much sought after by the Hollywood actors.
A new tropical garden close to the pool area adds life to it. I have the privilege of experiencing this Grand Dame of French Riviera hotels for three days, all in the midst of the year's busiest event taking place downtown.
As I pass by the elevators and down the marbled flight of stairs, I encounter beautiful models of fame posing for their photographers, and outside the hotel's main entrance their helpers struggle to squeeze their extravagantly fluffy dresses into the limos to deliver them undamaged to the Palais des Festivals.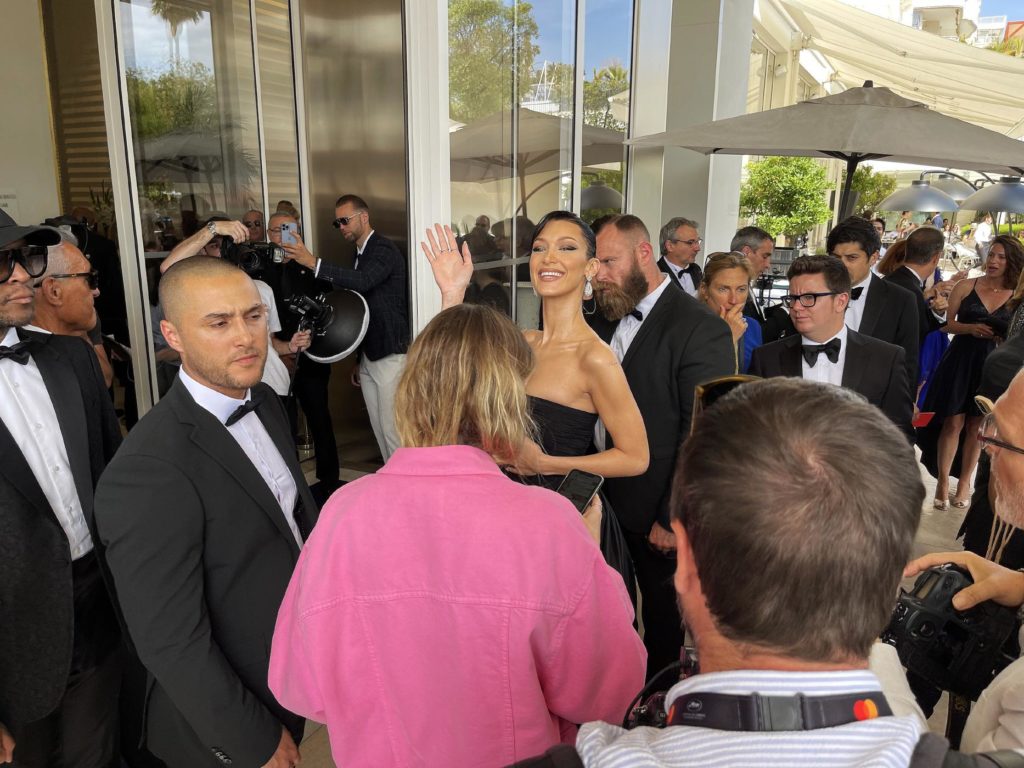 So, no wonder I keep bumping into movie stars such as Mads Mikkelsen and Viggo Mortensen, and star models like Bella Hadid, Ariadna Gutiérrez, and Izabel Goulart at the Martinez. Several other celebrities stay here, whilst some have left before my arrival. How about Julia Roberts, Tom Cruise, Helen Mirren, Javier Bardem, Anne Hathaway.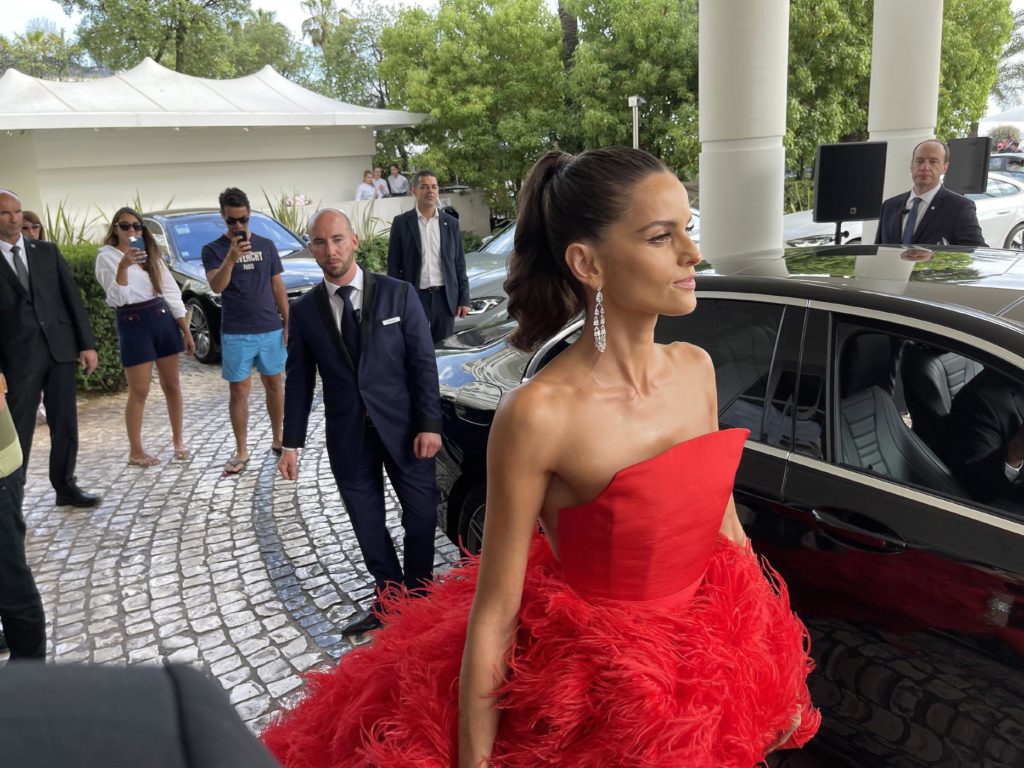 Staying at the Martinez I am able to experience the glamour from the inside. From around 5 pm, the spacious lobby starts crowding up with gentlemen in shiny tuxedos, and ladies in sometimes outworldly dresses. From their upper-floor rooms and suites they come floating down the beautiful marble staircase. The lift is simply too small for their often fluffy creations.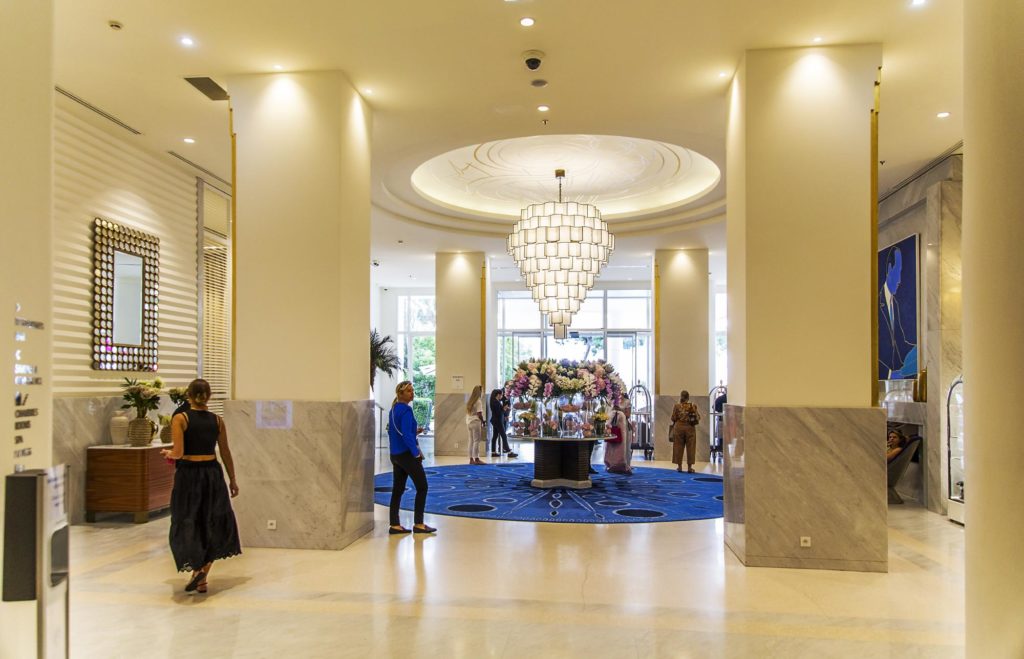 They're all headed for the Palais des Festivals where the Film Festival is taking place every night during two weeks. They are waiting for their limousines to come and pick them up for the Palais, located less than a kilometer away. I, too, queue for my limo, which comes with my invite as a journalist to attend the presentation of the new French movie "L'Innocent".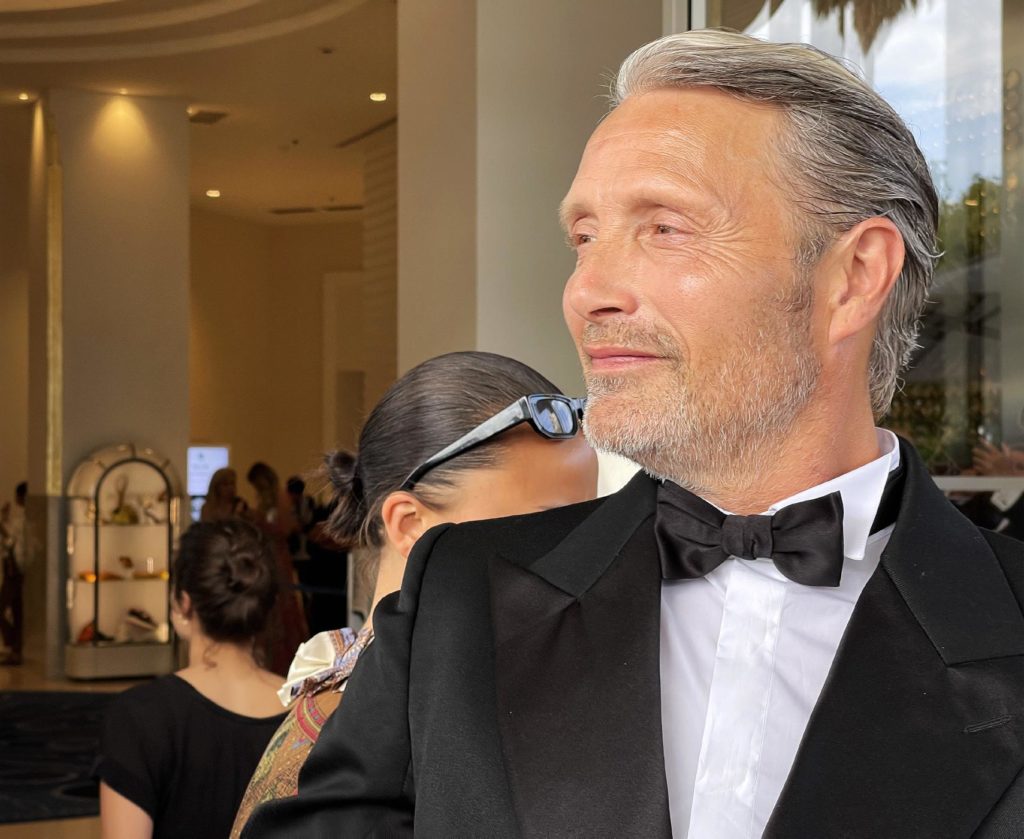 Standing outside the Martinez entrance with actor Mads Mikkelsen and his wife Hanne, they grab the limo before mine, so we arrive at the Palais and the Red Carpet just shortly after one another.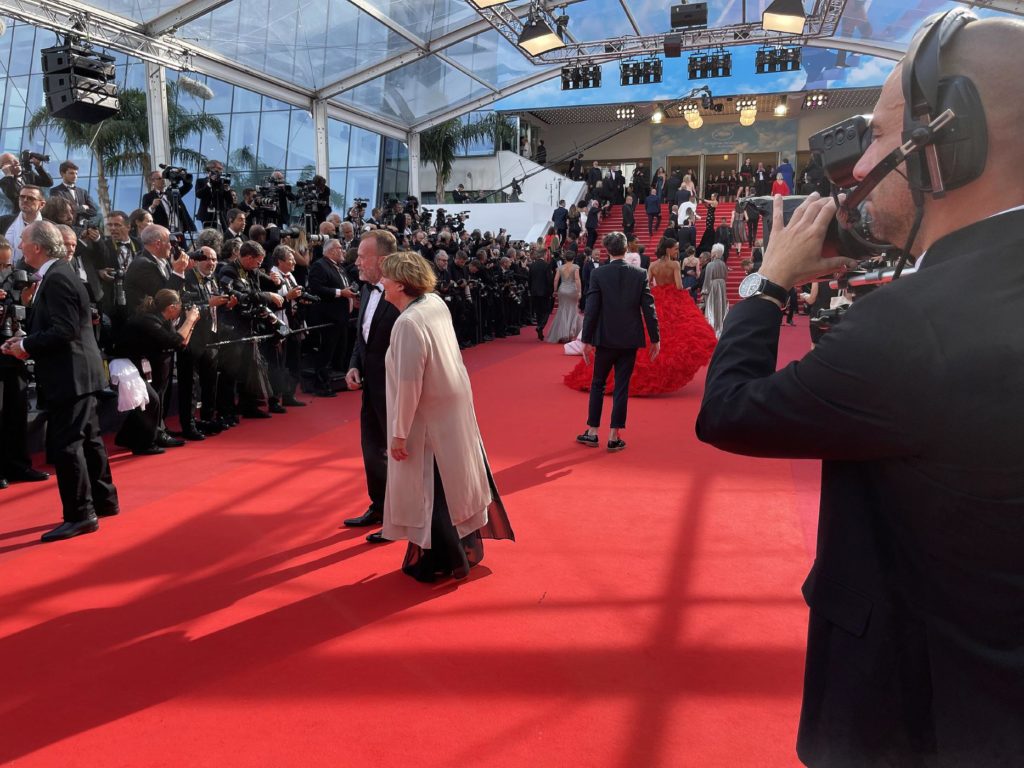 And, indeed, it is a very particular experience to walk the carpet, fixed up in my tux and sunglasses, flanked by hundreds of ditto tuxedo-dressed paparazzis taking pictures. I act my part pretty well trying to look like a celebrity. How can this massive herd of photographers be sure who's a movie star, anyway? Of course, this evening makes the gala highlight of my stay in Cannes.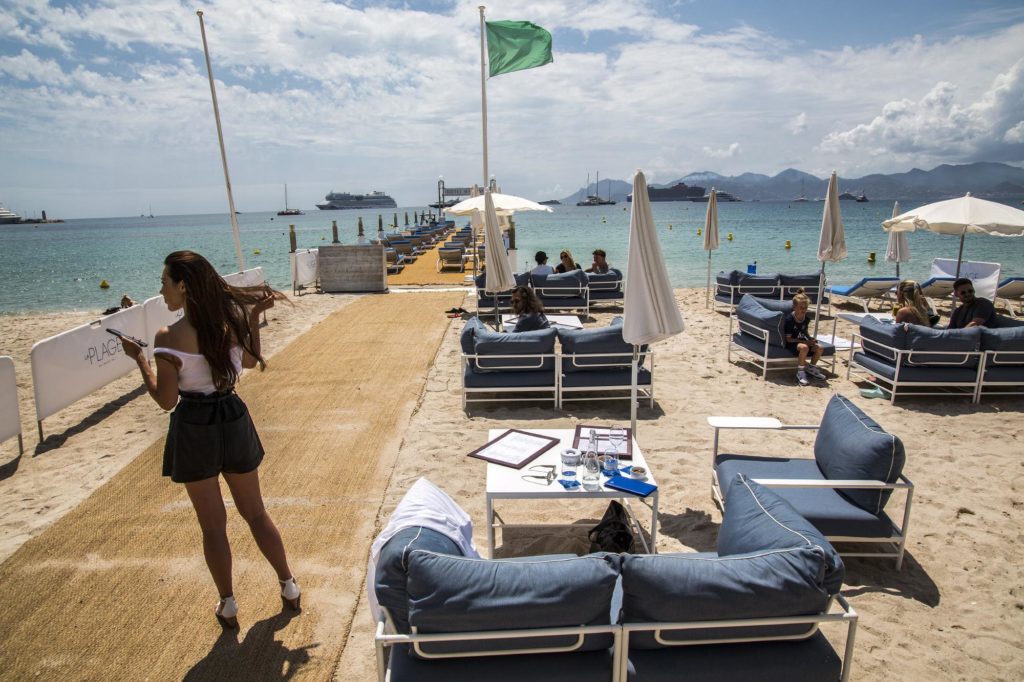 At the Martinez, I enjoy the hotel, its restaurants and, after crossing the boulevard, its private beach club. The whole Martinez complex is located along the Boulevard de La Croisette and on the Croisette beach.
Its beach club is a pleasant place for lunch and relaxation, and perhaps for a swim in the Mediterranean. I am having lunch at its restaurant Plage du Martinez fifteen meters from the water edge with the hotel's Marie-Claire Boudaud, who very knowledgeably enlightens me with all kinds of interesting stories about the hotel and city of Cannes, the celebrities, and of course the film festival.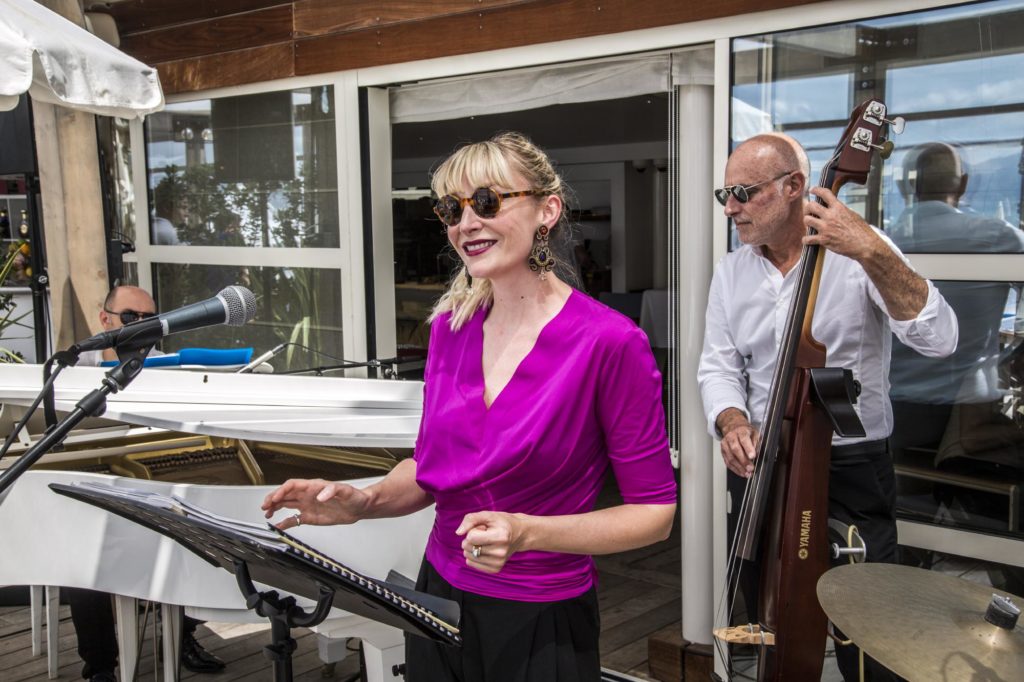 I enjoy fresh grilled fish with healthy greens, and the ambiance that comes with soft-voiced Pauline Sabatier singing live in the background. Perpendicularly off the beach, Martinez' private pier reaches out a hundred meters to deeper waters, making it a perfect pickup point for guests.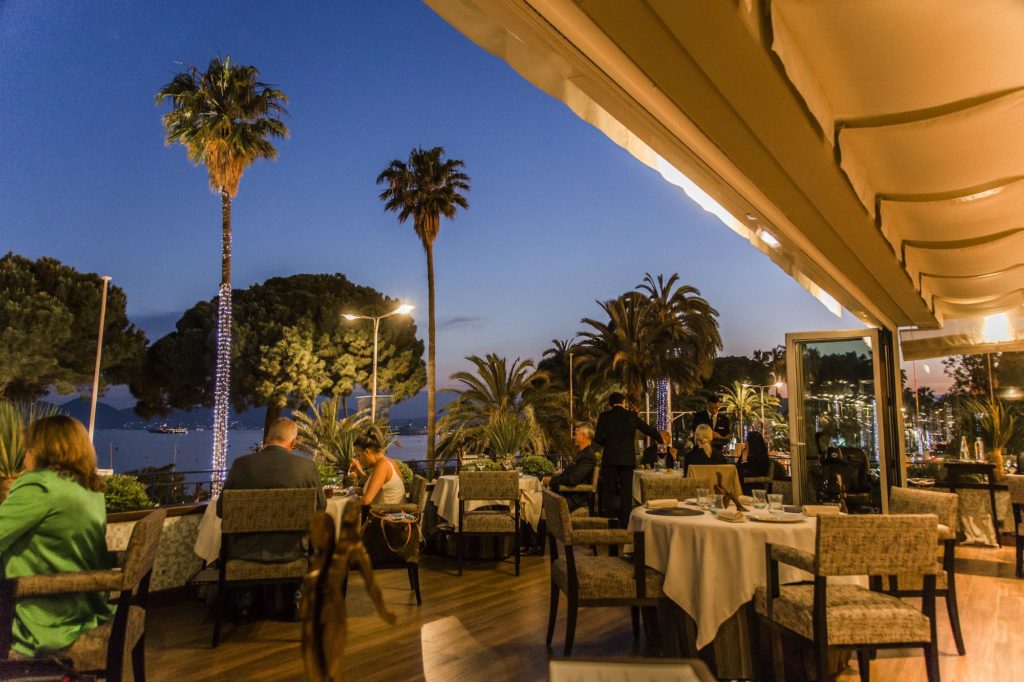 The most famous and exclusive eatery at Hôtel Martinez is Restaurant La Palme d'Or, named after the film festival's highest prize, the Golden Palm Award. I am lucky on my last night to enjoy a menu dégustation with wine pairing, created by master chef Christian Sinicropi.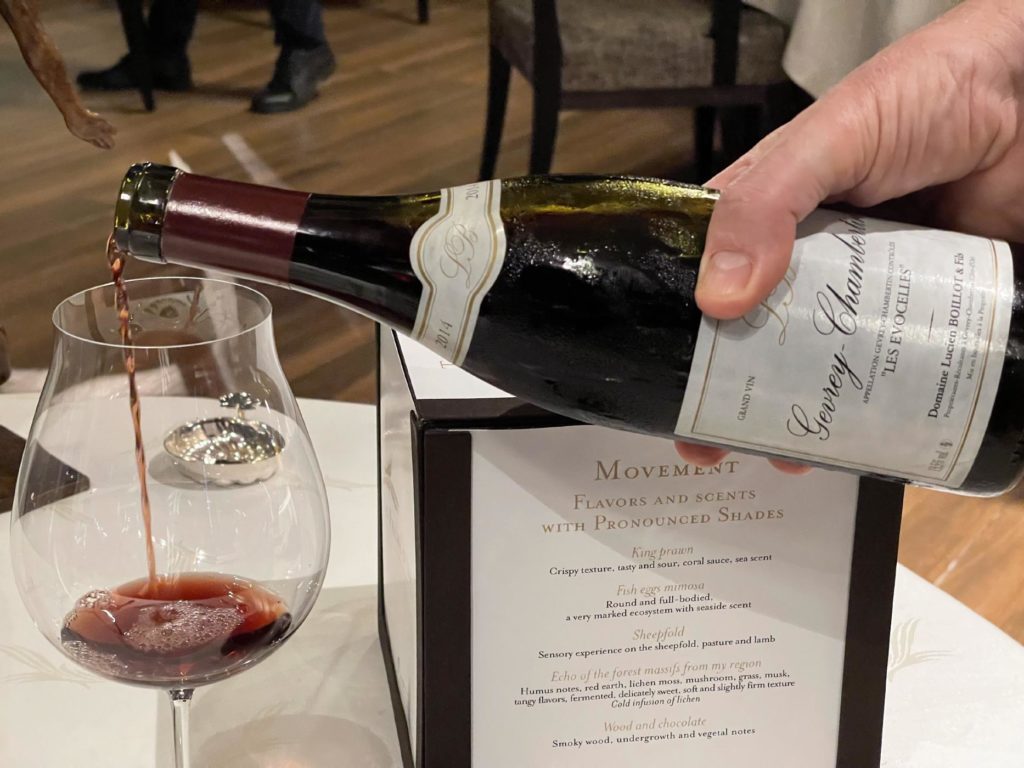 Sinicropi's cooking has earned him and the Palme d'Or two Guide Michelin stars, and repeat guests such as Clint Eastwood, Leonardo di Caprio, and Brad Pitt. Neither of them is here tonight, though.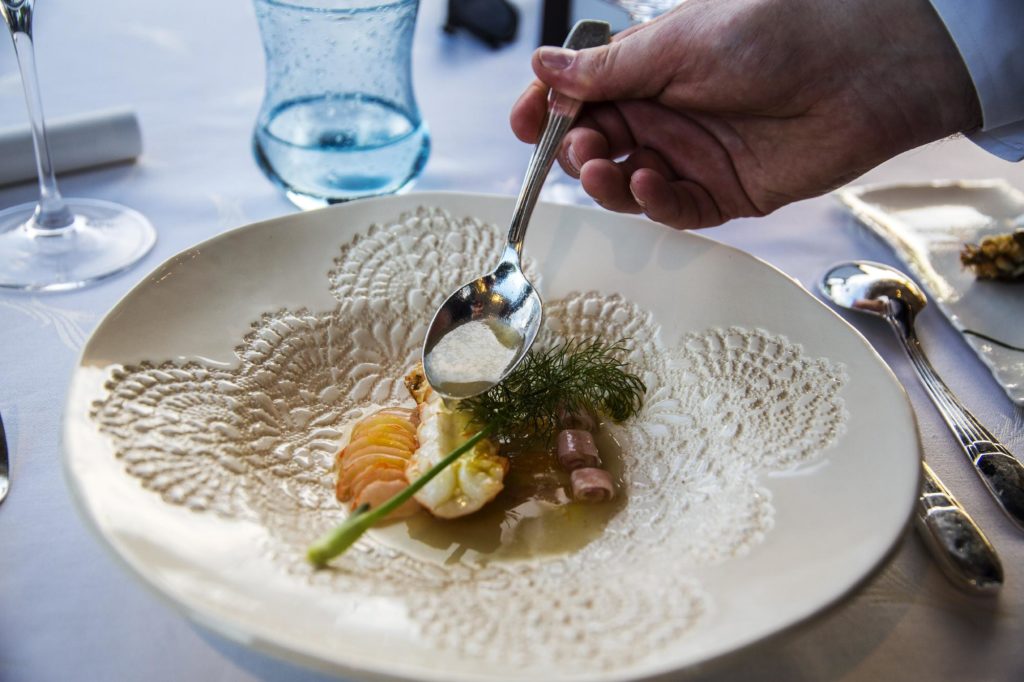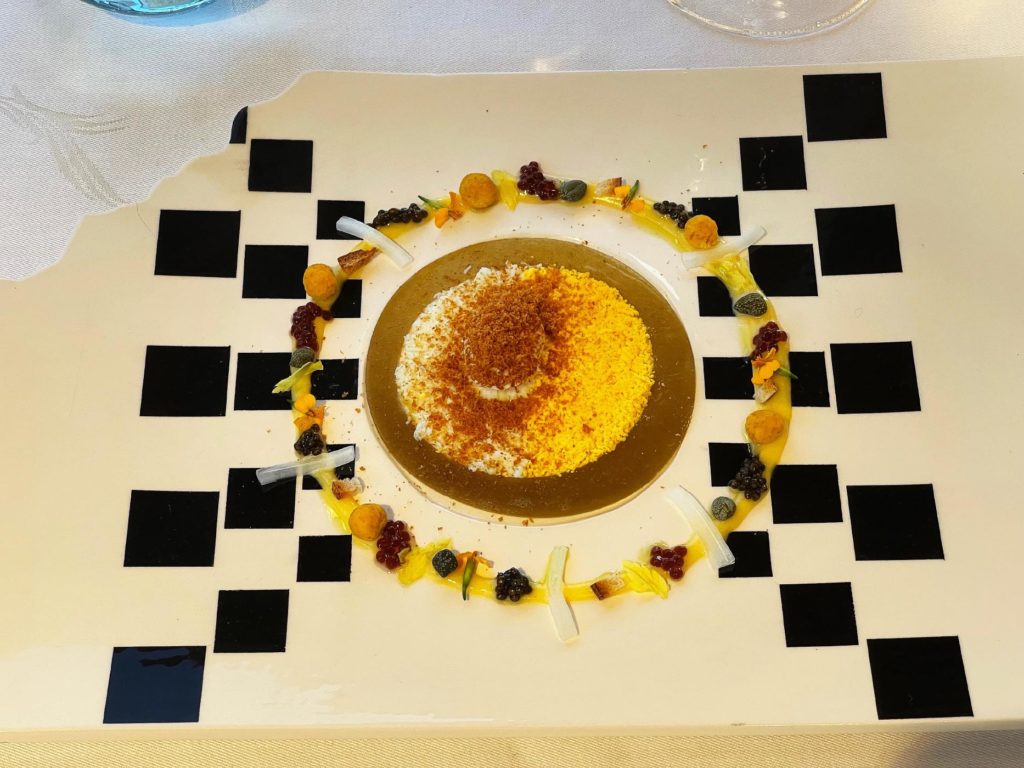 Enhancing the dinner experience does also the extraordinary china, created by the chef's wife Catherine Sinicropi, a designer and ceramicist, in collaboration with artist Steph Cop. I am dining on lovely pieces of artwork. Doing this, Christian Sinicropi honours me by coming over to my table to explain his dishes and concept, acclaimed by many expert critics as extra subtle and innovative.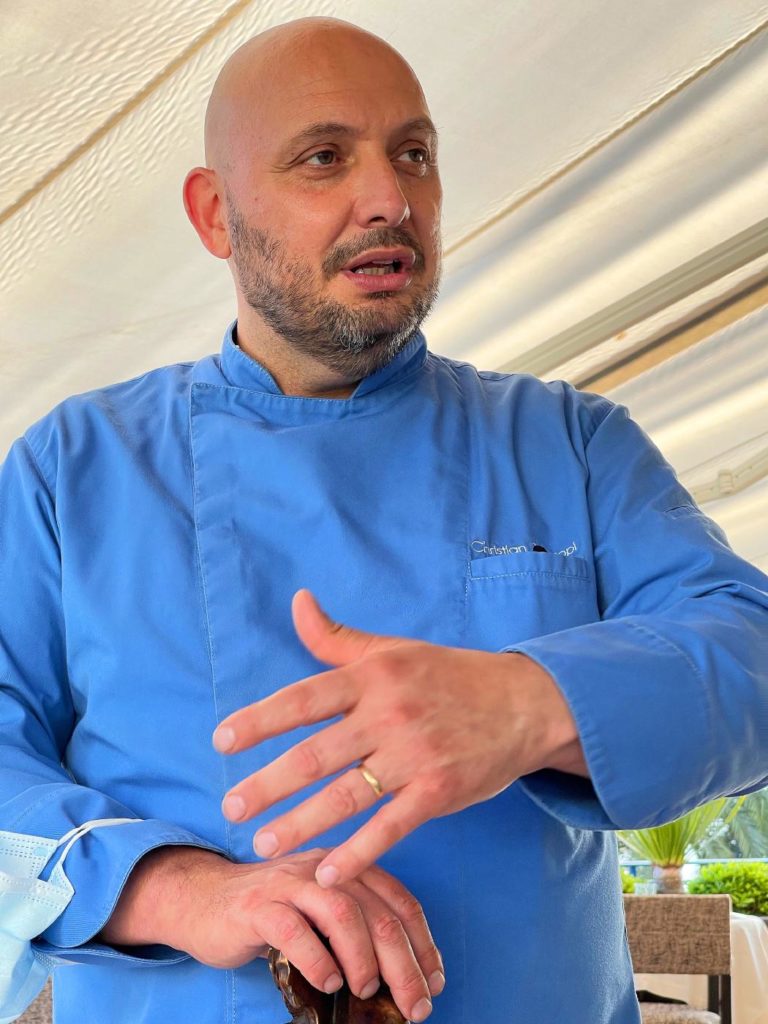 Martinez Bar is another place to be, almost as legendary as the famed Carlton Bar a few hundred meters down the Croisette. I see Hollywood actor Viggo Mortensen refreshing himself with a glass of champagne in the afternoon with his friends. Later in the evening, after my Palais experience, having walked back to the hotel through a light drizzle with no umbrella, I pass through the bar.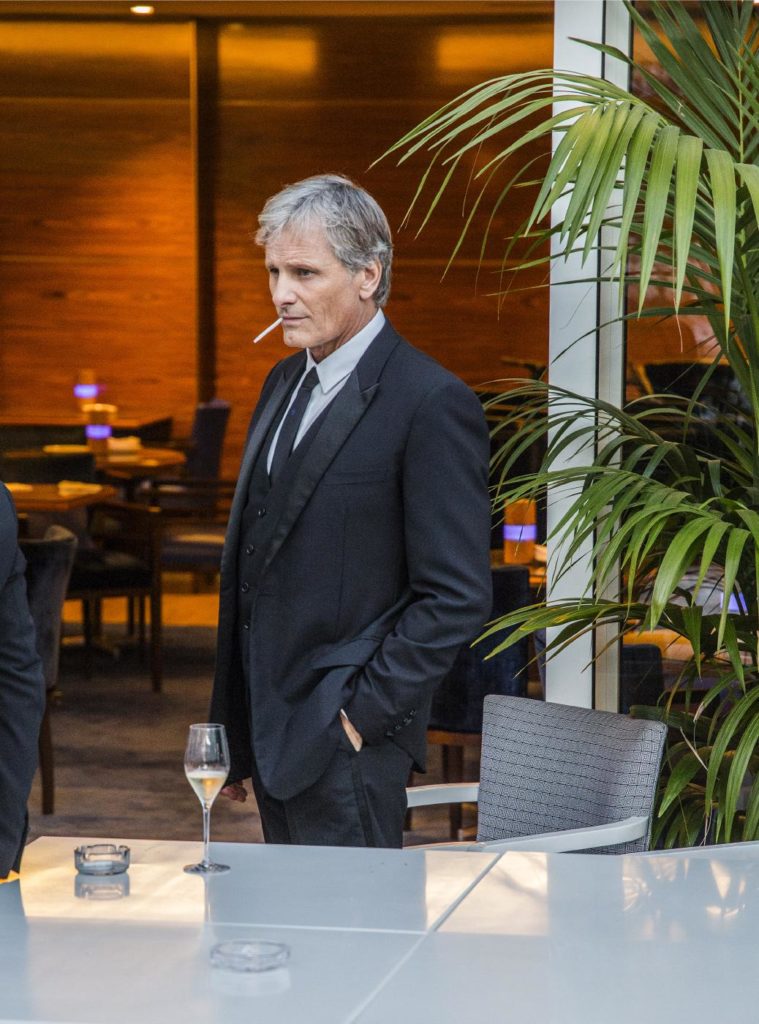 A warming Irish Coffee at Martinez Bar proves to be the perfect ending of a memorable day. So I order a second one. It is my thankful celebration for having had this outstanding opportunity to attend the Palme d'Or Award Festival, and to stay with Hôtel Martinez in the midst of its busiest and most starlit time of the year.
Info:
Hôtel Martinez – The Unbound Collection by Hyatt
Adress: 73, Boulevard de la Croisette, 06400 Cannes, France
Contact: Phone: +33 04 9390 1234, Email: info@hotel-martinez.com