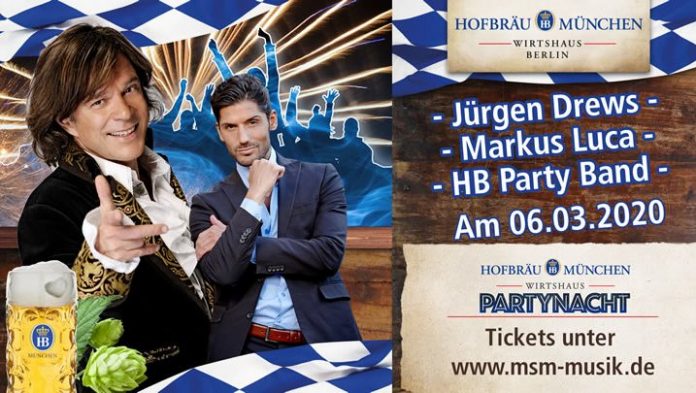 Berlin, Germany (Weltexpress). Friends of the blue-blooded: do mark March 6, 2020 boldly with ink on your calendar to have more than an inkling that the King of Mallorca will come to Berlin then, more precisely to the Hofbräu Müchen Wirtshaus Berlin.
The noble reception begins at 8:00 p.m., admission is at 6:30 p.m. For 18 euros, you feel as lucky as a king or queen, as one not only draws Jürgen Drews and Markus Luca, but also the Hofbräu Party Band.
You can also buy beer and pretzels. Get tankards and knuckles and maybe an autograph from the King of Mallorca on Friday, March 6, 2020!
All this and much more on the event floor of the
Hofbräu Wirtshaus Berlin
Address: Karl-Liebknecht-Straße 30, 10178 Berlin
Contact: Telephone: +49 (0) 30 679 66 55 20, email: reservierung@berlin-hofbraeu.de
Homepage: https://www.hofbraeu-wirtshaus.de/berlin/
Remark
Christopher Prescott based on a text by Ole Bolle.