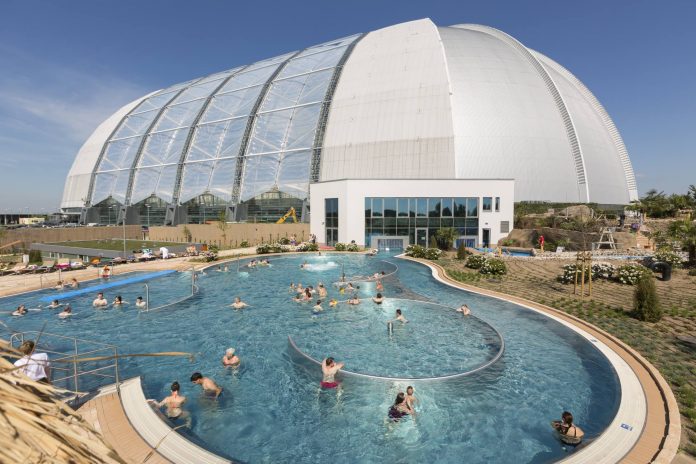 Brand, Brandenburg, Germany (Weltexpress). Already the place for families and young couples to enjoy a weekend break out of Berlin, only 60 km from the bustling capital but by the feeling of it far far away in an exotic paradise, Tropical Island with its thrills and treats is opening up to its surrounds. With Amazonia –bit of a strange name, the long time investor being a Malaysian company. No rain forest here, and the trees that are will need time to grow. The resort is resolved to grow with them, and not only with a four star hotel. For Amazonia, the investment amounted to more than 12 million Euros.
Over the past years the former Cargo Lifter hangar, considered to be the largest self-supporting hall in the world since completion in November 2000, being 360 meters long, 210 meters wide and 107 meters high, has been fully equipped with lots of leisure facilities and all kinds of accommodation – plus the worlds largest indoor rainforest. More than a million of Germans, Poles and Czechs feel at home in the dome since the start in 2004, away from the cold – but in summer they do like to step outside. So the Tropical Iceland Management GmbH visualising this planned a playground outside of the vault. The breakthrough now came about and May 20, 2016 the 35,000-square-meters outdoor area had its Grand Opening. A celebration with many guests from politics, economy, culture and the media, representatives of the embassies Brunei Darussalam, Malaysia, Indonesia, Cambodia and Vietnam in Germany together with The Supervisory Board of Tropical Islands: Gerard Nathan, Jamie Buchan and Joachim Hagemann.
That Amazonia will increase the attractiveness of Tropical Islands "as a year-round destination" as Jan Janssen, CEO Tropical Iceland Management GmbH said at the press conference is easy to believe, because the 66,000 square meters in the dome plus 35,000 square meters of open air area extend to over 100,000 square meters just made for great fun, recreation and relaxation. "Thus, any weather is Tropical-Islands-weather" as Janssen put it. Well, bikinis and bathing trunks that rushed into Amazonia as soon as the business suits had left would certainly have agreed.
At the press conference, the chairman of Tropical Islands Gerard Nathan, main investor from Malaysia, Gerhard Geising, general planner and architect of Geising & Boker, and Kathrin Schneider, Minister for Infrastructure and Regional Planning of Brandenburg, gave us an overall view of Amazonia and for instance explained in detail facts and figures. Janssen announced future plans. From less than 2,000 to around 9000 beds accommodation will be extended step by step. Apart from the four-star hotel only a kilometre away, construction in 2017, a motel and cottages are planned and would complement the existing mobile homes and campsite perfectly. In addition, the small railway station at Brand (with shuttle busses to Tropical Islands) is to be upgraded and also transformed into an info centre.
After the press conference the media were shown round the area of Amazonia. Through the Inca Temple Gateway to swim into one of the two pools, one for fun and to relax, the other for those more into sports. Adventure awaits all that go down Whitewater River.
The jet-stream channel is more than 250 meters long and features various branches and slopes with differences of height of up to 3,5 meters. Gerhard Geising is great in showing us his baby. And isn't that Tarzan calling Jane to come out of the indoor rain forest and race down Whitewater with him? Sure it is, and quite a number of Tarzans in trunks and Janes in jet-stream-wear followed them. So what about you? Waiting for Britta Steffen? As a double Olympic champion, as multiple European and World Champion in freestyle, as world record holder she is the best testimonial that Tropical Islands could have. And here she is!