Berlin, Germany (Weltexpress). PALAZZO is back in town again: In the middle of Berlin, near the Hauptbahnhof (central station), it's all happening again. Since the 13th of November, 2013, high-class entertainment, demanding palatal joys in exquisite unmistakeable ambience of the chrystal palace is charming the visitors. The newly conceived PALAZZO-programme will also enchant and surprise you – if you dare to step into the lights of the magic.
"Business before pleasure" – a dictum with a lot of truth inside. Pleasure should be earned because then it becomes more intense: Who would not enjoy to treat oneself to something beautiful after a heavy working day, doubling regalement with the achievements in mind.
Piercing glance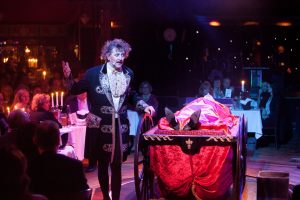 Well then, work should not be underestimated if we want to reach pleasure. On the other hand we should not make the mistake and lose sight of pleasure because of our overcharged working days. We were there, when "Count Voronin", embodied by Yevgeniy Voronin, one of the best illusionists of our days caused sensation at the PALAZZO, playing an eccentric aristocrat with a piercing glance using only a few words. We saw him before in the Crazy Horse in Paris, at the "Tiger's Palace" in Mainhattan as well as in the PALAZZO in Munich.
Ambivalent quick-wittedness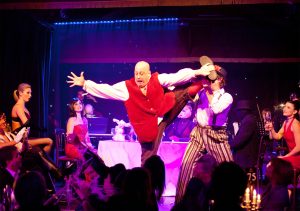 We were enchanted by the comedy of Matt de Kran, founder of the legendary clown mime theatre "Salto Vitale", we liked his lyrical primitive romanticism and ambivalent repartee. As a comedy waiter with big service entourage he supplied us with delightful dishes and noble wines. The "Vier-Gang-Gourmet-Menu" with sautéed shrimps with Tandoori sauce, cucumber yoghurt and Onionpakora, baked codfish with Cocos-Sephia-Aioli and orange fennel salad, in Balsamico braised cattle shoulder with fig, chicory and roasted mustard, Croustillant and parfait of chocolate on date cream and cherry sorbet became primes with a Southern French Chardonnay of 2011 and Georgian red wine Bossner premium Mukuzani of 2007.
Highly imaginative forms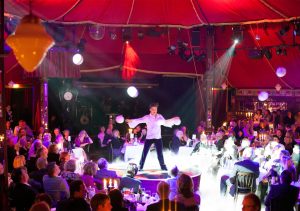 To be honest: With such a great culinary variety we took a shine to the amusing acrobats of the "Trio Sunrise", members of Kiew's circus school. Their show was full of creativity, high technical standards and highly imaginative forms which connected with acrobatic elements to a successful unity. They seemed to overcome the law of the gravitation and presented their big pliability with grace and ease.
Romantic interpretation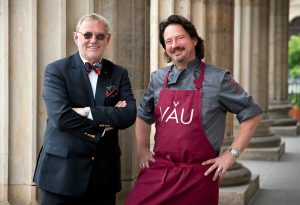 Melanie Stace from England presented herself as a gifted singer singing musical highlights, so that our mood raised to the enthusiasm – with song prize-winning musicals and dance shows which she had often enough sung with the "BBC Big Band" on tour. We knew her from popular english TV broadcastings as "The Generation Game" and the "Royal Variety show".
The Russian lady Svetlana Perekhodova performed the "Ball of the Count": A unique and very romantic interpretation of a living puppet. Sam Payne (USA) and Sandra Feusi (Switzerland) danced vertical tango, comedy star Peter Pitofsky (USA) made fun of us with screamingly funny facial play and insane gestures, visited us several times at the table and involved me and my nice company in small funny scuffle.
The class of modern cooking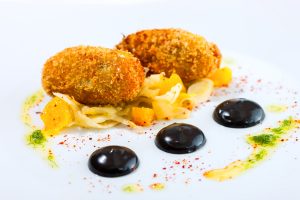 Sergiy Krutikov as a juggler, true gentlemen, and Victor Moiseer, acrobat and magician, fascinated us with sophisticated Jonglage and choreography. Two excellent hosts welcomed us: ZDF-television cook Kolja Kleeberg, known as the Chef de Cuisine in his restaurant VAU in the Berlin gendarme's market and Hans-Peter Wodarz, known by his Munich spot "The duck in the Lehel" where artists, gourmets and personalities of all kinds meet regularly. In the beginning of the 1990s, visionary Wodarz realised his dream: he went on tour with "Pomp Ducking and Circumstance" and was awarded for it three times with the "Five Star Diamond Award". For his innovative gastronomic conceptions in the capital, the jury of the "Berlin master cooks" and "Berlin Partner" chose him" the "gastronomic Innovator in 2010".
A full range of sensual delights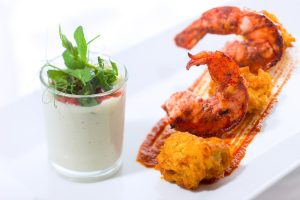 An old proverb says: "One minute of smile extends the life by one hour". In this sense we wish our readers that they may win as guests in the PALAZZO many years of additional lifetime. Be sure that an evening here is a unique event full of sensual delights. Be sure that your friends will also pass an evening of pure pleasure.
Website: http://www.palazzo.org