Berlin, Germany (Weltexpress). The Master of Flavors is none other than Arnd Heissen. Bar Manager, Arnd Heissen and The Curtain Club is one of a kind. When you combine passion with pleasure the experience leads to tantalizing combinations.
Unique, creative and filled with spontaneous joy, Mr. Heissen and his team provide a bar menu with fantasy cocktails that match the world's best.
Upon entering The Curtain Club, the unexpected turns into a spirited journey where signature flavors are introduced on a tray of fragrances. Precious essence – pefume bottles – Hypnose, Herbia Fresca or Aqua di Giola are a few of the sensual challenges that originate from the perfume drinks.
A new world of personal smell and flavor each drink will elevate your senses to another dimension.
Look -I Taste-I Feel, Berlin's Ritz-Carlton's The Curtain Club's aromatic perfume mix is indeed, one of a kind!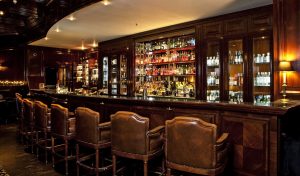 Smell the perfume first and you will find a treasure in the The Poet and Alchemist – Safran Rum, lemon, vanilla, cardomom and pear is stimulating. Alice in Wonderland is a combination of Rosen-Himbeer Vodka, lemon, hazelnuts, strawberries and rhubar-berenspuma. Mr. Heissen and his team will gladly translate and introduce the perfumes to match your special selection.
Extravagant- avantgarde drinks by Arnd Heissen is a world of symbols that deliver rich associations. Perfumes from Armani, Guerlain and Lancome are just an introduction – a drink will never be the same once you've tasted the flavor.
Philosophy fragrance, soft leather chairs while having a richly spiced aromatic cocktail is a class of its own!
Trend Drinks written by Master Mixer, Arnd Heissen is available in the bar – ask for your personal copy – the book is a must read and welcome addition to any library where essence is the essence of a perfect mix.
Weltexpress Gourmet had the wonderful pleasure of entering a new world-mix – when in Berlin and looking for the ultimate bar, head to The Curtain Club.
* * *
The Curtain Club, Potsdamer Platz 3, 10785 Berlin, Germany, Phone: 0049 (0)30 337776196