Berlin, Germany (Weltexpress). Game 3 Play-Offs and Berlin looks like a major contender.
Playing consistently and scoring big points, Alba used their superior board control and turned in a high-level fast break performance. Leading throughout the match, Oldenburg was unable to diminish Alba's determination.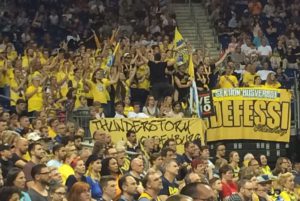 Taking a comfortable 2 – 1 best of five series lead, the Berliners used a heavy scoring punch to thwart an inconsistent Oldenburg game.
Top scorers for Alba – Luke Sikma 18, Spencer Butterfield 17, Marius Grigonis 15, Siva Peyton 12 and Dennis Clifford 11, provided a well rounded scoring rotation. The boards also belonged to Alba – taking down 39 to the visitor's 26. Fast break points were crucial for the home team, outscoring the Baskets 12 – 5.
Oldenburg's go-to-man, Rickey Paulding started slow, but improved in the second half leading his team with 19 points. Other top scorers – Rasid Mahalbasic 16, Frantz Massenat 15, and Armani Moore added 10.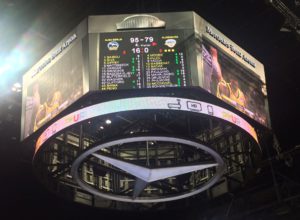 Back in Oldenburg for game four – Tuesday, May 15, 2018, Oldenburg will be more determined. Should Oldenburg hit the boards and play better transition basketball, the outcome might create a tough game five show-down in Berlin. The winner of the quarter-final will end up playing Ludwigsburg or Bayreuth.
In the other bracket, Frankfurt is leading FC Bayern 2 games to 1 and Bamberg is up 2 – 0 over Bonn.