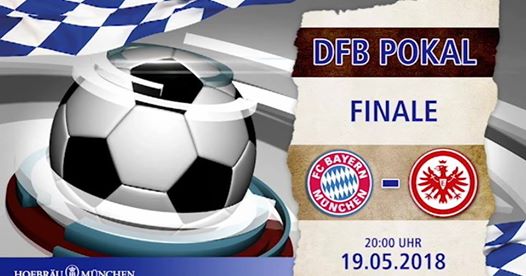 Berlin, Germany (Weltexpress). The DFB Cup Final will take place on Saturday, May 19, 2018 in Berlin's Olympic Stadium. FC Bayern München and Eintracht Frankfurt are in the final. Now, lucky ones who got a ticket to see the game should certainly go Westend. But where's the place to cheer and celebrate for those who did not?
Our and their way to Olympic Berlin
Since 1985, the final match for the cup of the German Football Association is held on the former Reichssportfeld. 64 teams (36 clubs from the first and second Bundesliga and 28 teams from the lower leagues) compete in five knockout rounds to reach the final.
This time, Eintracht Frankfurt and Bayern München go to Berlin, and many supporters of the two football clubs will fill the 74,475 seats, 38,020 on the lower ring and 36,455 on the upper.
To the arena in midtown instead of the stadium
Those who do not have a ticket for the stadium in Westend, where the game has been sold out for some time, should move on to the centre of the metropolis, to an arena for hearty, cheerful fans of Bayern, on to a merry tavern atmosphere – to Hofbräu München, Wirtshaus Berlin.
The benches at the tables in the so-called event floor will be filled. From 8 pm onward its show time, and everything is to be seen on a lot of large screens.
Before and during the game, traditional food and beer are served – especially Hofbräu light and dark as well as Münchner Weisse, which may also be of black tan. On top of that, seasonal beers are offered – now, of course, it's Maibock time. Enjoy the brew!
Enjoy the match with Maibock or more, and cheer on to celebrate the DFB Cup winner. Either the old coach of Bayern will win with his team, or the new one now at Eintracht – can't wait to watch!
Hofbräu München, Wirtshaus Berlin
Karl-Liebknecht-Strasse 30, 10178 Berlin
Reservations are possible by phone at 030/679665520 or by e-mail at reservierung@berlin-hofbraeu.de.
Christopher Prescott based on a text by Kerstin-Bettina Kaiser.