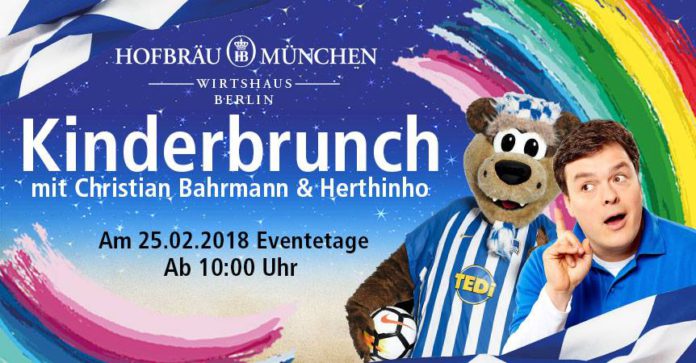 Berlin, Germany (Weltexpress). There is never a dull day at Hofbräu München, Wirtshaus Berlin, and with kids involved, parents will truly enjoy the Kids Brunch Event with Christian Bahrmann and Herthinho on February 25, 2018.
Starting at 10:00, children from 0 – 10 will enjoy a Free Brunch.
Kids up to 14 will pay half-price, while adults pay only Euro 16,90.
Kids Brunch is a novel activity that will feature singing, dancing and a lot of fun for young and old alike.
Also, you'll enjoy the new children's corner where face painting and surprises are offered.
The Kids Brunch will provide juices, coffee and snacks throughout the day.
Don't miss out on the fun – call for your reservation: 030 67966 5520.
A special family event for everyone – the Hofbräuhaus Berlin is the place to be – February 25, 2018!