Berlin, Germany (Weltexpress). Should Bogart and Bergman walk into the Hotel Palace, they would welcome a drink at Sam's Diner & Cocktails.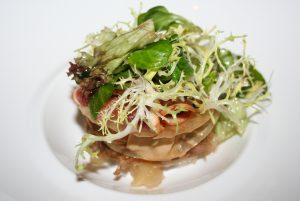 Unwinding, after a "tough day" – there is nothing like a great drink to ease the spirit and enjoy a classic bar.
Berlin is a city with rich flavor and style – The Hotel Palace is a "Leading Hotel of the World" and known for its flair, comfort and style.
Back in Sam's Bar – Weltexpress Gourmet had the wonderful opportunity to share an evening with Nancy Albrecht, Assistant PR & Marketing Manager and Faton Spahija, Bar Manager.
The bar's semi-circular interior design is classic.
With Casablanca playing on a huge screen, the atmosphere is set for sampling a few of the best drinks in town. The extensive cocktail menu with 25 varieties of Gin and other well known spirits – Faton Spahija will deliver a host of wonderful drinks and rich conversation.
Not only will you find excellent cocktails, the diner menu offers a delicious club sandwich, tasteful steaks and other assorted snacks.
Weltexpress Gourmet will continue following the Hotel Palace news. The privately owned hotel brings special charm and creativity to the metropolis that will continue to attract international guests.
* * *
Sam's Diner & Cocktails, Hotel Palace Berlin, Budapester Strasse 45, 10787 Berlin
Open: from 6 pm every evening