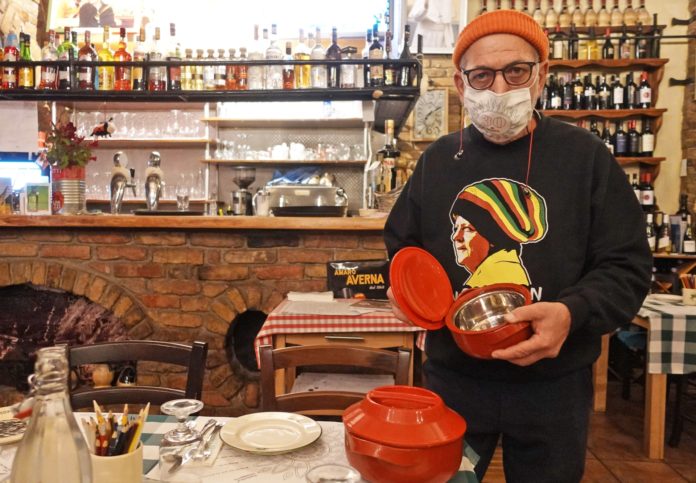 Berlin, Deutschland (Weltexpress). Aperol Spritz to go? No problem. Pino Bianco who with Mamma runs the Trattoria in Berlin's Fuggerstrasse keeps his promises. He's not only creative in the kitchen, but also when it comes to takeaway options during the current lockdown. Sustainable and stylish at the same time, that's how he does it. "I want to avoid unnecessary mountains of rubbish," he emphasizes. Instead of the usual disposable plastic or aluminium bowls, he relies on reusable pots, which the customers bring back to him – without paying any deposit. It's all a matter of trust. So far, nobody has disappointed him – very much to the reassurance of Mamma, the soul of the place and still at work with a helper in the kitchen.
As if to prove it, a customer enters the room and brings back the dishes. The idea goes down well with the guests, he assures. He knows most of them – tourists tend not to be among his clientele. In return, people from the immediate vicinity come to support him during the lockdown; People who weren't his guests before.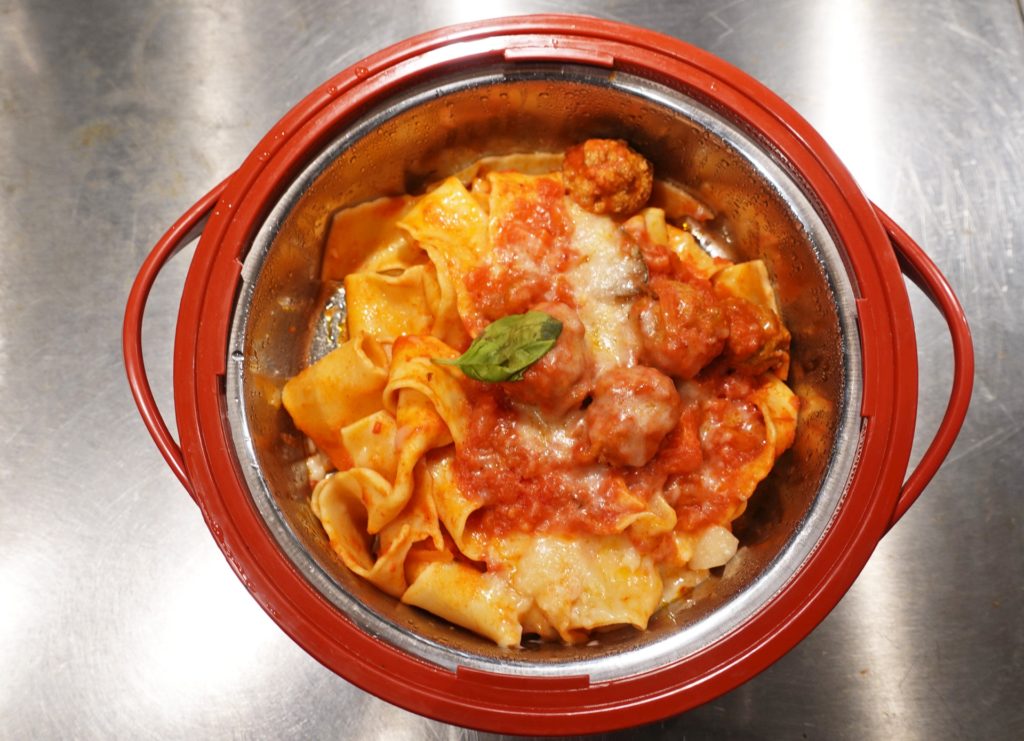 Pino rushes into the kitchen and comes back with a bright red something made of hard plastic instead of metal. The lid has a screw cap and the inside is insulated so the food stays warm. He opens the pot. It steams and smells. Pappardelle con Polpette, pasta with meatballs in tomato sauce, all homemade. Parmesan on request, all lovingly garnished with a basil leaf. "A typical Sunday meal from Basilicata" Pino explains "our home region in southern Italy".
Another guest is coming. Actually he has no appetite, the young man realizes, but there would still be room for a Pizza Napoli with Parma ham. Of course, he also has pizza to take away. He lined the bottom of the boxes with Bach paper, so nothing can get greasy. And the boxes can also be used multiple times.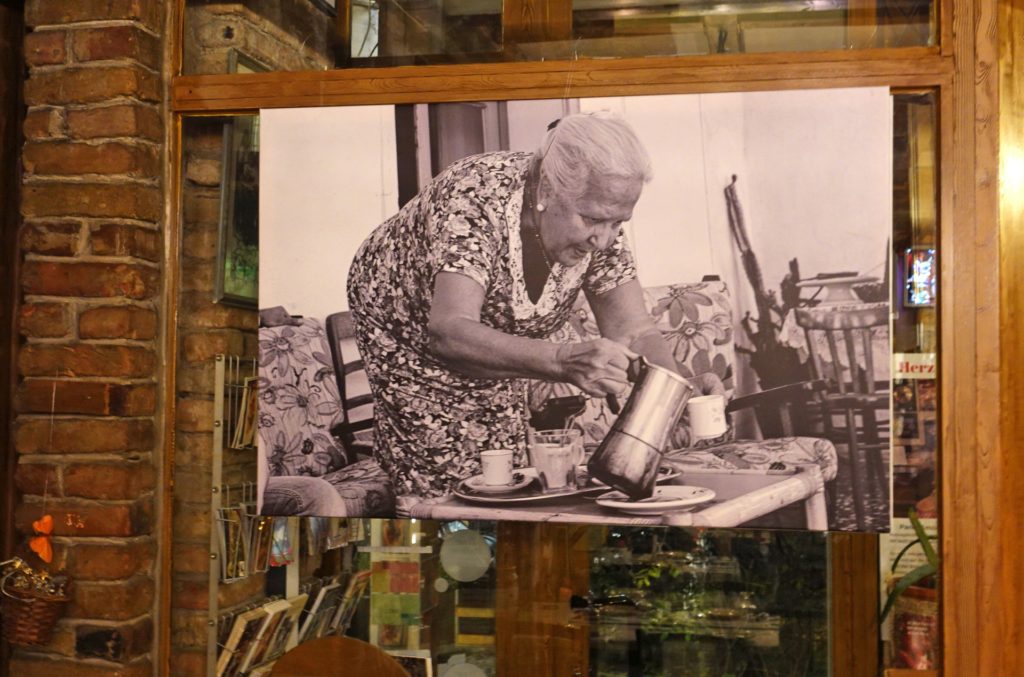 He also does without plastic cutlery. For this he hands out crusty bread baked with oil for the guests. The children especially love it, he says. The owner just won't let the lockdown get him down. The restaurant is festively decorated, just like before the Coronavirus period. Furrowed faces look down from the wall. Haunting images from Pino's homeland, by Frederica Massaro, a photographer who lives there. He is planning further exhibitions, especially for 2021, to celebrate that his restaurant opened 30 years ago and has been going strong since.
All in all: a beautiful and inviting setting for the specialities of his Basilicata despite the restrictions now. So come and embark on a journey through the culture, the cuisine of this mostly unknown Italian province – and Take away the pleasure of authentic taste.
Trattoria a Muntagnola
Adresse: Fuggerstraße 27, 10777 Berlin
Kontakt: Telefon: 030 211 66 42
Heimatseite im Weltnetz: trattoria-muntagnola.de
Remark:
Christopher Prescott based on a text by Fritz Hermann Köser.