Berlin, Germany (Weltexpress). Just down the street from the Olympic Stadium, the Tiroler Bauernstuben brings home Austrian delicacies straight to the heart of Berlin.
You'll appreciate the ambience where wooden floors, furniture and knick-knacks remind you that tradition is carried forward. Time may change the course of history, but recipes that define authentic Austrian cuisine is something wonderfully served at the Tiroler Bauernstuben.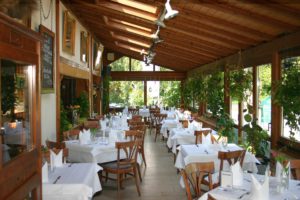 Serving in traditional dress, the staff is friendly and eager to recommend tasty and filling dishes.
Delightful and cozy, you'll enjoy a special Austrian evening – the menu speaks for itself. Dishes worth sampling include: Braised Beef Sirloin with onions and fried potatoes; Pan Fried Pike Perch with celery mousseline tomato ragout or the famous Wiener Schnitzel – a bread veal cutlet with cucumber salad.
Starters offer a mouth watering smoked salmon with cream honey – mustard sauce and potato roesti.
Leaving a little room for Austrian desserts always brings a smile to the table – try the Kaiserschmaron, a fluffy pancake with raisins and almonds cooked with plums and served with ice cream. The Apfelstrudel with homemade custard and whipped cream is a must.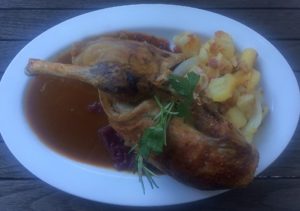 The relaxing Tiroler Bauernstuben offers a wonderful selection of Austrian wines and beer – compliment your meal the right way.
Fun for kids and families, the beer garden is a great way to spend quality time – all involved will enjoy the shady and spacious area surrounding the restaurant.
Weltexpress Gourmet highly recommends the Austrian experience in Berlin – Tiroler Bauernstuben is the place.
* * *
Tiroler Bauernstuben, Heerstrasse 137, 14055 Berlin, Germany, Phone: 0049 (0)30 300 99 466, E-Mail: info@tiroler-bauernstuben.de
Open from monday until sunday from 11.30 am to 10 pm.