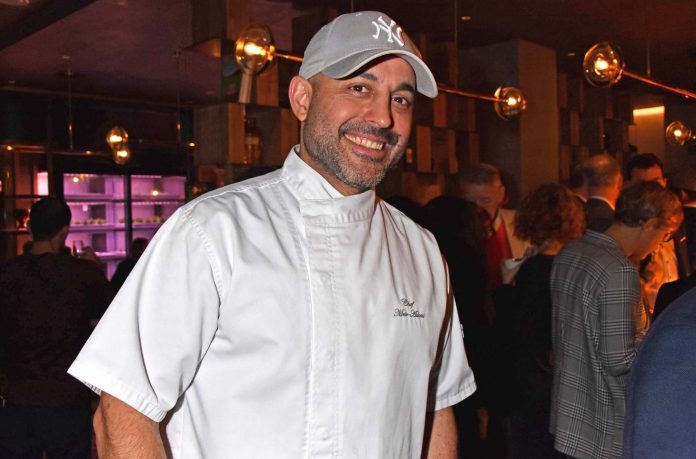 Berlin, Germany (Weltexpress). On November 1, 2018 the Layla by Meir Adoni in Berlin-Xberg really got going, with a festivity to mark the grand start – and not merely Meir Adoni present. The location, a pleasant mix of bar and restaurant, opened its doors in October 2018. Although the interior looks rather sober Nordic, most drinks and the menu have a sound Mediterranean appeal.
The bar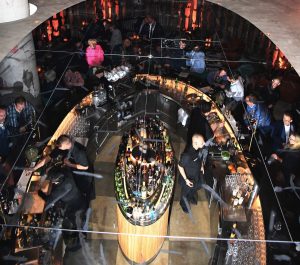 is oval, at first glance a piece of industrial design, and somehow futuristic, which could or should scare off the beer tavern crowd. Around it stools and sitting areas without corners, but with chairs. For drum and base, and of course for Eric Clapton with his guitar, this is a perfect match. The music played at Layla, however, is said to have been compiled by Maayan Bazak, an international music editor, and to unite melodies for millions or "beats from Europe and the Middle East".
For the drinks presented this evening as well as those not, credit goes to Emanuele Broccatelli we are told. He certainly created the signature drink Layla, which turned out to be our favourite with the golden cup one coming second. Wine is also served. The wine list looks good and also grasps the grapes from Israel – we will definitely have to try these next time.
The restaurant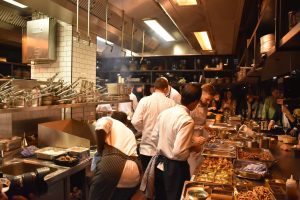 is situated with its own entrance opposite of the fashionable spa Tempodrom – and lets say adjacent to the hotel Crowne Plaza. We did not try but believe that out from the show kitchen will come these delicious dishes and treats: Jerusalem Bagel or Kubbana (Yemeni Brioche), Confit Duck Quatayef (Lebanese pancakes and duck in Szechuan pepper), also Layla tartare (veal, smoked aubergine cream, goat's cabbage, tomatoes, green vegetables, sumac, tahini and olive oil), Lamb Arayes (kebab in pita bread), smoked aubergine carpaccio or smoked veal tongue, Hamachi sashimi, oxtail bulgur risotto and a grilled Moroccan octopus are also on the menu, as well as a Moroccan stew with Coquilles Saint Jacques and mussels, a proud prawn and sea bass at its best.
It looks as if a mixture of Middle East and Mediterranean cuisine will be there for guests to enjoy. At the grand opening of Layla, all sorts of dishes were served in small bowls, cups and on plates. Our first impression: something new and tasty for Berlin. We will come again to try when there's more time to savour specialities!
Layla
Möckernstraße corner of Hallesche Straße, 10963 Berlin
Contact: Telephone: 01512 2563654, E-Mail: hello@layla-restaurant.com
Web: www.layla-restaurant.com
Facebook: www.facebook.com/Layla-Berlin
Instagram: www.instagram.com/Layla_berlin
Opening times: The bar every day from 6 pm into the small hours, the restaurant from 6 pm to 1 am.
Note
Christopher Prescott based on a text by Ole Bolle.