Berlin, Germany (Weltexpress). When the senses are stirred, you'll find the Palazzo Berlin experience a joyful adventure. Between fine dining and superb entertainment, the vibrations lift the palate and visuals to a highly memorable occasion.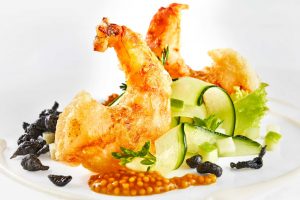 Stepping in unison with wonderful songs and delectable dishes, you'll journey into a fun-filled show that keeps your taste buds jumping and heart strings laughing.
A delectable four course menu with startling entertainment is the best way to sit back and enjoy the spectacle.
The artists are from the world-over – Sven Riemann – Germany, Colm O' Grady – Ireland, Simon Llewellyn – Great Britain, Kaelyn Schmitt -Canada, Mandi Orozco – USA, Lorant Markocsany – Hungary, Yuliia Lytvynchuk – Ukraine, Brandon Rabe – USA, Kai Hou – China, Marion Feichter – Italy and The Fortune Four – Germany…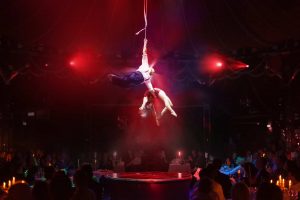 The comedy, flying acts – poles, swings, ropes, song, hoop diving, dance and magicians are electric!
Costumes and stage are brilliantly designed.
Funny, heart warming and full of fantasy – you'll enjoy every moment.
Between acts, a team of servers provide a stream of dining extravaganza – making it all the more special.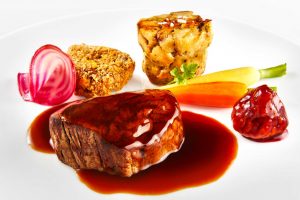 The concept and brains behind Palazzo – Kolja Kleeberg and Hans-Peter Wodarz, truly demonstrates their innovative spirit.
When it comes to fine dining combined with excellent entertainment, Kleeberg and Wodarz created a magical happening.
Step into the world of Palazzo and your senses will be fulfilled.