Berlin, Germany (Weltexpress). The fashion house Angermaier honoured us by inviting us, as guests, to their night of Bavarian tradition at Hofbräu Berlin. From Angermeier, the family company founded in 1948, not only CEO Axel Munz put up a good appearance but, above all, a splendid array of models, who presented Dirndl and other costumes and wholeheartedly threw themselves into the lightning lights of the press photographers.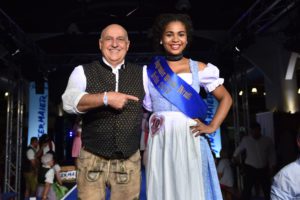 Numerous celebrities from the boulevard but unknown to us from WELTEXPRESS were supposed to have gathered on the stage and the floor around. Press and Proms, real and fake, enjoyed Hofbräu beers filled to the brim, and no less big shanks, schnitzels, white sausages, and pretzels, as much as they wanted.
While the drinking and eating went on, not only Janni Hönscheid and Peer Kusmagk presented costumes on the catwalk. Others also showed traditional Bavarian wear and revealed the trend for this year's Oktoberfest at Hofbräu Berlin, as well as the one and only Wiesn in Munich.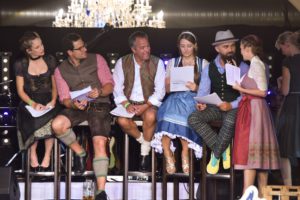 Joelina Drews and Senay Gueler also got lots of glances and glimpses in their traditional costume. But the jury, formed by boxer Ünsal Arik and the four actors Nora and Tobias Licht, Luisa Wietzorek and Charles Rettinghaus, made another choice. The winner of the Dirndl-election was Theresah Miah from Würzburg now living in Berlin. The 22-year-old Miah received an haute couture Dirndl of Angermaier worth 1,000 Euro, a weekend of wellness in a well-being hotel in fashionable Kitzbühel, and a table at the Oktoberfest in Hofbräu Berlin.
Wear costumes with a clear conscience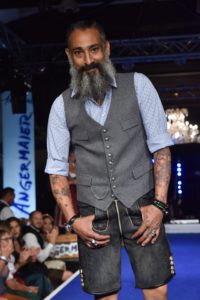 Prizes having been handed out, we journalists were given a gingerbread heart to go and got a good insight of the Angermaier "Greenline Collection", supposed to be the "first sustainable traditional costume collection in the world". More than a dozen dancers of the "Velvet Steps" put up a swell performance presenting green dirndls and lederhosen that looked smart on ladies as on gents, including the lines "Catherine Hummels by Angermaier" and "Marina Hoermanseder by Angermaier".
To see more, please take a look at: Impressions of the Night of Tracht in Hofbräu Berlin.
* * *
Christopher Prescott, based on an article by Jean Camus.