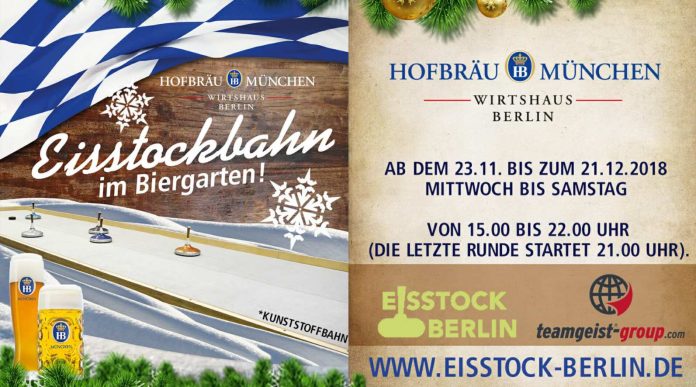 Berlin, Germany (Weltexpress). Because curling is played on ice that might be scarce this year, a rink is being built on time for the season in Berlin-Mitte. Only one?
Surely not! On four short artificial rinks, right in the middle of the beer garden of Hofbräu München Wirtshaus Berlin quite near to Alexanderplatz, all friends of beers, the real stuff from Bavaria, like Hofbräu Dunkel or Hell, Münchner Hefeweißbier or Hofbräu Kristall Weisse, Hofbräu Schwarze Weisse or Hofbräu Alkoholfrei as well as other sorts have the chance to play "As if on real ice" and "in company of a merry crowd swing the ice sticks ", so said on the home page at Hofbräu Wirtshaus Berlin on 3doubleU.
The rules of the game are easier to handle than an ice stick, and quick to learn as one basically just glides over the frozen ground. Up to eight cracks per track may compete at the same time in this winter sport that needs a lot of precision.
In between, not only cold drinks could be enjoyed outside, but hot ones as well. Everybody will be provided with Bavarian treats "if only they want them". Well, who doesn't?
Now, this fun with curling in the middle of the city seems ideal for sociable groups – especially if the boss pays, right?
Curling in the beer garden of Hofbräu München Wirtshaus Berlin
Karl-Liebknecht-Straße 30, 10178 Berlin
Opening times of ice rinks: November 23 until December 21 from Wednesday to Saturday, from 3 pm to 10 pm (last round starts at 9 pm). In addition, December 10 and December 18.
In January and February 2019 the rinks can be rented on request.
For more information on curling in Berlin visit the home page www.eisstock-berlin.de in 3doubleU.
Note
Christopher Prescott based on a text by Ole Bolle