Berlin, Deutschland (Weltexpress). Somewhere over the rainbow – the music lifted across the street leading passers-by to one of Berlin's top, old-world German restaurants and "Alt-Berliner Kneipe", Schöneberger Weltlaterne.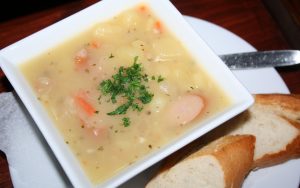 Authenticity pure, the Weltlaterne offer guests the world-over, a truly German Kitchen.
High on the recommendation list – Bollensuppe (onion soup) mit Käse überbacken or a traditional Berliner Currywurst mit Pommes frites und Schmorzwiebeln – mouth watering, and it's only a start…
A local favorite and house special is the Berliner Kalbsleber mit Äpfeln und Zwiebeln auf Quetschkartoffeln and the Berliner Eisbein mit Erbspüree, Speckstippe und Salzkartoffeln – the menu accentuates the fun and joy found – pronouncing the names of each dish will only add splendor to the enriching experience.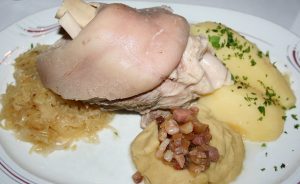 The menu choices will not dispappoint – add the Schnitzel and Goulasch to wonderful salads along with excellent wines from Germany and France with quality beer, your joyous hours spent at the Weltlaterne will be memorable.
Other dishes highly recommended – the mixed salad with large prawns and garlic chicken – couldn't leave this out – absolutely delicious!
Located in Schöneberg, this part of Berlin is a walk through old Berlin's charm and the Weltlaterne is the perfect way to gather the spirit of German cuisine and hospitality.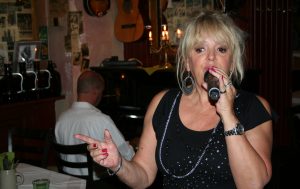 Weltexpress Gourmet had the pleasure of meeting the "Wirtin", Angelika Rüdiger and share her passion for dining and entertainment – the proof was witnessed as Angelika picked up the microphone and began singing German classics. Live piano and song was just the beginning of the diverse taste and happiness felt by all.
The interior design compliments the full experience – old German wood, elaborate steins, paintings and statues take you on a wonderful journey.
Many film and tv productions use the Weltlaterne for shooting scenes – the authenticity cannot be denied.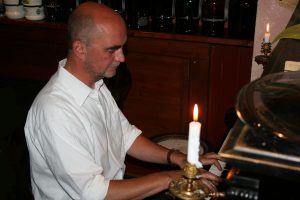 The charm is excellent and dishes savory, Schöneberger Weltlaterne is true to its name – one can join the many theme events that take place throughout the year – Halloween, Oktoberfest, Casablanca Nights and other parties are highlighted.
Should you be interested in hosting a party – celebration, Angelika will support you in designing the event with a great menu selection. Restaurant capacity – up to 100 can take part.
When in Schöneberg – the Weltlaterne is a must visit. Make sure you reserve a table.
* * *
Schöneberger Weltlaterne, Motzstraße 61, 10777 Berlin, Phone: 030 21969861