Berlin, Germany (Weltexpress). Dining in the Ganymed Brasserie on Schiffbauerdamm is an historical experience mixed with the joy of fine French cuisine. "Erst kommt das Fressen, dann kommt die Moral." – Denn wovon lebt der Mensch?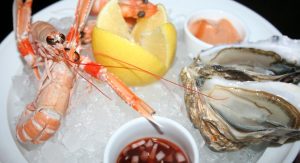 Since 1880, the address was a popular meeting point for artists, politicians and elite society circles. Most notably, Bertolt Brecht who visited frequently, spinning lines that linger onward – "Erst kommt das Fressen, dann kommt die Moral. – Denn wovon lebt der Mensch?" or "First the grub and then the morals…"
As in any French brasserie, popular meeting places that draw eccentricity has fine food and wine. The purpose is laced in reflection and relaxation – enjoying yourself, effortlessly – is a timeless art.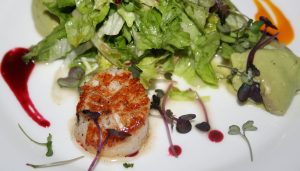 Ganymed Brasserie today, matches the style and grace reknown for its history. The present owner, Mr. Michael Pankow combines a passion for exellence and elegance in fine dining and authenticity.
The spellbinding location magnificiently lining the river Spree embankment – the corner house on Schiffbauerdamm, continues to inspire and spoil guests from the world-over to a grand Berlin experience.
Typical French tradition with informal delicacies and an exquisite wine selection, the Ganymed menu offers wonderful surprises.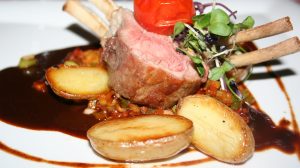 The "menu du soir" is prepared by the chef de cuisine who receives fresh products from suppliers in France, Berlin and nearby Brandenburg.
A blissful two to three hours of contemplative joy beginning with an Aperitif Ganymed – Veuve Clicquot Brut and Claire oysters will set the tone. Time is not an issue where each dish is freshly prepared – the steak tartar, prepared at the table with capers, anchovies, pickled cucumbers, shallots and eggs or the Hors D' Ceuvres – pink shrimp, salmon tartare, rabbit pate, Bayonne ham and vegetable salad will heighten the senses spendidly.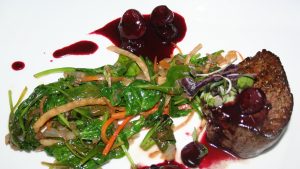 Fish soups, Burgundy snails or Foie gras terrine with brioche and raspberry chutney are but a few of the house favorites.
An expansive delectable seafood menu stretches the imagination – King prawns, Red mullet filet, Trilogy of the noble fish or Grilled loup de mer – the temptations are seductively enchanting.
Additionally, the regal filet of beef or Entrecote, shallots confit in red wine is divinely prepared.
Undoubtedly, the Desserts Au Choix – Chocolate Mousse on mango passion fruit salad, Mille feuille with mirabelle and sesame croquant parfait or a selction of the finest French cheeses takes the Ganymed Brasserie dining pleasure to optimal heights.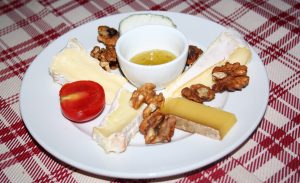 Every delicacy is classic and the options tantalizing.
Ganymed Brasserie is one of Berlin's finest – Vive La France on the Schiffbauerdamm.
Weltexpress Gourmet highly recommends the experience!
* * *
Ganymed Brasserie, Schiffbauerdamm 5, 10117 Berlin, Phone: +49 (0)30- 28 59 90 46, Website: http://ganymed-brasserie.de
Open daily from 12 pm to 12 am, Kitchen from 12 pm to 12 am, Lunchtime 12 pm to 4 pm.