Berlin, Germany (Weltexpress). On your next walk-about in Berlin's Prenzlauer Berg, do yourself and friends a favor – drop-in on Dennis Milow's Burgerie. Who doesn't like a grand burger? Couple that with a comfortable chair, wall to wall Bowie memorabilia – and music to match – you're in for a super meal.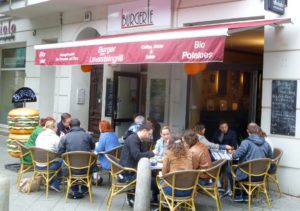 Easy, relaxing and great service – the Burgerie is the place to be! The burgers are special and the drinks are smooth.
Tall burgers draw people from the world over – no surprise, original organic delights light up the taste buds for both young and older. Every taste is made to your liking – whether a Gun Fighter Burger, or the Super Burger of the Chef – these burger creations get it right, every time.
If not beef, you'll have to try the Tiger Fish Burger or a Veggie Tofu Burger – there are burgers for everyone.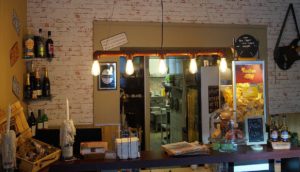 Finger foods are also a hot item – Chicken Fingers, Mozzarella Sticks, Crispy Pickles, Onion Rings or a delightful Nachos and Cheese – you can't miss. The Double Deckers with 17 assorted homemade sauces are tantalizing. Try the Whiskey dip – a real wow effect. Homemade ketchup, mayo and sour cream are only a few of the great tastes at Burgerie.
An excellent bar selection takes it to the next level – the Primitivo di Manduria is a classic red wine or the pale ale – IPA Brlo goes hand in hand with a mouth watering burger and fries.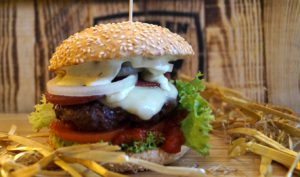 Weekends are terrific for families – kids love the variety, especially the great side orders. The price range is fantastic – especially for the portions served. Best to make a reservation – just in case.
The Burgerie is the place to be – just what you're looking for after a healthy stroll in Berlin's trendy P-Berg.
* * *
Burgerie
Schönhauser Allee 50, 10437 Berlin, Prenzlauer Berg, Germany, Phone: 0049 Tel. (0)30 83212440, Email: info@burgerie.com, Web: https://www.burgerie.com