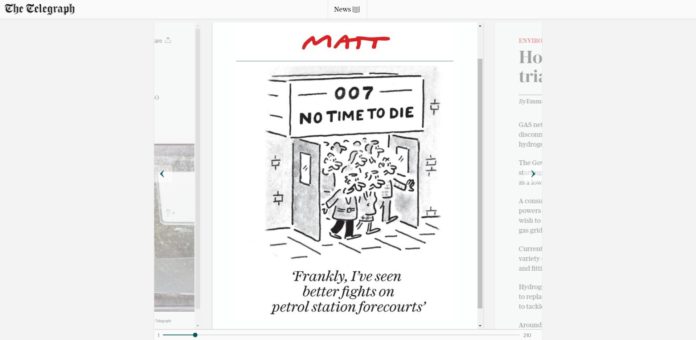 London, United Kingdom (Weltexpress). Once again Daniel Craig saves the world as 007 on behalf of the fictional British secret service, but in the real world there is no prospect of rescue for the British until further notice: Long queues and outbreaks of violence in front of closed gas stations, the streets of London as empty as gas pumps and shelves in the supermarkets. But "The Show Must Go On", as "Queen" once sang: While chaos reigned outside in the real world, London's Royal Albert Hall saw invited guests in dinner jackets and the inevitable "Royals" at their head Prince Charles, his son Prince William with his wife Kate and the Duke and Duchess of Cornwall celebrating Tuesday evening the ritual salvation of the world by the most heroic of all Britons. The conservative "Telegraph" in a comment laconically states: "We can no longer rely on 007 to save the situation".
True enough. It is estimated that there is a shortage of at least 100,000 lorry drivers in the UK. Of these, 20,000 were foreigners who stayed at home because of the significantly stricter post-Brexit visa regulations, but also for fear of Covid. The result: almost everything is missing. Fuel and some foodstuffs are not being delivered, school buses have come to a standstill, the gas supply threatens to collapse, farm animals had to be emergency slaughtered, effects on garbage disposal and the health system are to be feared. Worse still, Christmas is relentlessly approaching and the traditional Christmas turkey may not be on the English festive tables this year. Prime Minister Boris Johnson has turned to his Brazilian colleague Bolsonaro for help to secure supplies: Brazil is one of the world's leading turkey exporters.
Boris had propagated Brexit with the argument that the EU did not want to force foreign workers on them. For better or worse, he now had to approve 5,000 three-month visas for foreign truck drivers. The British labour market has shrunk to an eighth since Brexit. As of Monday, the army – 200 soldiers, including 100 truck drivers – will be deployed to transport fuel to the filling stations. Criticism of Brexit has long been taboo among the conservatives. Now it is slowly dawning on the Tories as well what underlies the British disaster.