Berlin, Germany (Gastrosofie). Oyster bar and caviar room at Schloßplatz 1. On Thursday, 22 September 2022, the Grand Opening event on the Spree took place from 6 p.m. at both Restaurant Wilhelm and Deli Alexander in Berlin's Humboldt Forum, where a few hundred guests were invited and served exquisite food and great drinks.
Not only sparkling wine flowed in streams. Spirits were obviously high in the dining rooms on the ground floor and in the inner courtyard, where customers have been allowed to sit and eat since the beginning of July 2022. A splendid evening then – no wonder dancing went on until well after midnight.
Apart from oysters and caviar and lots of other tit-bits from the swift flying buffet straight from the start, delicious ice-cream specialities and boiled pastries made of sweet yeast dough with a filling of jam were also served ad nauseam. Classic cocktails and a wide range of coffee were also on the go.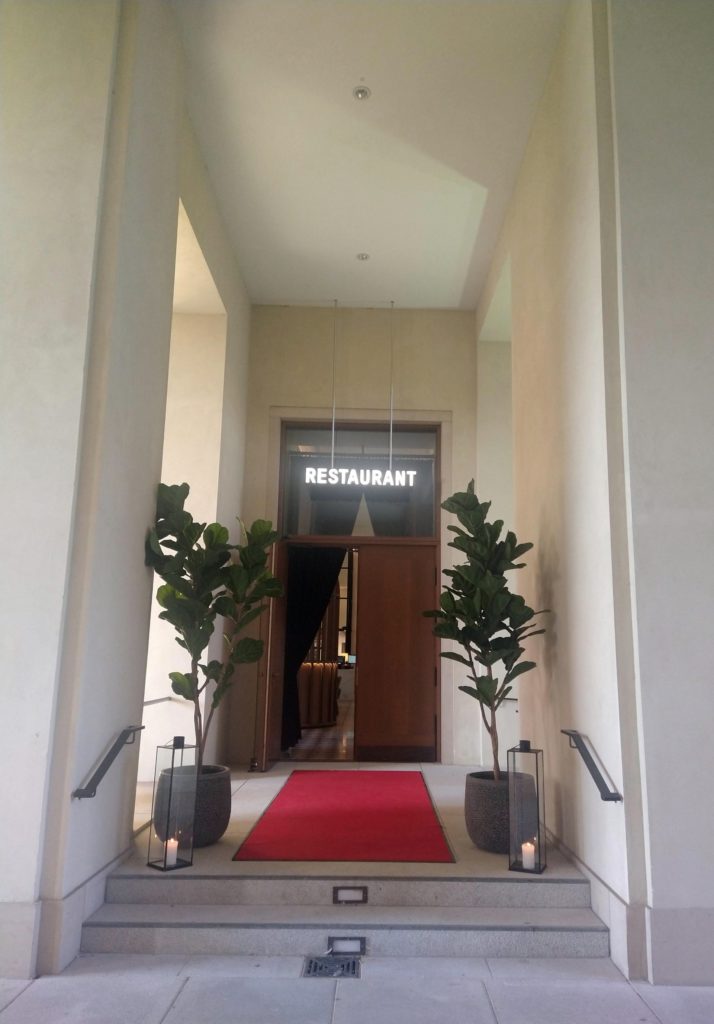 What was really sweet in the night from Thursday to Friday, however, is not the rule. There is room for connoisseurs at Restaurant Wilhelm. Fine dining is the order of the day, says restaurant manager Robert Kittelmann. He is happy to welcome "guests with high expectations", he says, while his guests stand at the oyster bar set up in the inner courtyard and shake hands in the caviar room. No question, says Kittelmann, caviar gourmets will get their money's worth when choosing the Imperial Auslese or Imperial Bearii, but oyster eaters will also be happy at the "Wilhelm". To accompany the Gillardeau Oyster No. 2 or Fine de Claire No. 2, I treat myself to the 242 champagne series by Louis Roederer from the notorious champagne house in Reims, which was founded in 1776. And it is gorgeous!
Deli Alexander, the neighboring restaurant well placed in the north wing of the Humboldt Forum, where culinary inspirations from five continents are served up, presumably at the same time. The fusion cuisine is led by Fabian Fiedler, who among other places cooked at the Aqua restaurant in the Ritz Carlton hotel in Wolfsburg. How about trying "high-quality dishes in the German-French tradition"? From artichoke bottoms, from a sort of "Maultaschen" to Königsberger Klopse (veal meatballs), from lightly smoked salmon trout to sole cooked on the bone – and over to coq au vin the restaurant Wilhelm offers lots of treats.
Enjoy ibaiona ham and oeuf cocotte, or lobster bisque and steak tartare à la Wilhelm. Finally, an almond financier with honey from cork oak forests as well as dark berries or a fine handful of cheeses – that's my advice. Now and then it may also be a pancake at a party with oyster bar and caviar room like in the restaurant and deli
Wilhlem and Alexander
Address: Humboldt Forum, Schloßplatz 1, 101787 Berlin
Contact: Phone Alexander: +49 30-31873243-30, Phone Wilhelm: +49 30-31873243-40, E-mail: kontakt@wilhelmalexander.de
Home page in the world network: wilhelmalexander.de
Remark:
The above contribution by Ole Bolle was rendered into English by Christoph Merten.