Berlin, Germany (Weltexpress). When in search of a traditional beer hall attached to a market where history takes you on a wonderful journey, you'll make your way to the Weltrestaurant Markthalle.
Nestled in Kreuzberg, one of Berlin's liveliest neighborhoods – spending a morning, afternoon or evening at the Weltrestaurant Markthalle is an enjoyable experience.
Casual, good for kids, friendly service – breakfast, lunch or dinner – in an old-world atmosphere, Rainer Mennig's establishment is highly recommended when looking for that special Berlin moment.
The restaurant stirs old-world charm with beautiful dark wood, high ceilings and a long-bar that stretches clearly through the restaurant.
The room will transplant you 100 years back and the sounds and smell with traditional cooking and beer glasses clinking is very special.
A Kreuzberg early morning moment, where a coffee machine breaks stillness – leaving you to float with your newspaper and assorted French, Mediterranes, American or Canadian style breakfast is pure Weltrestaurant Markthalle.
After a mid-day sojourn along the river Spree, you'll welcome the daily menu – fine traditional pea soup or Bouletten and a hearty beer will take the load off your feet.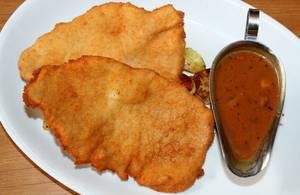 Specialties of the house – the very large Schnitzel "Wiener Art" with Bratkartoffel, Jägerschnitzel or Schweinebraten are an absolute must.
Steaks are also a favorite with the guests.
Dinner is as lively as the day time experience!
You're in the right place if you are looking for that good old German feel and meal – where tradition flows throughout the hall and from table to table.
Seeing is believeing – tasting it, even more so!
The feel-good flair that Rainer Mennig and his team deliver is one of Berlin's real-time moments – exceptional!
On a closing note – after dinner – if you thought that was it, you will find an underground – keller, Auster Club where music is diverse, live too and the tunes are 40's up to the 60's…
The Weltrestaurant Markthalle and Auster Club is highly recommended.
* * *
Weltrestaurant Markthalle, Pücklerstrasse 34, 10997 Berlin- Kreuzberg, Phone: 030-617 55 02, Email: info@weltrestaurant-markthalle.de, Website: http://www.weltrestaurant-markthalle.de