Berlin, Germany (Weltexpress). NH Hotels have a unique style that blend rich choices and joy – honey is one of them.
Adding to that special flair, NH Berlin Alexanderplatz, General Manager Janina Bachmann-Graffunder knows the recipe for winning guests.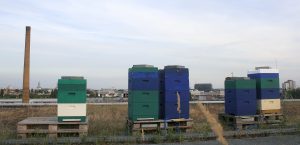 High above the hotel entrance, honey bees have a place of their own.
With a spectacular view of Berlin, bee hives have been cleverly erected to serve guests a hotel-made honey.
Technical Director, Wolfgang Rehbein built a small honey bee colony that produces enough honey to serve guests throughout the year. Easy to maintain and providing a splendid space where the hives are not disturbed, the honey produced on the panoramic rooftop is delicious.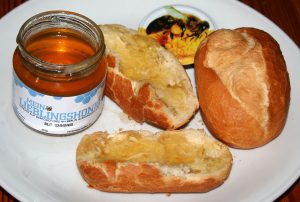 GM Bachmann-Graffunder took her passion for creative projects to another level by packaging "Mein Lieblingshonig" – the enthusiasm generated by the honey project has endeared her to hotel guests. Taking a few jars home is a must!
In choosing your favorite hotel, novelty is the name of the game – combining wellness with personalized touch demonstrates what guests are looking for today.
The next time you are planning a hotel visit in the heart of Berlin – "Bee Good" to yourself, a harmonious treat is a spoonful away.
Gourmet Weltexpress highly recommends a healthy break – make your way to the NH Berlin Alexanderplatz and ask for "Mein Lieblingshonig" – the honey experience is the new buzz!