Berlin, Germany (Weltexpress). Osmanya offers "a fusion of Ottoman-Turkish culture with modern western lifestyle", so their website, or as its owner Tuncer Tankir puts it neatly is "the symbiosis of Orient and Occident". "Tunsch" as his friends call him is Berlin born and bred, witty, knowledgeable and in the restaurant business since he was 16. A splendid host then, with a great team.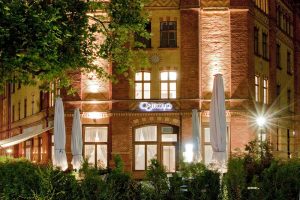 First of all, we sit on the cosy, covered veranda where white candles are lit overlooking the busy Birkenstraße as the sky above is growing darker. Well, in summer one can also sit outside on a terrace in front of the main entrance. However, now lots of stars twinkle as Kalem Meral comes up to us with a genuine Turkish coffee, smiles and says: "A Türk Kahvesi for the gentlemen of Weltexpress!"
What a nice way to start. As its getting cold, we step inside to dine really elegantly. The restaurant conjures up memories of 1001 Arabian nights but thanks to the service still makes you feel at ease. Around hundred guests can be seated. Some authors state that the dining room has something of a serail. Anyway, its true that "from the dishes to the lighting … everything leaves a tasteful, upmarket impression" and even the wine glasses glitter with an engraved symbol of Osmanya. The table decorations are magnificent and for special occasions you can choose between birthday, wedding, anniversary and truly romantic style. But even without extra desire you feel very comfortable as the Osmanya restaurant satisfies high expectations.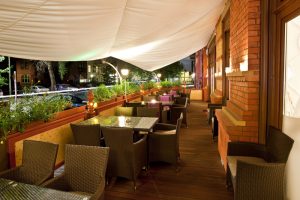 A tremendous cold appetizer plate with loads of little bowls full of great goodies for two people are waiting for us as is Kalem Meral, the good soul of Osmanya, explaining every dish. The Soğuk Meze tabağı is our favourite.
Instead of a fresh draft beer, Effes, certainly, we choose a wine and take Vin Art Narince-Chardonnay, from Kavaklıdere. The grape is a Narince-Chardonnay, its colour a bright golden yellow. The white wine is on the nose strikingly mixed with lime, caramel and vanilla flavour of citrus. It tastes elegant and balanced, in the mouth a little oily but with good after-taste. It can accompany cold dishes perfectly.
Zeytinyağlı Sarma (ie stuffed grape leaves) are not missing, neither is humus (chickpea puree with sesame oil) or Şakşuka (grilled and marinated eggplant, peppers in tomato broth). The Pasa meze (mashed feta cheese with sesame butter) is delicately spiced and tastes terrific. Deniz börülcesi (blanched seaweed salad, dressed with garlic and olive oil) is a real surprise, a success, while Acılı Antep ezmesi (spiced puree of onions, tomatoes, cucumbers and peppers) leaves us grasping for Sise soda water. Cacik (mint yoghurt with garlic and cucumber pieces) would have been a good choice as well. All ingredients were bought fresh and the dishes prepared in the gourmet cuisine by hand – those of Hülja, Kadir and Cal. Bravo, boys!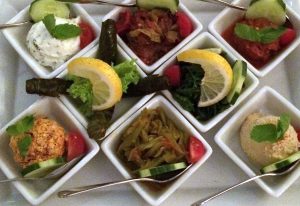 Now were in for another wine. A Prestige Boğazkere from Kavaklıdere it should be. The grape is Boğazkere and gives the wine its intense, vibrant burgundy colour. This wine was allowed to mature one year in French oak barrels, as you can taste. Its aroma is of complex structure, from dried red fruit to dried prunes, then vanilla and even caramel. Flavour is strong and the red is full of tannins.
For main dishes with meat the menu card ranges from grilled lamb fillet (Kuzu bonfile Izgara) with stir-fried vegetables and mint-flavoured rice (sebze garnitür ve pilav ile) to beef tournedos (Dana bonfile Palaska) with grilled eggplant Béchamalsauce and mint-flavoured rice (Hünkyar begendi ve pilav eşliginde) up to chicken or tranches of chicken breast (tavuk göğsü Izgara Yelpaze) with sesame puree and pistachio cream plus mint-flavoured rice (Pilav tahinli püre ve antep fıstıklı sos eşliğinde). And of course don't miss a classic: kofte.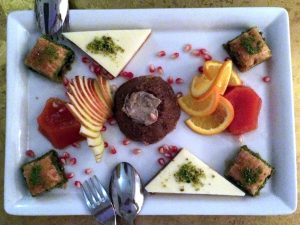 If you are in for the full treatment, enjoy the Osmanya Özel Izgara Tepsisi (2 kişilik), a mixed grill with side dishes (the tomatoes are also grilled) for two people. Bulgur and mint-flavored rice are also served by demand with the main dish.
For dessert we stick to a platter for two: Karışık Tatlı tabağı (2 Kişilik). The mixed plate offers desserts Baklava, that traditional Turkish thing, but also Kazandibi, which is a traditional Turkish dessert with rice flour and fir resin, a kind of panacotta. Irmik helvası Šikmá peynirli can be another good choice – ask Kalem Meral (hope she doesn't kill me for writing this). Even the fruit is sweet. Kabak Tatlısı (pumpkin in syrup) is also superb.
To aid digestion, so to speak, we allow ourselves the Turkish top beverage from grapes or raisins, with anise added. Right, Raki. First Yeni Raki, second Tekirdağ Rakısı and then – its time for goodbye and see you again in Osmanya.
* * *
Osmanya, Birkenstraße 17, D-10559 Berlin-Moabit, Contact: Phone: 030 48829999, Email: info@osmanya.de, Facebook: www.facebook.com/Osmanya-Restaurant-394803544383/timeline/
Opening times: Monday to Sunday from 4 pm