Berlin, Germany (Weltexpress). All good things come in threes. This is also valid for the "Beef Grill Club" by Hasir which enthusiastic devotees of grilled meat can visit in Berlin in three different locations. We from WELTEXPRESS were in the restaurant at Adenauerplatz- Kufürstendamm. We had a fine evening with splendid food and excellent service, though the high quality has its price.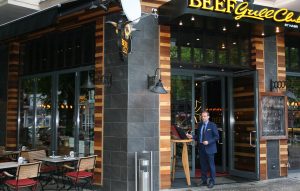 The first impression is: Boom! High-class! Woof, where are we here? One of the most beautiful women I've seen in my entire life shows us our table next to a huge wine rack. From the front to behind, from bottom to the top everything in the restaurant is arranged with style for the high-end guest with some dough in his pocket.
However, beside the elegance at which one only would like to look contemplatively, the restaurant also offers old school items like big, rustic tables of noble, thick wood. In brief words: The equipment is premier league, the ambience nothing less.
The kitchen is open and looks 100% professional. It is a real piece of experience and amusing entertainment event-catering without useless rubbish. A charcoal grill is absent in the kitchen, however, the big gas grill is good enough.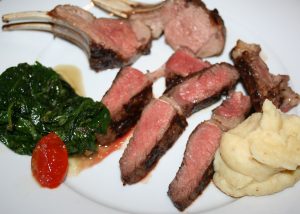 He who wants it cheap is absolutely wrong in the "Beef Grill Club". The Meat here comes from high quality "substantial production" which customers will recognize immediately when tasting the tender delicacies. The ripening of the meat is controlled in a Dry Age ripe cupboard, it is pickled with Himalaya salt and air-dried for several days (between seven days for filet and 28 days for Rib-Eye and Roastbeef). Afterwards the meat is prepared "con amore" and served with style.
The Dry Aged dry maturation serves the development of the taste, and not as often reported, the delicacy of the meat. While the texture of the meat does not change anymore after about ten days, the taste wins by the enzyme activities in the meat furthermore. But after about four weeks this also ends, then the taste does not become any better.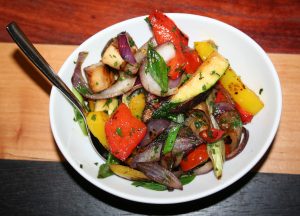 The "Beef Club's"menu is elegant like the restaurant and, besides, clearly arranged. We begin "Grill Club Beef Tartar" which is served with crispy, homemade whitebread. Tuna ceviche with citrus fruits, coriander and chilli, scallop shells with beetroot, Hummus and sherry Mignonette, calf fumé, lobsters as well as pastirma of lamb and cattle with Sucuk are luscious starters, as well as salads and soups.
From the United States of America comes Chateaubriand (500 grammes) as well as Delmonico (1200 grammes) and a coronation Porterhouse (1200 grammes). A lamb square (600 grammes) as well as a tomahawk (1000 grammes) finishes the range of the best offers. As additions, for example, French beans, truffled mashed potatoes, tarragon-cream maize or simply nice chips are offered. Of course sauces must not be absent. From Béarnaise about green pepper sauce up to the steak butter – all home made and really good. The Porterhouse steak is the most expensive one, followed by the T- Bone steak. Both steaks are similar, however, they differ by thickness and size of the fillet portion.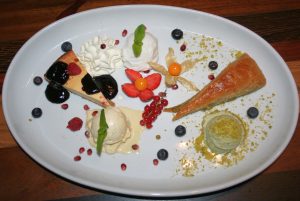 The Beef here is so f*** tasty, there is no adequate description. We feel like kings and princes for a while – we are impressed. Though we eat Porterhouse steak we drink no porter-beer. Instead we taste miraculous wines from a super-assortment which a witty-nippy wine waiter recommends us without failing.
For dessert we offer ourselves a plate of Baklava "Havuc Dilimi", a cake speciality from the Orient, pistachio ice cream, lemongrass-crème-brûlée with and New York cheesecake with blueberry compote.
Conclusion: The "Beef Grill Club" is a classy location. A bit costable, but worth each and every cent.
* * *
Beef Grill Club by Hasir, Kurfürstendamm 72, Am Adenauer Platz, 10709 Berlin, phone: 030 327 – 66 494