Berlin, Germany (Weltxpress). True enough, the 'Greek' restaurants in white and blue or Gyros Greeks are seen everywhere in Berlin. But a gastronomically speaking great Greek is not found round the corner. Leave Kreti and Pleti to the retsina and ouzo crowd. Enjoy an evening out at and with "The Cretan" (to say nothing of his wife Elena) in Zehlendorf. Zorba (Alexis, that is) would have loved the place, for sure.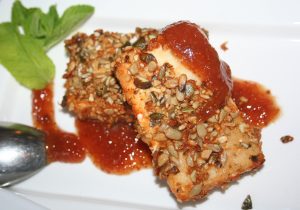 Why? Because in addition to fine dining traditional housewife recipes are brought from Crete to the table like Dako, a classic of the island. The "poor man's food" of bygone days is now regarded as a starter, being a multiple-baked bread from barley and long durable. Neat pieces of tomatoes, grated feta cheese, oregano, olive oil are added on top and who feels like it can go for more Mediterranean herbs, capers or garlic. Choose for yourself!
We from Weltexpress were treated to another Mediterranean delicacy when we arrived at the so-called parrot colony, or properly, Onkel Tom's Hütte, designed by the Bauhaus architect Bruno Taut, where now "The Cretan" is very well placed. Together with Manuel Werner, Moderator of the gastronomy TV-magazine "Ars Vivendi", we dined splendidly in a pleasant warm atmosphere, hosted as friends by Dimitris and Elena.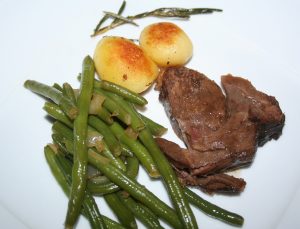 Elena Spanopoulou had served us Ciabatta in a basket. Along with that Italian "slipper" made of wheat flour, salt, yeast, water and olive oil, the lady of the house charmed us all with Charisma and caught us with Carpaccio. Charisma is a particularly good virgin olive oil from Crete and Carpaccio, of course, is usually an Italian hors d'oeuvre from raw beef. But we were in for a pleasant surprise with Arni Carpaccio. This is homemade and very thinly sliced lamb fillet Carpaccio, which is flavoured with pink pepper and Himalayan salt and placed on ruccola. Wonderful. Homemade lemon-olive vinaigrette, pine nuts, cherry tomatoes and Cretan cheese rounded up the tasty platter. Yes, this Arni Carpaccio reminds us with his reds of the Venetian painter Vittore Carpaccio and must be seen as a tribute of "The Cretan" to the famous artist. For the largest Greek island was for quite a while in the hands of the Republic of Venice.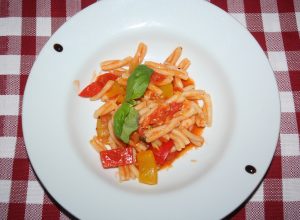 Another delicious appetizer that is served at The Cretan is Feta Me Marmelada Apo Siko. For a start, sheep cheese is heated up in a pan. Breaded with pumpkin seeds, pine nuts and sunflower seeds it seems at first glance to be that kind of sandwich one could expect from the health insurance – but far from it. The homemade and very tasty, sweet fig jam goes well with this Greek speciality. You'll find it hard to stop eating, believe me.
Homemade hand-rolled Cretan semolina pasta abounds on the next dish that is served. And prawns. Grandiose! Chef Dimitris Psallidakis who came from Agios Nikolaos, a sort of Greek St. Tropez on Crete, dips in from the kitchen now and then where all the time he shows us that he knows a lot about authentic Greek cuisine. An odour of basil attracts in our noses before we taste lemon. The dish is well balanced and only for my colleague on the sour side. Prawns plus mild peppers in yellow and orange present a special touch.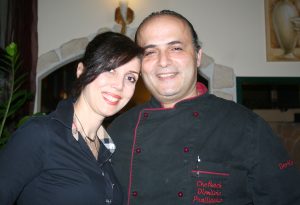 As main courses, and each starter seemed to be a main course, we enjoyed hearty meat. Savoury is Retsinato Chirino Sto Tigani. The pork loin meat from the pan is cleared with retsina wine, prepared with fresh oregano, pepper and onion, served with farmer fries, being French fries with feta cheese and Cretan oregano. Very nice and hearty is also the lamb with rosemary new potatoes and green beans. Great. A pleasure.
For dessert we had delicious coffee Greek style. The Mocha being boiled and served with freshly ground coffee beans and fine refined sugar together is recommended and a must as is Panna Cotta and the unsurpassed sweet Kataifi Me Krema (with angel hair).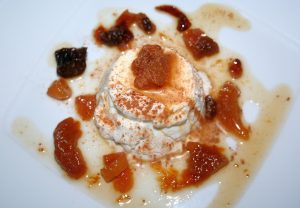 It is also very worthwhile to take a good look into the basement of "The Cretan". There recently a wine cellar with more than 100 different wine labels has been established. Every second Wednesday of the month there will be a wine seminar in the spacious wine cellar. Some of the more than 200 varieties of autochtone Greek grapes and a few Greek wines are presented in theory and practice with finger food. "Small producers that make their own regional wines with character are far more interesting for us and our guests than mass products from large wineries with big names" is the credo of Dimitris Psallidakis and Elena Spanopoulou. "Absolutely," we agree and are happy to come back, as soon as a wine seminar takes place. And tell our readers and users about it! We from Weltexpress look forward to a reunion with Elena Spanopoulou and Dimitris Psalidakis at "The Cretan" – from the cellar to the terrace.
* * *
"The Cretan" (Der Kretaner), Riemeisterstraße 129, 14169 Berlin-Zehlendorf, Phone: 030/84719117, Fax: 030/84726575, Email: info@derkretaner.de, Web: http://www.derkretaner.de
Opening times: Monday to Sunday, from noon to 11 pm