Berlin, Germany (Weltexpress). Hard wheat – in Latin "triticum durum" and therefore also called durum wheat, is a summer grain. Again many million tons of it is produced these days by farmers around the globe. A little part of it is delivered to the Spree in Berlin, into the restaurant "hard wheat".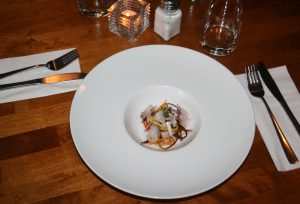 You guess perfectly right, in Berlin, the term "Hard Wheat" is also the name for a restaurant a place where noodles and other fancy foods are celebrated in every form. Though the hard wheat powder is suitable for a great number of excellent pasta and pizza variations, however, the "hard wheat" in Berlin's Torstrasse is no pasta and pizza canteen for yobs. It offers instead a real Cucina Italiana of the finest quality – in other words: Berlin Mitte style – with cooks whose abilities go far beyond the average.
From the outside the "hard wheat" has a wonderful sober look with its black label on a white wall and the huge window fronts. Minimalistic is also the interior with predominating white and brown tones. On the other hand, the inside is provided with elegant Industrial decoration as well as very expressive pictures. Above all one wall is wonderful – a gigantic shelf with really good wines stands in front of it.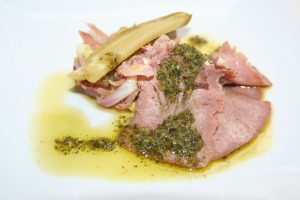 The wines in white, rosé and red come from Apulia, Friaul, Kampanien, Latium, Lombardy, Piedmont, Sardinia, Sicily, South Tirol, Tuscany, Trentin, Umbria and Veneto. As starter we have been recommended an "Eureka Marabino" or "Muscatedda Marabino" from Sicily or a "Strione" from Kampanien. He who prefers a rosé should take a "Cannonau Castiadas" from Sardinia. In the end a red is a must. What about then a Barolo "Seghesio" from Piemont or an "Amarone i Quadretti" from Veneto? The Sommelier of the restaurant "hard wheat" recommends the right wine suitably to the tasty dishes – just trust him, he is a real connoisseur.
Begin with a bottle of water (San Pellegrino) and with bread from hard wheat and olive oil Geraci and take off with Antipasti like Caponata Tu melanzane (a sweet-sour aubergine salad with pine cores and raisins on a salad bed), Caprino caramellato (caramelized goat cream cheese on beet root salad) or Provolone alla piastra con verdure alla griglia e boiled `olio (roasted Provolone cheese with grilled and inlaid vegetables). Molto bene!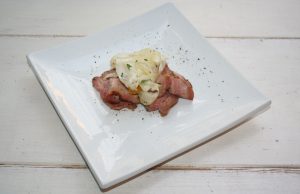 Fish and meat is also perfect to start the diner. Fresh Anchovies or Tartare are served as an "Alici marinate su insalatina frisèe" or as a "Tartara Tu manzo con insalata Tu asparagi Verdi". Either plate is a poem. Besides, we of the WELTEXPRESS tried "Panella Tu Palermo" as well as a foamed cold little tomato soup. Brilliant ones!
Afterwards we are delighted by the pleasure of a nice little calf's tongue with capers which tastes so delicious that an easy cuke stick with Pesto and native olive oil completes the fun. Our culinary trip through Italy continues with scallop shells and cherry tomatoes, cannelloni with nettle filling and a home-baked pork roast from the delightful kitchen of Michele Tansella and Luca Donvita. Both cooks come, by the way, from Bari. For some years they work and live in Berlin. Both run the restaurant "hard wheat" for a good five years.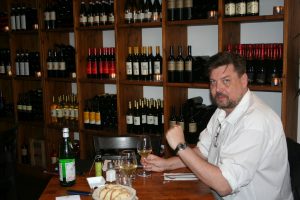 They let us know that they get the inspirations for the creative kitchen of the Cucina Italiana from family and friends. However, not only the meals taste like from "La Mamma", also the flour for their kitchen and everything else for their cooking comes directly from Italy. This is good news for the customers and the little independent producers of Italian cheese, wine and olives!
At the end of a delightful evening we enjoy sweet things (how deep-fried elder flowers and Semifreddo agli anacardi salati which let us come to the resmee: half frozen, whole taste!!) as well as a Pecorino Tu Fossa. Fantastico!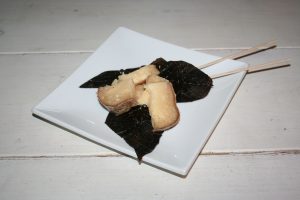 Cooks and kitchen in the "Hard Wheat" in Berlin have character. When visiting this excellent restaurant please take your time and enjoy every second in a successful example of a Cucina Italiana!!!
* * *
Hartweizen Cucina Italiana, Torstraße 96, 10119 Berlin, phone: 030 28493877, Web: http://www.hartweizen.com, Email: info@hartweizen.com
Open: Mondays to Thursdays from 18 hrs, Fridays and Saturdays from 17 hrs, Sundays form 18 hrs