Berlin, Germany (Weltexpress). Kolja Kleeberg and Hans-Peter Wodarz opened Palazzo 2017 in Berlin. The exciting dinner-show extravaganza lived up to its billing in grand style.
Situated next to Bahnhof Zoo, the spectacular event will run from 8.11.2017 to 4.3.2018.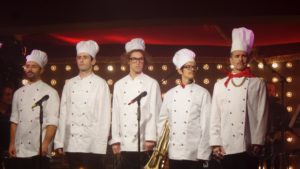 Media was invited to kick-off the event with a delicious menu and an enriching artistic program. Between delectable dishes, Miss Frisky and entourage sang, danced and flew through the magical tent design.
The dinner-show is a great way to spend an afternoon or evening with family and friends – children will love it, too!
The Four-Course dining creation is exquisite – Salmon, Marinated Shrimp Soup, Filet-Calf and a Tasty Tart dessert are just a few of the delights. And keep in mind, Chef Kleeberg designed a special menu for kids and vegetarians to match all the senses.
Miss Frisky's wonderful voice and moderation along with Zahir Circo's Comedy, Jon Young's Chinese Mast, Myriam and Mathieu's Flying Roller Skates, Sascha Bachmann's Equilbristik, Evelyne Allard's Air Ring – combined with star dancers Natalie Brooker and Chanelle Freeland – who moved glamorously with the Lonely Hearts band, makes for action packed entertainment.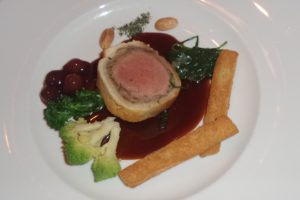 The Palazzo moment is sensational – culinary delight, relaxing ambience and a fantastic show – the best ticket in town.
Palazzo will stir the imagination and wow the senses – Weltexpress highly recommends the magical experience!
Other cities where Palazzo will perform: Nürnberg, Hamburg, Stuttgart, Graz and Vienna – Austria.
Check-out the dates – www.palazzo.org