Berlin, Germany (Weltexpress). Egyptian and Arabic delicacies mixed with pure oriental flair – where 1001 nights come alive and takes you on a fun-filled dining and dancing evening you'll never forget.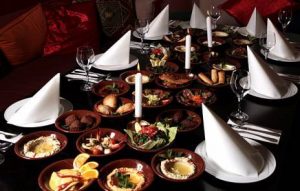 Marooush is a relaxed – stylish restaurant, lounge and club – the all in one experience is a delightful escape.
As soon as you enter, the staff graciously greets you with a smile and sets the mood – you know you're in the right place. Low lighting, candle lit rooms, comfortable table arrangements with elegant furniture and a mix of music that will put you in that special holiday frame of mind – your senses are set free for a journey.
Hospitality and abundance is the key to oriental dining – beginning with a 'Mezze' served on silver trays, the kingly prepared dishes are delicious – sampling falafel, tabouleh, humus, aromatic vegetables, rice and pitta bread along with wonderful cocktails or fruit juices – relaxation kicks in.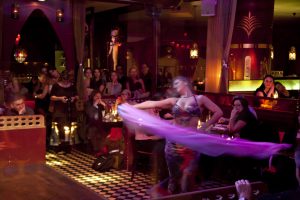 Weekends are a real hit – between courses, you will feast your senses on an exquisite belly dancer; mezmerizing and enchanting – the show is excellent.
The menu is expansive and mouth watering – the mixed grill platters with lamb, chicken and assorted vegetables are highly recommended.
If that isn't enough, the lounge and club offer additional flair and enjoyment – Shisha and eclectic cross-cultural music fills the air until the early morning.
Located off the famous Kurfürstendamm, Marooush is an insider-tip well worth the Berlin experience.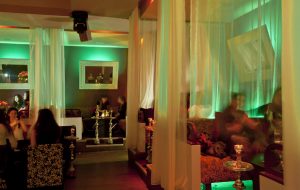 The magical dining-dancing atmosphere is another great way to celebrate birthdays and anniversaries. The restaurant will cater to your every wish. Pre-arranged dining orders are made to perfection – including birthday cakes.
For a richly deserved night out on the town, Marooush has all the right ingredients – excellent service, cuisine and entertainment.
Make sure you reserve a table and bring your friends – an evening to savor.
Weltexpress Gourmet highly recommends Marooush – you'll love it!
* * *
Marooush, Knesebeckstraße 48, 10719 Berlin, Telefon: 030 887118335, Web: http://www.marooush.de