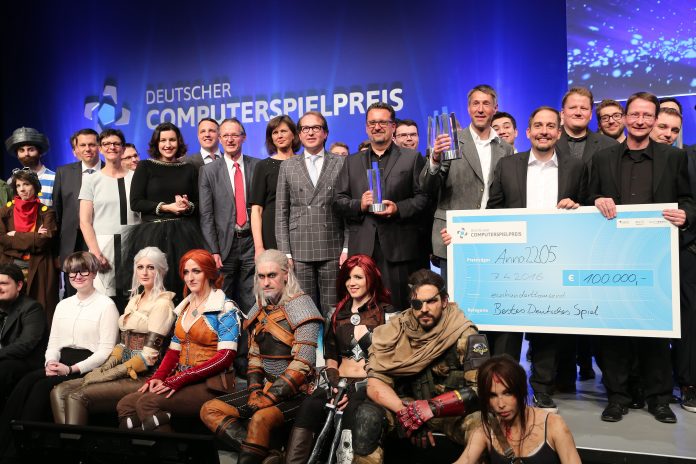 Berlin, Deutschland (Weltexpress). Every year, the German Computer Game Prize (Deutscher Computerspielpreis or DCP) is held to reward the top achievements of the previous year in the German games industry. This year saw the 8th iteration of the competition, this time across 14 categories, and with prize money at an all-time record of 470 000€.
Under the auspices of the Ministry of Transport and Digital Infrastructure, together with the leading German games industry associations comprising BIU Bundesverband Interaktive Unterhaltungssoftware, GAME Bundesverband and the industry's foundation Stiftung Digitale Spielekultur, around 600 people gathered in the avant-garde halls of the BMW Welt venue in Munich to witness the winners receive their trophies, together with the obligatory oversized cardboard cheque. (Later that night, one of the winners was seen walking home after the event, carrying the large piece of cardboard awkwardly under one arm; he may have just won €10 000 but find a taxi driver to give you change for that…)
Publisher Blue Byte from Mainz walked away with the top prize for Best German Game with their latest in the "Anno" series "Anno 2205". The top slot in Best International Game was taken by "The Witcher 3: Wild Hunt" from top Polish developer CD Project RED, which also carried off Best International New Game World and the prestigious audience prize. Best Innovation went to Crytek from Frankfurt am Main for their stunning Virtual Reality game "The Climb" – a climbing simulation set in an inspiring landscape. In the Serious Games category, a children's education game, "Professor S", from Berlin-based developer LudInc took the top prize. A clever combination of real and virtual worlds, it has already been deployed in many junior schools around Germany.
Among the laudatory speakers was a sprinkling of politicians including the Minister of Transport and Digital Infrastructure, Alexander Dobrindt, who seems to have settled quite happily into his role as the chief patron of the German Games Industry. Parliamentary State Secretary in his Ministry, Dorothee Bär, a self-proclaimed gamer and famous for her choice of outrageously fashionable shoes, this time managed to put her shoes in the shade, so to speak: among the cosplay costumes, a three-metre-tall transformer, a somewhat portly Darth Vader, numerous clones and other colourful games characters, Ms Bär literally shone – or, more accurately, sparkled – in a full-length, layered, black tulle dress studded with dozens of little fairy lights. She sportingly invited people to follow her should there be an unexpected power failure plunging everyone into darkness. Somewhat more plainly clothed, Ilse Aigner, Bavaria's Deputy Prime Minister, presented the nominees in the Best Children's Game category. Unusually, the award in this category went to two games, "Fiete Choice", a puzzle game, and "Shift Happens", a jump and run game by Klonk, which also took first prize for Best Game Design.
Other speakers included Antoine Monot Jr, better known as "Tech Nick" in a series of advertisements for a German electronics retail chain, YouTuber LeFloid, and Kaya Yanar, a Turkish-German comedian, who claimed that playing Pong had shaped him as a gamer for life.
Many members of the audience, meanwhile, decided to play Bingo. To their delight, Ms Bär drew attention to their competition, and called out a barrage of candidate words to help them along. (And yes, someone did actually call out "Bingo!")
It is traditional for each industry to boost its standards by rewarding excellence among its ranks, and the German games industry is no different. Its associations, bodies and advocates work tirelessly to establish the cultural validity of games, their potential as an educational tool and the industry as an undisputedly powerful economic factor. The DCP is just one of the ways – albeit probably the most visible one – in which recognition can translate into wider acceptance and understanding of what the games industry can achieve across society.