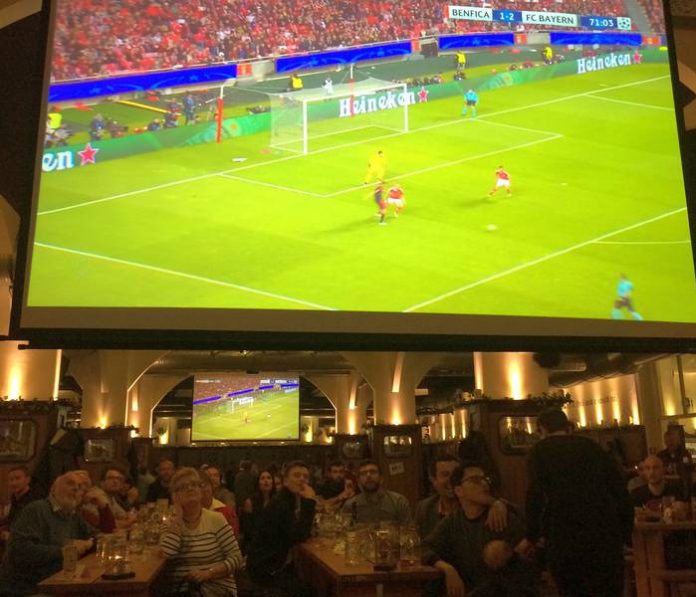 Berlin, Germany (Weltexpress). Again we cheered on Bayern and again at Hofbräu Berlin, but this time we did not see them win. Last night in Portugal, near where the Tagus reaches the Atlantic Ocean, the incumbent and probably new German champion FC Bayern München came to grips once more with Benfica Lisbon in the quarterfinal second leg. It was pouring already when 63,235 spectators poured into the Estado da Luz on Avenida Lusíada in Lisbon. In Berlin the weather was fine, the first warm evening of the year – but the Hofbräu Berlin was again packed full of fans.
As in the first leg, that Bayern Munich could win 1:0, the German champions remained lacklustre, but glorious, because a 2: 2 (1: 1) was enough to get into the semi-finals of the Champions League.
Although the guests from Munich had possession of the ball most of the time, playing relatively safe but mainly boring passes, they also made many mistakes that led to goals conceded.
Benfica began with vigour and a good chance for Eliseu (3). But then, on the other side, Thomas Müller also didn't make his mark after a pass from Philipp Lahm (19).
When thanks to a goal by Raúl Jiménez Benfica took the lead and equalised the first leg result, their Lisbon supporters went wild (27). No good for Jiménez who shortly afterwards made nothing of it to settle the game.
Despite an "Inferno" that was raging after the lead throughout the stadium Bayern remained, as some journalists wrote, apparently unaffected. For Arturo Vidal, one of their operetta divas, not only scored the 1:1 equaliser but the important away goal (38th).
While the atmosphere in the stadium of Light cooled down a bit, Benfica now needed two goals, it seethed in Hofbräu Berlin. Beers and Bayern ensured a good mood. As Müller struck early in the second half to put Munich in the lead, the mass had been read for Benfica (52). The "Mass" of beer was ordered however very often by the mass of fans Bayern had here at Hofbräu Berlin, and even more when Douglas Costa was about to score. But he only hit the post (60). Talisca did the job with his free kick, an equaliser (77) and as 2:2 the one to finalise.
The referee whistling to end the game, Bayern succeeds with a 2: 2 draw at the quarterfinal second leg against Benfica in reaching the semi-finals of the Champions League. Several hundred fans of Bayern in Estado da Luz and in the Hofbräu Berlin celebrated this moist-cheerful at the most. And so did we!
* * *
The match: Benfica vs Bayern Munich 2: 2 (1: 1)
The goals: 1: 0 Raúl Jiménez (27), 1: 1 Arturo Vidal (38), 1: 2 Thomas Müller (52) and2: 2 Talisca (77.)
The line-up – S. L. Benfica: Ederson – Almeida, Lindelof, Jardel, Eliseu (88th Jovic) – Fejsa, Sanches – Salvio (68th Talisca) Pizzi (57th Guedes), Carcela-Gonzalez – Jimenez
The line-up – Bayern München: Neuer – Lahm, Kimmich, Martínez, Alaba – Alonso (90th Bernat) – Vidal, Thiago – Costa, Thomas Müller (84. Lewandowski), Ribery (90 + 2 Götze)
The referee: Björn Kuipers (Netherlands)
The Spectators: 63,235
The Yellow Cards: Carcela-Gonzalez, Almeida (4) for Benfica and Martínez for Bayern