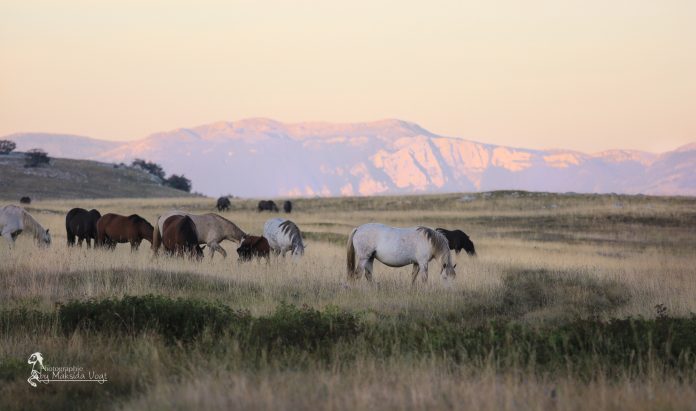 Berlin, Germany (Weltexpress). Every time I go to the wild horses, I wake up inside. A deep longing drives me to them – feeling freedom, feeling strength. Nowhere else one can feel such an inner peace, such vitality and authenticity, such an ease of mind.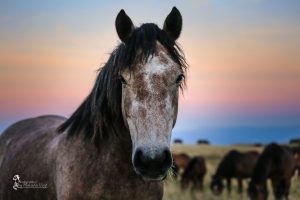 The eyes browse the terrain, they could appear at any moment. Sometimes you have to drive longer until you find the herd, but that only reinforces the feeling for the vastness that the wild horses claim for themselves. Their inner freedom, the feeling we have, when we watch horses, and for which we are so eager to experience and once experienced, wanting to experience it over and over again, bases on this wideness which they need to live. Inner freedom shows also on the outside and what is outside that influences the inner feelings. And suddenly you see them and you hold your breath.
Nothing is comparable with the feeling of being among the wild horses. Their gentleness coupled with this incredible presence, this peace coupled with the pure muscle power fascinates deeply. You can watch them for hours and it never gets boring. In the early morning hours when the world is still asleep, the wild horses keep watch.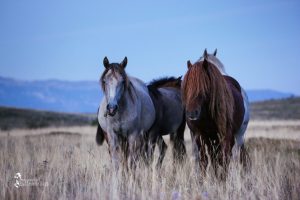 This time we drive quite early, it is still dark. There is perfect silence in the mountains. We stop from time to time, turn off the engines to be able to hear and find the horses. Where are they? And suddenly they emerge from the darkness. Immediately we are embraced by the peace of the herd, a feeling of security spreads out. The world is all right up here, everything is in its place. We see the silhouettes of the horses in the dark, gentle snorts, we feel their presence even when we can see only to a limited extent in the dark. And then the sun slowly rises and paints the sky in beautiful colors. The whole landscape is immersed in a gentle light. You automatically grab your camera, you want to capture each of these precious moments. You want to make them visible in the photos, to keep this feeling forever. The world of the wild horses in the early morning hours.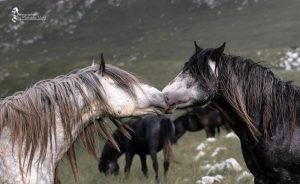 These wild horses have evolved from working horses which the peasants have released. They have survived all alone for 60 years and nature shows us that they do not need us at all. It is highly recommended to visit these horses to understand how unnaturally domesticated horses are kept. These horses are alive and they are bursting with health and vitality. To be close to them means to feel pure freedom, nature and healing.
* * *
Wild horse workshops in Bosnia are organized by Maksida Vogt – autor of specialist books about horses and owner of an Academia Liberti horse rehabilitation center.