Berlin, Germany (Weltexpress). There are dining moments when passion and joy portray life's enriching opportunities. The psychology of happiness is best experienced when creativity meets the palate.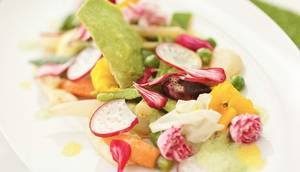 Nhow hotel – the music and lifestyle hotel, showcases a Berlin master chef who elevates dining to new heights.
According to Executive Chef Patrick Rexhausen, "fine dining experiences reflect passionate discipline – the sky is the limit and I live from it."
Rexhausen's avant garde cuisine is pure delight and you are never alone when the chef takes you through a wonderful explanation in everything he creates for his guests.
Harmony, dialectic transformation, vision and the flow of dynamic style is what strikes a chord when perusing Chef Rexhausen's menu.
Personal touch is immediately found in the names given to his creations – Salad served in the glass, Spring time – tea time of Mireille chicken, Watercress foamy soup, Tarragon lobster balls and corail dust, Scallop in clover, Berliner Rinderroulade, Corned leg of piglet with a mini-rocket salad, Vegan rockets vegetable love and Veggie Power.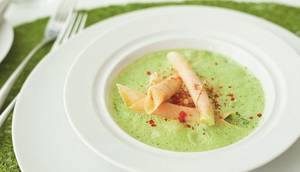 Regenerating the life spirit through motivational dining and design is a blend of psychology that meets yin-yang through our senses – creating the opposite to enhance pleasure is how Chef Rexhausen would explain his balanced cuisine.
Technology Meets Taste is Chef Rexhausen at his best – he designed an aroma cushion that emits a special fragrance – Living Spring.
Once the Living Spring – King crab with picklet cucumber diamonds and Breton lobster is placed on the cushion – he descibes his ingenious design without missing a beat, "steam – molecules interact in a natural manner creating a positive reaction" – the aroma is splendid.
To ensure your every wish, the Upon Request menu alternative provides Ravioli of lobster, Racked filet of sole, Breton free catch turbut or US beef bully – if that is not enough, you may ask him to make your favorite dish, and he will!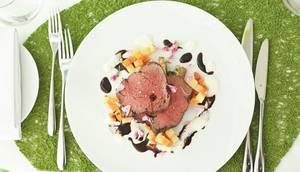 Children are as important as the adult crowd – consciousness raising means no food additives and gently prepared dishes – smaller versions of the main menu make for an exciting meal for the young ones.
Desserts are a high-point: Pimped lemon crackling balls, Wobbly jelly – micro abrasion of chocolate green apple – diametrical cocktail with crackling effect and the new school lollipop edition – eatable blowballs are simply a must!
"A restaurant is like a good beat – emotional and to the point."
Electric and contemporary – Fabrics knows how to elevate the beat.
Executive Chef Patrick Rexhausen is a rising star and we will surely hear more about him in the future.
Elevating your lifestyle at Fabrics is truly a memorable experience – one not to miss!
* * *
Fabrics – nhow Berlin, Stralauer Allee 3, 10245 Berlin, Germany, For reservations you may contact +49 (0)30 290 299 4107, Website: https://www.nhow-berlin.com/restaurant-bar/