Berlin, Germany (Weltexpress). The traditionally cooked Sunday roast has, at last, arrived here in the heart of the capital. We from WELTEXPRESS Gourmet were surely looking forward to a great culinary experience when the carving station came closer – but did we really know what exactly would be served at our table?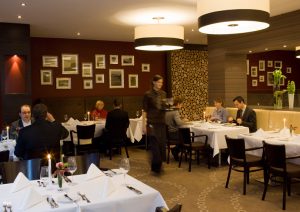 Wilson's Prime Rib, as a helpful waiter explained, is beef that originates from a crossing of American longhorn, European Angus and UK Hereford cattle. Free running cattle that rears on large grasslands, given lots of time to grow and fed with special fodder.
What about the rib itself? It is cut from the core of lean prime rib, then air-tight packed using the "Sous Vide process" and cooked up to 9 hours in a 59 degree warm water bath. On top of all that comes the finishing touch when it is grilled and put into a hot oven at 220 degrees for 10 minutes to develop its particular crust. Now our waiter can see that we can't wait for him to get on with the carving. A fine marbling of fat is essential for the full U.S. Prime Rib flavour, as we know from our friendly carver. We decided to go for a popular Gentlemen's Cut, best done medium-rare, a very good choice. Prime Rib tastes buttery-creamy and a palate-melting texture is characteristic, we note.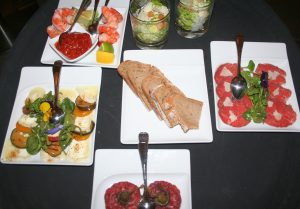 A seasonal American salad bar as well as a number of soups and side dishes accompany our Prime Rib, served with freshly grated horseradish, such as green asparagus, potato gratin, baby spinach or baked potatoes with sour cream. As a special delicacy, Wilson's recommend self-created spice blend. This is a composition of Peruvian rock salt, cocoa beans and a combination of four selected types of pepper. What types of pepper are used remains my well kept secret as the head chef tells us with a smile. There's a long list of beverages including Miller Genuine Draft and Schwechower Fruit Distillates. We really enjoy our evening, and even having had Carpaccio and tartar of US Tenderloin as starter WELTEXPRESS Gourmet now orders some extravagant desserts US style such as Cashew Sponge. Wilson's is going strong the year round, and as soon as summer is here, their terrace and patio is the place to go, We will, soon, for another carving of the Prime. This time it could be Crowne's Cut, the one with the rib bone. We'll see!
* * *
Wilson`s – The Prime Rib Restaurant at The Crowne Plaza Berlin City Centre, Nürnberger Straße 65, 10787 Berlin, Phone: 0049 30 2100 7000, Email: info@restaurant-wilsons.de, Web: www.restaurant-wilsons.de
Opening hours: May to September daily from noon to midnight. October to April daily noon to 3pm and 6pm to midnight.