Berlin, Germany (Weltexpress). The Filetstück (i.e. Gourmetstück) has made its mark in the fashionable off Ku'damm area of Berlin as well, offering there not only the best dry aged beef in town but also, in addition to their array of wonderful seven-course gourmet menus, a number of worthwhile business lunches. Therefore, Filetstück (Gourmetstück) is now at lunch and dinnertime a place of fine dining and grand for gourmets.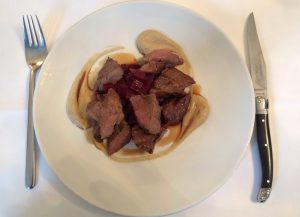 Sascha Ludwig, chef de cuisine, ensures that not only considering the meat, for instance when preparing a delicious piece of "Altes Schwarzbunt", but on top of that presenting fish, fruits de mer and even vegetarian dishes. The "Piece of Fillet" is not a show kitchen – but Sascha and his crew will show guests some well-balanced plates to really relish.
Lets get back to the business lunch and say for sure you want to dip in this week. Then from noon to three the kitchen and staff will be at your service with: On Monday and Friday sirloin tips, Tuesday and Thursday Freesisches Entrecote, on Wednesday sliced sirloin, and on Saturday Pommersches Entrecote. Sounds gorgeous and at least the tips of sirloin that we from Weltexpress Gourmet were there to enjoy certainly tasted great. Accompanying the fillet on the plate splendidly in this season we ravished topinambur mashed potatoes and red beetroot – together with fresh salad as side dish.
Included in the very reasonable price of 17.50 € for the fine midday meal are fruit juice as soft drink and a cup of coffee. This and even more (like a glass of good wine) you can certainly manage in half an hour. But is it not much nicer to spend some time off work simply taking in the ambiance of this delightful setting beautifully lit up and laid out?
* * *
Filetstück (Das Gourmetstück), Uhlandstraße 156, 10719 Berlin, Email: uhlandstrasse@filetstueck.de, Web: www.filetstueck-berlin.de
Reservation by phone: +49 (0)30 54469640.
Opening times for business lunch: noon to 3 pm.