Berlin, Germany (Weltexpress). Knowing her means loving her: La Belladonna Bellucci. The beautiful Italian lady, Monica Anna Maria Bellucci, in her youth a spicy law student in Perugia making ends meet as a photo model and on to become an actress of fame, with hot looks and lust for life. Her film career began back in 1990, and she is in business as a sex symbol that keeps to model since then. Most recently, Monica starred with Daniel Craig and Christoph Walz in "James Bond 007: Spectre" as the beguiling widow of an irrelevant villain. At 52, Monica Bellucci is the 'oldest' Bond girl ever. Having seen the film, I just don't believe it. First child at age of 39, second at 45. What a women! It would be thrilling to meet her. "After love, the man sleeps, while the woman reflects". Hmm.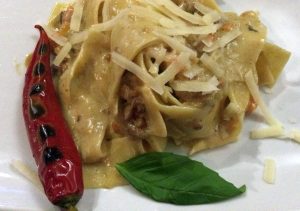 Looking up, there she is! Oversize on a large poster of the great diva pinned on a wall of the Italian restaurant Belluci in Berlin.
Its owner Adriano Hess doesn't hesitate. "I promised Monica to open a restaurant named after her" says he, an ardent admirer of the sexy star. And laughs as only an Italian does. One day, Monica will drop in for a drink or even to dine. You bet, Adriano, for sure!
For eating with friends certainly is a moment of pleasure when you really enjoy life – here at Bellucci close to Kurfürstendamm. Adriano comes from Trieste, but has been in Berlin for 15 years now, with experience in running a restaurant here and in Italy. Belluci is fine genuine Italian cuisine and not one of these tourist traps around. The ambience is authentic, and the team is real fun. Great guys working as waiters like Domenico and Franco as cooks. And for sweets rely on Maria and her Sicilian inspired delights.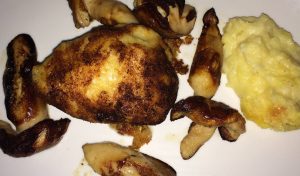 Don't stick to pizza and pasta only then. Rather try the fillet of beef under a thick truffle crust with mushrooms surrounded by potato truffle puree and red wine sauce at its best. If you prefer fish instead of meat, we warmly recommend the pike perch fillet.
The dessert is a revelation. Classics like Panna Cotta, Tiramisu and Zabaione are on the menu card as is wonderful Tartufo bianco o nero, Semifreddo alle nocciole and Soufflé al cioccolato con gelato alle vaniglia. We would suggest: order all and share with friends!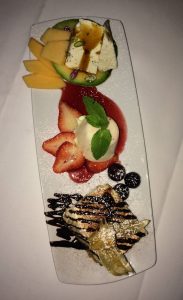 The wine menu also reveals satisfying offers. We would go for a bottle of Amarone from Masi in Veneto, or a bottle of Tignanello. This top red wine from Tuscany comes from the wine merchant Marchese Piero Antinori. It makes you happy without getting sad when seeing the price. Lets enjoy life! Lets go to the bar! Cin cin Belluci, thanks for moments of real pleasure. Cin cin, Belladonna!
* * *
Bellucci – Restaurant & Bar, Brandenburgstraße 35, corner of Kurfürstendamm, 10707 Berlin, phone: 030 280 322 33, Mail: belluccis.berlin@gmail.com, Web: http://belluccis.de
Opening hours: Monday to Saturday from 11am to 3am, Sundays from 5pm to midnight