Berlin, Germany (Weltexpress). High Five is US-American? So what, Zhou Five is Asian – and cosmopolitan enough to take up the gesture. High five it is then, congratulations as we part. But before, up the escalators at the shopping centre with adjacent MOA hotel and convention halls. To start with, a warm welcome for us of Weltexpress and the other guests from Zezhao Zhou who runs the place (here in Moabit and in Lichtenberg were we'll be next).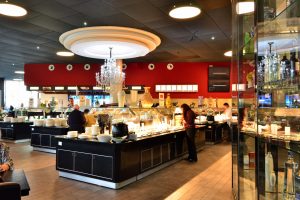 The restaurant in an oval form is well laid out, with tables spaced around and above the buffet area inside (you can sit outside of the main area as well and watch the guest roll up to the first storey). Due to its central location in an residential as well as commercial but not so well known district of the capital, Zhou's Five opens daily at noon to "serve" a very well priced lunch buffet. "All you can eat" for only 9,90 €. Prepared, of course, and offered by Asian personal, most of them from the Far East. For Zhou's Five are the culinary destinations China, Mongolia, Japan, Vietnam and Thailand.
Zhou, who lived in Germany since he was 15, holds a German passport and has been into gastronomy from 18 onwards smiles as he talks to us about his sixth restaurant. Zhou is very sincere when he goes about things, has an eye on everything around him and is also a very friendly chap. No question he can be proud of this place that offers five different buffets on a presentation area of at least 50 square meters.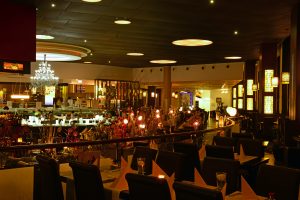 "This was the largest and most modern Asian buffet restaurant in Berlin," says Zhou, "with more than 1 300 square meters and 500 seats. Three years ago on December 1, 2012, the doors opened". But before that, the whole interior decoration was to come in five containers from China to Berlin. Again he smiles and explains that the new Zhou`s Five in Lichtenberg is "even bigger". There, as here, specialties from those five different countries are prepared and served. No wonder the restaurant was awarded "Gastro-Gold". And it's not a mess with red lamps and golden Buddha as if Asian Hollywood, but glistens while dark earth tones in addition to bright white dominate. The restaurant is divided into two levels and guests can even sit at round tables in the booths. Right in the middle of the restaurant then that magnificent food presentation.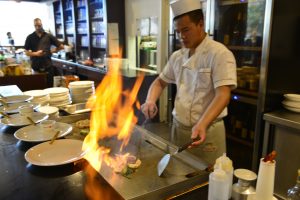 Asian food is well known in Europe, preparation being traditional. Meat mainly means chicken and duck, beef and pork. When choosing fish salmon and Pangasius, tuna and squid, as well as crab and shrimp are offered. Peking duck, lobster and oysters are part of the menu on special occasions such as the Chinese New Year. Always on the agenda: vegetables. Among them edible seaweed as something special – and even the ordinary is skilfully staged.
With miso soup, one may begin Japanese moving on to sushi and sashimi, or would you anticipate a Vietnamese starter? Then choose Tom Xien Que and then the classic Pho Bo (beef noodle soup with steaming rice, roasted vegetables and fresh herbs). What about coconut and curry from Thailand then and therefore Gaen Phed Gai? Chicken on the pyre sounds great and is situated at the Chinese buffet as well as the curious pig or The Last Dragon tail. And why not try the drunken chicken? We report on the Mongolian Buffet in detail when we tasted it in Zhou`s Five in Lichtenberg, because even only taking a tiny dip from everything is to much for one evening. We really could not manage it… "Well never mind" says Zhou and proclaimed: "Feel free to come back and be my guests again."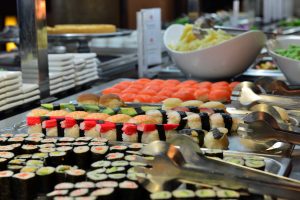 And now for everybody: From noon until late afternoon at 4.30 pm, Monday to Friday – the All-you-can-eat offer costs 9.90 € per person. If that's not convenient, then what is?
The beautiful open show kitchen, where more is on offer than we could describe, begins at 5.30 pm, ends at 10 (you can dine until 11pm) and costs 16.90 €. Bet you are on your way already soon as you read this – to Zhou's Five with High Five!
* * *
Zhou`s Five, Stephanstraße 38-43, D-10559 Berlin-Moabit
Contact: Phone: 030/49 20 07 89 Web: www.zhousfive.de/moa-bogen, Facebook: https://www.facebook.com/asiabuffet.berlin?fref=ts