Berlin, Germany (Weltexpress). The foundation Kinderherz celebrated a charity evening in the German capital with donations supporting children with heart disease.
Curator for the initiation, Gerhard Janetzky received 80 guests and was pleased to acknowledge that donations recieved will greatly help and save many children.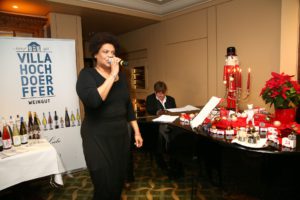 Sylvia Paul, CEO – Foundation Kinderherz and Dr. med. Katharina Schmitt presented information on the foundation and related projects.
The charity event took place in the Berlin Capital Club where guests were treated to an evening of entertainment and dinner, moderated by Toni Schmitt (Spreeradio).
Singer Desney Baily high-lighted the evening with Christmas songs and favorite jazz tunes. Christmas stories were read by German dubbing actors, Marius Claren (Spider-Man) and Dietmar Wunder (James Bond).
Chef Malte Schreiber and Chef Patissiers served wonderful dishes and desserts to compliment a successful charity event.